The retail sector is notorious for high employee churn rates. In fact, 49% of retailers say that their biggest challenge over the course of the next year will be hiring and retaining quality staff.
But what exactly is the average turnover rate in the retail industry? And how does yours compare?
Read on to find out what the latest statistics tell us about employee retention in retail, and how to calculate and monitor your own turnover rate.
Jump to: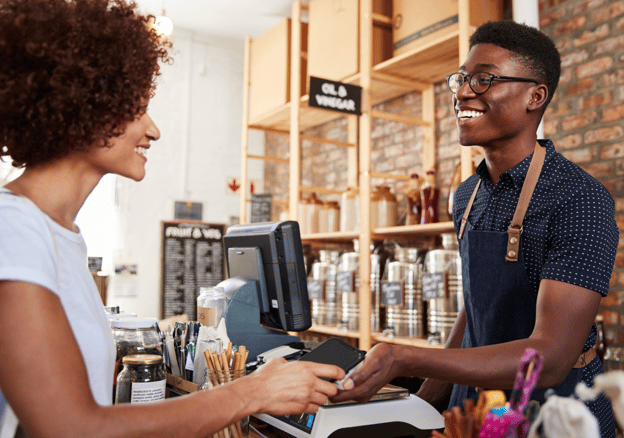 Turnover rate vs. retention rate - what's the difference?
One might assume that retention and turnover rates are merely the opposite of each other. However, there are some key differences in how the two are calculated. It's important to fully understand what these rates indicate - both separately and together - in order to give an accurate view of your company's ability to retain staff.
Employee retention is the rate at which people stay working at your company over a certain period of time. Employee turnover, on the other hand, measures the rate at which people leave. While calculations for turnover rates include the people hired during the measured time period, those for retention rates only account for the people already employed at the beginning of that period.
As such, employee retention is used to measure the stability of a company's workforce, while employee turnover is used to measure movement. The former may sometimes exclude involuntary turnover (individuals who are terminated by their employers for behavioral, performance or other related reasons), but the latter includes both types.
Average employee turnover rate in retail
According to the latest BLS report, the average retail employee turnover rate in the United States currently sits at around 60%. That puts the retail industry in the top four behind hospitality (130%), arts and entertainment (127%) and construction (69%).
On a more granular level, retail turnover rates can differ widely depending on position. While part-time hourly store employees have the highest turnover rate at 76%, the lowest rates are seen among corporate positions at around 17%.
While the 'Great Resignation' has played a role in increasing employee churn across all industries in recent years, the retail sector has historically struggled to retain its frontline workers. Discover the reasons behind such high turnover rates in our recent blog, Why do Retail Employees Churn?
How to calculate your employee retention rate
Monitoring your employee retention rate on a regular basis is key to maintaining a stable workforce, helping you identify problem areas and track the progress of your retention strategies.
Here's a simple formula you can use to calculate your employee retention rate: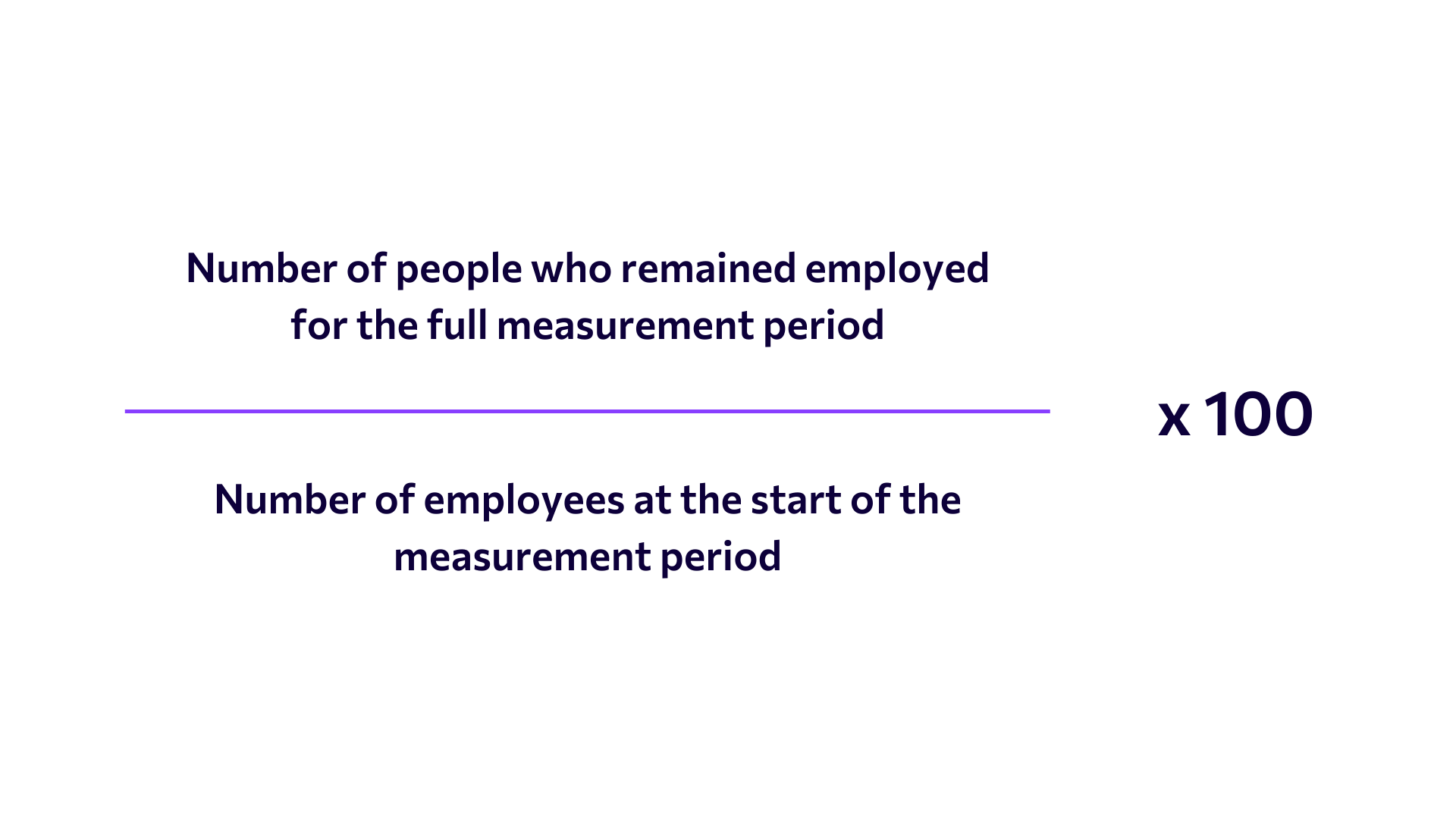 Choose a measurement period that's suitable for your business - this can be a quarter, six months or a fiscal year - and look at the number of employees at the beginning of that period, versus the number of employees who were still remaining by the end of it.
Want quick answers? Try out our simple retention rate calculator below.
Improving your employee retention rate
There are a number of strategies you can implement in order to better engage and retain your retail workforce. Here are a few to get you started.
1. Seek out feedback
41% of retail workers say they don't feel consistently heard by headquarters - ensure that you not only provide regular opportunities to give feedback, but also commit to acting on it.
2. Invest in tech
Digitizing HR and workforce management processes not only improves productivity, it also means that employees are less likely to have a bad shift. Less friction equals a more positive experience, and a happier employee.
3. Strengthen training programs
Providing employees with the right information is important for productivity, but providing it in the right way is crucial for retention. Leverage mobile training to upskill and motivate your workforce, helping them provide an even better experience for customers.
For more insights and recommendations on improving your employee retention rate, download our comprehensive new guide How to Retain Your Retail Employees.
Curbing high churn may seem like an uphill battle, but it doesn't have to be. eduMe's mobile learning platform has helped companies such as Uber, Marriott and Vodafone to better engage, inform and retain their frontline workforce. By providing seamless access to relevant information, eduMe empowers dispersed workers to learn within the flow of work and provide a consistently high quality of experience for customers.
Get in touch now to see how we can help improve your employee retention rate 👇