It's no secret that effective training is key to business success. Giving your workers access to the right knowledge, at the right time, is essential to maintaining a productive and motivated workforce.
But, in today's ecosystem, reaching employees is becoming more of a challenge. With so many software tools being introduced into daily workflows, asking employees to download another app for learning - and remember yet another password - only adds to the digital friction they experience. In fact, 57% of workers say their current software makes them less productive.
So, how can we deliver training in a way that cuts through the noise, and meets workers where they are?
By leveraging learning in the flow of work.
Read on to find out what 'learning in the flow of work' actually means, why it's needed for the frontline workforce, best practices for integrating training into existing workflows and some examples of how it's been done in practice.
Jump to:
Learning in the flow of work: definition
Coined by Josh Bersin in 2018, learning in the flow of work is a concept where employees are given access to learning opportunities within their existing workflow. In other words, they are served training content right at the point of need and without being pulled away from their current task.
The idea is that, by making learning a part of the worker's day rather than distracting them from it, learning becomes more effective. When learners receive information in context, they're able to immediately apply it and return to what they were doing. The result is higher engagement with training, increased productivity and a higher return on training investments.
Learning in the flow of work is a new idea: it recognizes that for learning to really happen, it must fit around and align itself to working days and working lives.
- Josh Bersin for Harvard Business Review
What does that mean in practice?
Learning in the flow of work has become a popular buzzword in the L&D space, but what many business owners will be wondering is: what does it actually mean for day-to-day operations?
In reality, LIFOW isn't just providing training that's easier to access. It's giving your teams access to the exact knowledge they need, at exactly the right time. For many years, workers would have to sift through pages or hours of training just to find the information they needed.
Research by McKinsey shows that employees spend an average of 9.3 hours per week searching and gathering information - "Put another way, businesses hire 5 employees but only 4 show up to work; the fifth is off searching for answers, but not contributing any value."
Enabling learning in the flow of work means cutting out the noise and supporting workforce productivity, by focusing on giving them exactly what they need to do their jobs, and do it well.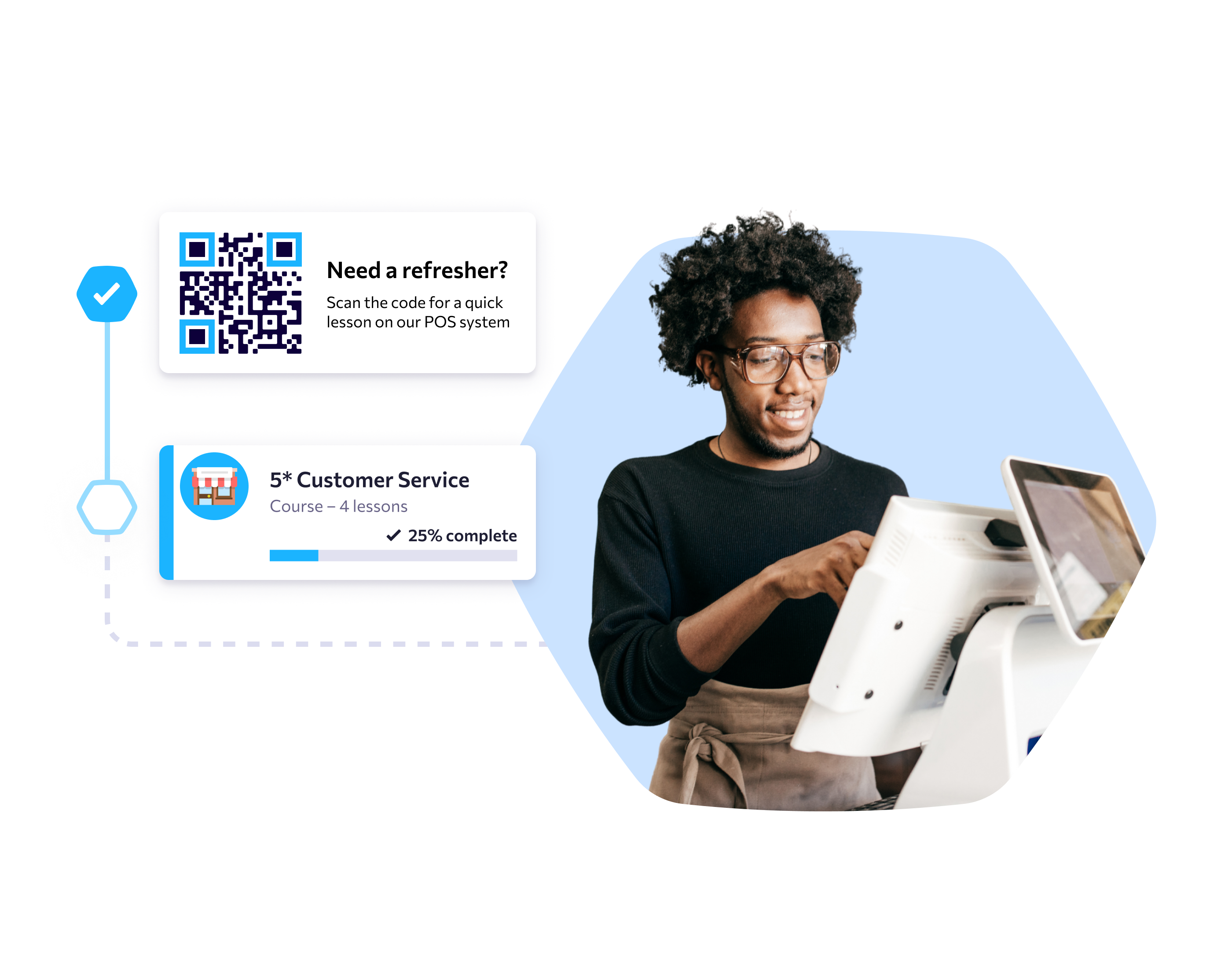 An example might be if a retail worker who is relatively new to the job needs to collect an online order for a customer, but can't remember what the process is. Normally, they would have to rely on being able to ask a colleague, but what happens if everyone is busy serving other customers? The only options would be to disrupt a colleague mid-conversation, leave the customer waiting, or wing it and provide a potentially sub-par service - all of which contributing to a disjointed experience and damaging brand loyalty.
With LIFOW, however, the new starter would be able to pick up a smart handheld device and scan a QR code next to the POS system, taking them to a Knowledge Hub full of relevant courses. Pinned at the top would be a 2 minute lesson on handling online orders, providing all the information they need to fulfill the customer's request. The worker is able to access crucial information right at the point of need and implement what they've learned immediately, resulting in a more seamless onboarding process for them, and a better experience for the customer.
Whereas standard training simply provides the information and leaves it up to the worker to remember, learning in the flow of work ensures that crucial knowledge is only ever a tap away. It's designed to aid learners consistently, and enable them to perform at their best.
Too often, learning opportunities and technology deployments are developed based on what centralized groups think would be useful, or on what is possible, rather than on what would actually enable someone to do something better or differently at work.

To overcome this, it's important that we spend more of our time as learning professionals understanding the practical realities of daily work for people, and ensuring that our products and services are in tune with those realities.
- Helen Smyth, Group Digital Learning and Design Manager at Sainsbury's
Why do we need learning in the flow of work?
The need for learning in the flow of work has emerged in response to the inadequacy of standard training software.
The once revolutionary Learning Management System (LMS) is no longer fit for purpose: it's dated, it's clunky, and it pulls learners away from their work to sit at a desktop for hours on end. When you consider that 80% of the global workforce is now deskless, this is no longer a viable option.
The modern worker doesn't have time to sit down and complete training. We need to bring training to them so that it becomes a part of their workflow, rather than a hindrance to it.
The rise of learning in the flow of work is also a product of a gradual shift within the learning space. While L&D professionals have historically focused on vanity metrics such as completion rates and assessment scores, employers are now realizing that what they should be focusing on is how training actually impacts their bottom line.
When training is served within the flow of work, it's hyper-relevant. This means that the learner can see the impact of training in real-time, and is more likely to change their behavior as a result. In this way, training has a real impact on business operations and performance, and can be utilized as a channel for growth.
In short, learning in the flow of work is the essential next step for businesses who want to get more value from their training investment. When learning is designed to fit around and support existing workflows, it drives higher impact and better results.
To build L&D that works, employers must invest in programs that emphasize ROI, encouraging employees to learn not in the abstract, but directly in the flow of work.
- Bruce Rudy for Harvard Business Review
The benefits of learning in the flow of work
Here are just some of the data-backed benefits of leveraging learning in the flow of work in your training program.
1. Improved engagement
Delivering training that's more relevant to employees' roles and faster to complete naturally results in higher engagement. In fact, our customers see a 300% increase in training engagement after providing seamless access to content within the flow of work, and completion rates of up to 98%.
2. Higher productivity
Allowing your workforce to access learning content on the go means less time spent training, and more time translating what they've learned into action. Employers have seen an 8% rise in productivity as a result of this method, and freed up to 720 hours for their workers - the equivalent of 30 days.
3. More cost-effective
Replacing costly in-person training methods with focused, targeted learning opportunities results in significant cost savings. In fact, one North American logistics company saved around $60,000 on training costs after making the switch.
Opting for a method like learning in the flow of work where learners are more likely to actually use and gain value from your training also ensures you get a better return on your investment. One food delivery platform was able to achieve an ROI of 501% after integrating training into existing workflows.
4. Business impact
Research has shown that the closer the context in which something is learned to the context in which it will be applied, the more likely the learner is to retain and use what they've learned. In other words, serving relevant knowledge at the time of application is more likely to drive behavior change and translate to real results for your business. As an example, telecommunications provider Tigo saw a 66% increase in sales in just three months.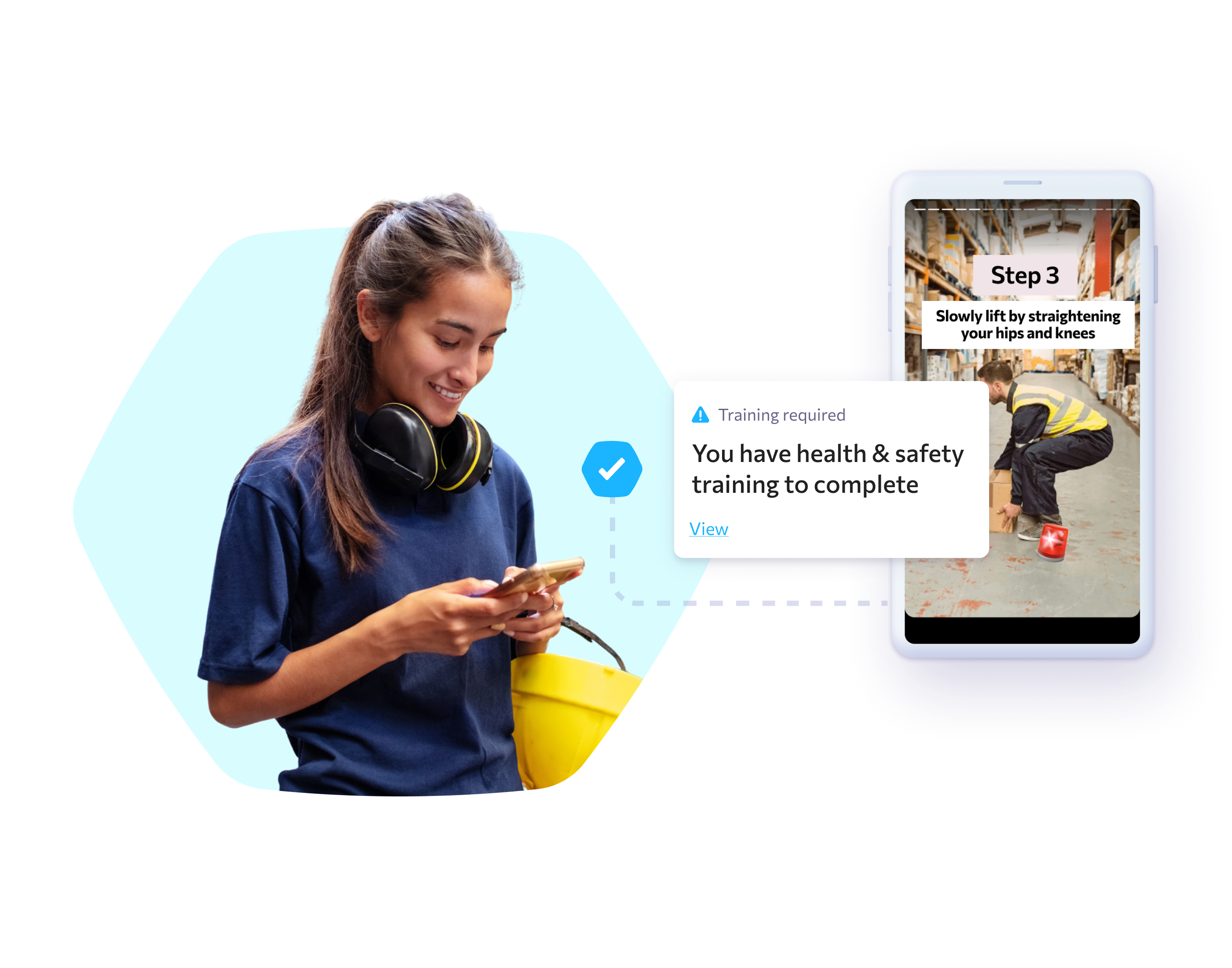 4 best practices for embedding learning in the flow of work
If you'd like to start introducing learning in the flow of work within your own organization, here are some best practices to help you get started.
1. Eliminate barriers to access
If you're still requiring your workers to enter a password before they can access training, you haven't achieved learning in the flow of work. Eliminating the need to log in is essential to reducing friction in the learning experience and ensuring that learners can quickly pick up knowledge on-the-go.
To do this, choose a training tool which provides seamless access to training without the need to log in. Workers will be able to pick up training in just one click, then immediately return to what they were doing - without compromising your ability to see training uptake and completion rates.
2. Integrate into your existing technology
For an even more frictionless experience, opt for a training platform which enables you to integrate content directly into your existing technology. Surfacing learning within the tools your workers already use day-to-day allows you to meet them where they are, and drives higher adoption as a result.
For example, if your frontline workforce uses Microsoft Teams, you can trigger notifications directing learners to complete training within the Teams app. Or, if you use a workforce scheduling tool such as Quinyx, you can allow workers to refresh their knowledge pre-shift with one-tap access to relevant training.
Here are some of the tools you might already be using, and where training can be embedded:
3. Make it hyper-relevant
As mentioned earlier, learning in the flow of work is the concept of serving the right information at the right time. To make sure that your training is as relevant to the learner as possible, leverage a platform which allows you to surface content that's contextual.
For example, if your hospitality business receives a poor customer review, you can set up an automatic training notification which takes staff directly to a lesson focused on improving their customer service skills. Another example might be when a factory worker takes on an extra shift in a different department, and you're able to trigger a lesson designed to get them up to speed on that specific department's processes and ensure a smooth shift for everyone involved.
We also recommend seeking ongoing feedback from learners through pulse surveys. This will allow you to identify knowledge gaps, keep track of which training is (and isn't) resonating with your workers, and make your training content learner-led.
4. Use short-form, visual content
What good is it to spend time crafting the perfect training delivery method, only for employees to start a lesson which is dull, text-heavy and fails to engage them from the word go?
An important element of learning in the flow of work is crafting content which strikes the right balance between bite-sized and high impact. Utilize short-form, visual formats which replicate the content workers are used to consuming via their social media feeds, and make for a more engaging and interactive experience.
These content formats aren't just engaging, they're also designed to optimize knowledge retention. Studies show that learners remember 20% of what they read and 80% of what they see, so take inspiration from platforms like TikTok - a recommendation by none other than Josh Bersin himself - and create quick 'how-to' Guides which clearly demonstrate the behaviors you want your workers to follow. It'll be easier for them to pick up and understand, and faster for your L&D team to deliver.
Examples of learning in the flow of work
Here are some examples of how leading frontline businesses have utilized learning in the flow of work, and the results they've seen.
Uber
With tremendous daily demand for their services and thousands of new driver partners joining their platform every day, Uber needed a more scalable way to onboard and upskill its global workforce.
By integrating eduMe lessons directly into the driver platform, Uber is able to provide one-tap access to relevant training and a frictionless onboarding experience. Since serving training courses within the flow of work, Uber has seen a 10% increase in driver partner ratings, a 13% reduction in onboarding time and an 8% rise in productivity - all of which boosted their bottom line.
Uber has also had great success from embedding DE&I training within the flow of work. Embedding eduMe content within the Uber app enabled them to deliver antiracism training to 23 million customers, drivers and delivery partners in-app, and launch an LGBTQ+ education initiative which prompted 58% of participants to say they had changed their behavior as a result.
Find out more

about how Uber is creating a frictionless training experience
PedidosYa
As one of the leading delivery platforms in Latin America, PedidosYa needed a replacement for their manual, webinar-style training which would better engage new restaurant vendors and prevent them from becoming inactive on their platform.
They utilized our seamless integration with Braze to deliver engaging, bite-sized training content right at the point of need with an automated onboarding plan that delivered unique seamless links - personalized URLs generated by eduMe which provide passwordless access to learning - directly to partners' inboxes. The time taken to complete onboarding was reduced by one and a half days, the completion rate for training delivered via eduMe's seamless links was 6x higher, and vendor inactivity was reduced by 15%.
Find out more about how PedidosYa has utilized seamless integrations
APC Overnight
Having previously relied on hours-long training presentations and toolbox talks, APC Overnight was looking for a more efficient way to train and upskill their frontline workforce, and push the needle on key business metrics.
With eduMe, their warehouse and driver staff are now able to access training via their mobile devices, completing training at their own pace and within the flow of work. APC Overnight also uses eduMe to train their agency workers, who access lessons seamlessly via QR codes. The result has been a 5% improvement in frontline worker retention, a 2 point increase in productivity - translating to around £100k per month for the business - and a 20% decrease in accidents year-on-year.
Find out more

about how APC Overnight is powering learning in the flow of work



Key takeaways
To summarize, learning in the flow of work is a crucial concept for any business looking to improve the impact of their training and maximize ROI. By surfacing the right information at the right time, workers are empowered to implement what they've learned in real-time, which translates into higher engagement with training and better business performance.
To get the most value from learning in the flow of work, businesses need to choose a training tool which integrates into existing technologies and is designed to meet workers where they are. Passwordless access combined with engaging, contextual content is the key to effective learning in the flow of work.
If you're looking to reap the benefits of learning in the flow of work for your frontline workforce, eduMe is here to help. We work with some of the world's biggest deskless businesses to provide seamless access to relevant knowledge, within the tools workers are already using. From Microsoft Teams to Workday, we partner with leading technologies to provide a fully integrated ecosystem for your frontline, and a higher return on your training investment.
Book a demo now to see what we can do for your business 👇