By now, it's well established that providing your deskless workforce with timely, relevant and engaging training content is essential to maintaining productivity and combatting churn. However, an important factor that's often overlooked when selecting the right training solution is accessibility.
While mobile learning has revolutionized how employers can engage and empower their deskless workers, simply switching to digital is not enough. Companies need to leverage seamlessness if they hope to reap the rewards that mobile learning offers.
At eduMe, we've created a solution that encourages continued learning and upskilling among your mobile workers and makes the delivery of training content more frictionless than ever.
Read on to find out what a Knowledge Hub is and why you should be investing in this technology to further bolster your training.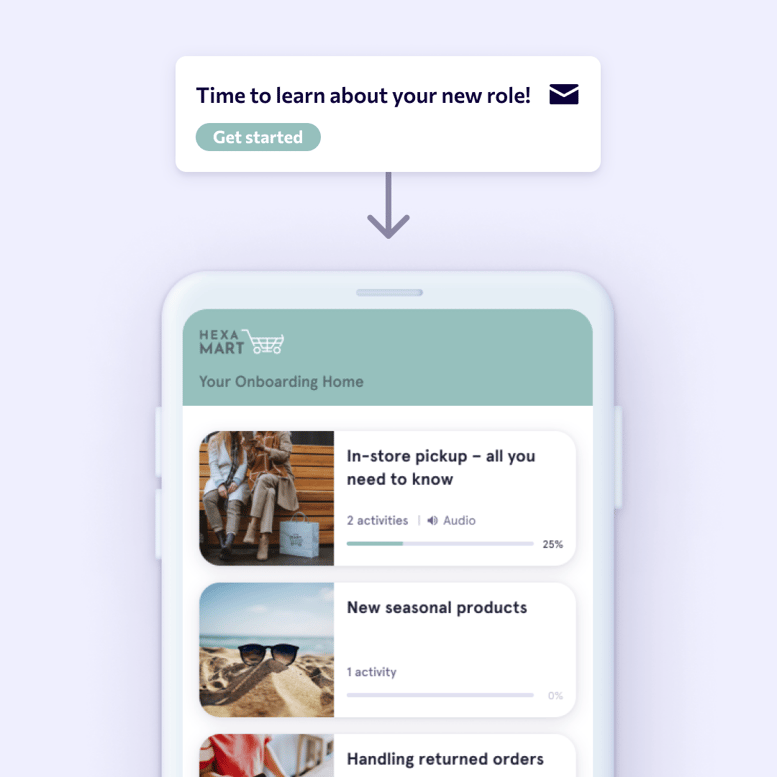 What is a Knowledge Hub?
A Knowledge Hub is a training portal or 'hub' where a library of learning content hosted on eduMe is pulled through into your native app and can be accessed through password-less authentication. It's a solution that builds on our existing seamless learning technology, which presents the user with relevant learning content at the point of need. No login required.
Knowledge Hubs take this a step further by surfacing an entire microlearning library with just one click. Users are free to explore a catalog of relevant lessons instantly.
An accessible hub that is embedded within your native app blends seamlessly with your users' existing workflow, ensuring that you stay equipped with the knowledge you need to foster a highly relevant and engaging continuous learning environment. eduMe's Knowledge Hub lets admins track, analyze and evaluate their lesson and course activity, create and assign end users, and manage additional course assignments from within the platform. This makes delivering new training a quick and pain-free process.
Knowledge Hubs in action
Imagine you work as a server in a restaurant chain, like our fictional HexaBurger; When you open up your worker app, you find the 'Burger Academy' section in the main menu. It's populated with valuable lessons on 'How to deal with online orders', 'Handling complaints', 'New menu items', and more. All you need to do to begin learning is click on a lesson and you'll be taken directly to the relevant content; no login required. After 2-3 minutes of learning, you can return immediately to what you were doing, without ever having to leave the app.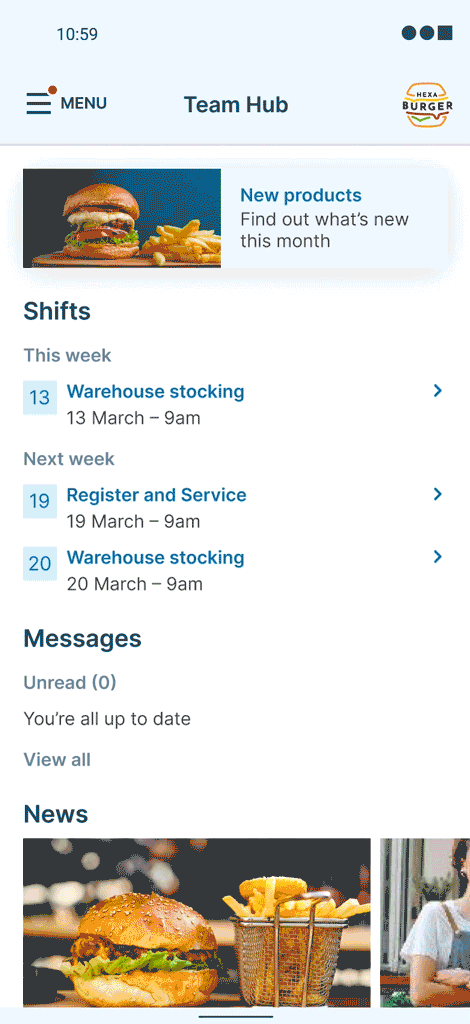 Why are our customers moving towards the seamless model?
Upskilling your workforce is crucial to encouraging productivity and preventing early churn. Among deskless workers, however, this form of training needs to meet a specific set of criteria. While utilizing microlearning and mobile technology will go a long way in engaging and motivating your workers, the methods you use to surface that content must be flexible and convenient in order to maximize ROI.
Here are a few reasons why Knowledge Hubs are proving so valuable among the deskless workforce.
1. Supports continuous learning
Providing users with native access to all of your relevant training content, and supporting this with regular and triggered notifications, encourages your workers to continue learning.
Offering upskilling opportunities on an ongoing basis isn't just crucial for future-proofing your business and remaining competitive in a rapidly evolving industry, it's also key to employee retention. 59% of Millennial workers say that professional development is extremely important to them, while those who feel empowered at work are 65% more likely to stay at your company.
2. Saves valuable time
Managing ongoing training can often be a complicated and time-consuming process. With the introduction of Knowledge Hubs, however, you are able to reduce the time to implement new training content drastically.
With this technology, admins can assign and reassign learners to new training and have that content automatically pulled through to their app's front end without additional legwork. This means more time spent creating valuable content and listening to learner feedback and less time spent on setup.
3. Drives adoption
By combining the Knowledge Hub solution with in-app communication tools such as Beekeeper and Braze, you can increase awareness of your training and boost completion rates. Setting up timely notifications based on behavioral triggers means that relevant content can be served up immediately at the point of need, driving the adoption of training and encouraging continued use.
For example, a delivery driver who receives a poor customer rating can be served a lesson on 'How to get 5* ratings from customers' immediately via a notification. Once selected, the notification transports them directly to the training content (no log-in required). Following this, the driver is guided to an entire library of microlearning content which they can engage with at any time.
4. Supports scaling
Companies that lean on deskless workers often do so in order to help them scale quickly and respond agilely to industry and market changes. The flexibility that these training hubs provide for managers tasked with delivering courses in rapid succession is vital to enhancing their users' ability to surface content seamlessly and at scale.
5. Maximizes training ROI
The more visible your training content, the greater the likelihood of users interacting with it. With this, you receive excellent value from your investment. Surfacing all of your training modules in a digital success hub means less steps necessary for your workers to get learning, and encourages them to keep coming back for more.
Our clients have achieved training completion rates of over 70% since implementing Knowledge Hubs, which is 2.5 times higher than the benchmark rate for optional training. We've also seen a 300% increase in engagement with learning content which affirms that end-users value being able to learn in the flow of work. This translates into a more informed workforce that feels empowered to work at their best.
eduMe's seamless learning technology offers a secure, scalable and streamlined solution for engaging and retaining your deskless workforce. Our mobile platform is already used by companies such as Uber, Marriott and Grubhub to deliver timely and relevant training content that drives results.
Book a demo with us now to see how Knowledge Hubs can help you boost engagement and drive productivity 👇