Technology is always evolving. And with it, your workforce can too.
Many companies rely on Learning Technologies to provide up-to-date, on-demand training. The traditional LMS, to date, has played a significant role in upskilling employees. But providing training that fits in the day-to-day work of the frontline workforce of your organization isn't quite as straightforward.
For instance, did you know that the average employee only has 24 minutes a week to learn? (Which amounts to just 4 minutes per day!). So how can you develop your frontline workforce in a way that fits into - rather than disrupts - their flow of work? In technology, lies the answer.
Quick navigation:
The Value of Frontline Training
What is an LMS?
An LMS allows you to create, manage, and deliver digital training to your employees. It's a digital software tool that supports traditional face-to-face training or, in many cases, replaces it entirely (for instance - IBM saved $200 million through a transition from in-person to digital training).
However, many LMS platforms are developed solely for desk-based employees, so, although 80% of the global workforce is deskless, many frontline workers aren't offered training solutions that suit them.
The right employee training system will bridge that gap, offering bite-sized, contextual training that deskless workers can fit into their day. Plus, a mobile-first LMS makes it easier for frontline workers to access training. That's why it's important to find software that can target both your desk-based and deskless teams.
What to Look For in an LMS
To really see the benefits of implementing an LMS, you need to choose a provider suited to your industry and workforce. It should be an intuitive-to-use, modern solution that your employees feel eager to complete training on. Ultimately, the more frictionless and enjoyable the experience, the higher engagement and repeat engagement you will see from end users.
Bite-Sized Content
First off, your LMS should let you deliver bite-sized content. Microlearning is more aligned with the way we now consume content - in shorter, instantly-accessible bursts. Tailoring training into formats your teams are familiar with gives your content impact, with a 20% higher retention rate reported from short-form learning.
Frontline workers are often hands-on too, servicing customers or making deliveries. Bite-sized training modules create self-paced learning that fits flexibly between day-to-day tasks.
With some platforms, an in-built AI can understand each user's preferences to personalize learning content.
Accessible
You'll improve your training completion rates if learners can readily access training from the device that's in their pocket - mobile users finish courses 45% faster than desktop learners. Accessibility goes beyond mobile-first training, however. It also means learners don't need to set up accounts, remember log-in details, or download additional apps.

Certain learning systems, like eduMe (no shame in plugging ourselves), offer password-free, mobile-first training.
Automated
But your LMS needs to be beneficial to your company as well as its frontline workforce. It should improve efficiency, so it shouldn't require more time or resource to manage. Instead, it should let you automate recurring tasks, like data importing, and provide templates for courses to speed up creation.
Data-Driven
High-quality LMS reporting will give you the data you need about engagement, competition rates, and the like. More than this, it should provide an open API that enables you to easily extract and transfer data between software, so you have all your metrics in a single, centralized location (whichever is most favorable to your current set-up).
This will allow you to make data-driven decisions about learning strategies and goals - the importance of this is not to be underestimated when an estimated $65 billion is spent on internal training every year.
The Value of Frontline Training
The number of businesses using on-demand training has been growing at a rate of 17% every year for the last decade. More and more businesses are seeing the value of accessible learning.
By increasing the skill of your employees, digital training helps your company grow and drives revenue. But the benefits of your LMS shouldn't stop there. The right LMS will also have a positive impact on vital workforce health metrics like employee motivation and satisfaction. Recent research revealed that 54% of businesses that have invested in the right LMS have seen big improvements in productivity and engagement.
Beyond this, an LMS can help:
● Reduce learning and development (L&D) costs
● Reduce the need for additional L&D resource
● Reduce training time for employees
● Reduce time off the job for training
● Track employee learning
● Provide measurable insights on the impact your courses have
And for your frontline workforce, the best LMS can help:
● Increase training completion rate
● Increase knowledge retention
● Advance employee satisfaction
● Improve performance
Top 6 LMSs for Your Frontline Workforce
Based on this the best LMS for frontline workforces should:
● Offer bite-sized content
● Be accessible from a smartphone without a login
● Allow for automated workflows and triggered training
● Have course templates to follow
● Offer white labeling or branding options
● Provide data about courses and user learning
● Use AI for tailored content
Next up, we'll go through the top five LMS providers whose software offers the very best for companies looking to train frontline workers in particular: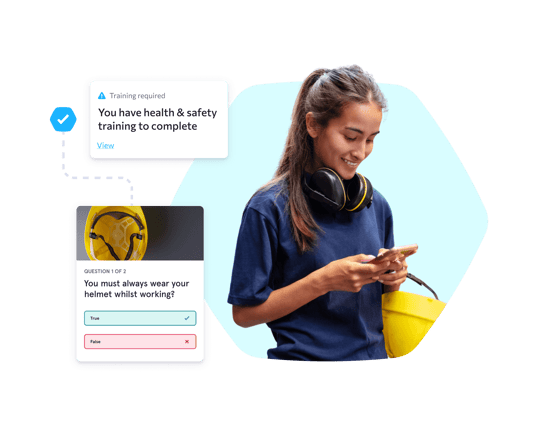 eduMe is a frontline training tool that provides easily-accessible learning for the deskless workforce, from grocery store staff and delivery drivers to healthcare workers and retail assistants. This accessibility, right from learners' mobiles, is how we minimize drop-out rates.
If your workforce needs continuous training of any kind, from health and safety to customer service, eduMe has something to offer. Our integration capabilities allow you to merge our software with your other favorite HR tools. And our seamless learning provides teams with the training they need when they need it.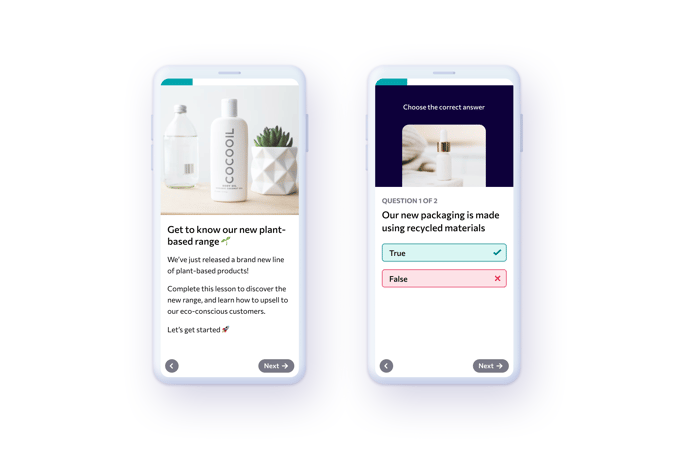 Develop content from eduMe templates, or create learning courses from the ground up, with fully-branded and customizable options.
✓ Mobile-first
✓ Seamless access - no login needed
✓ Fully branded, customizable training
✓ Open APIs
✓ Comprehensive analytics
✓ Native and third-party integrations
✓ Microlearning
✓ Scenario-based and simulated learning
eduMe is particularly useful for upskilling frontline workforces too. We offer gamified content because we know it increases engagement by 60% and productivity by 50%. This includes leaderboards, levels, badges, and more.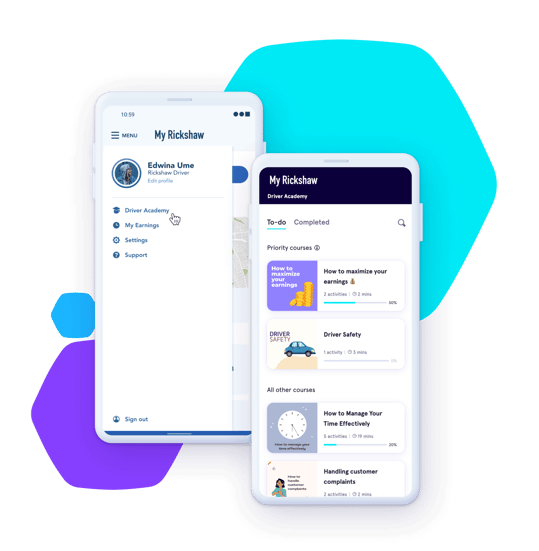 Don't take our word for it - leading global companies such as Uber, Marriott, and Vodafone all use eduMe to onboard, train, and upskill their workforces. Businesses using eduMe have seen a 97% reduction in training time, a completion rate 6x higher than other methods, and 99% positive learner feedback.
"A very easy platform to use and set to your own needs. The customization and support I get from eduMe are second to none. I have already recommended the software to other departments at Gett and would do so to anyone looking for an online training platform."
- Andrew C., Head of Supply
And, we were awarded "a leader in the world of Learning Management Systems (LMS)" by eLearning Industry, the biggest online learning directory, and news source.
(To see a list of additional features, head here).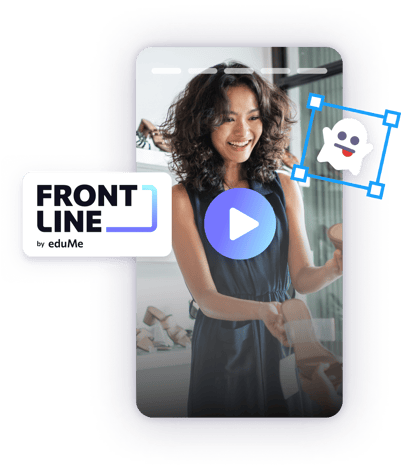 Frontline is a free, new-to-the-game frontline LMS by eduMe. Its difference? A dialled down feature list that's targeted primarily at small businesses with customer facing teams, who are looking to deliver quick, visual process-based training on standard operating procedures, product knowledge, offers & promotions, customer service protocol, H&S or compliance training.
The draw with Frontline is its simplicity and familiar end user experience. Put together a lesson in the same way you would an Instagram story - select your media (from your camera roll, or shoot natively from your phone), add text, add a quiz question to reinforce knowledge, hit publish, then share with your team in the way that suits them best.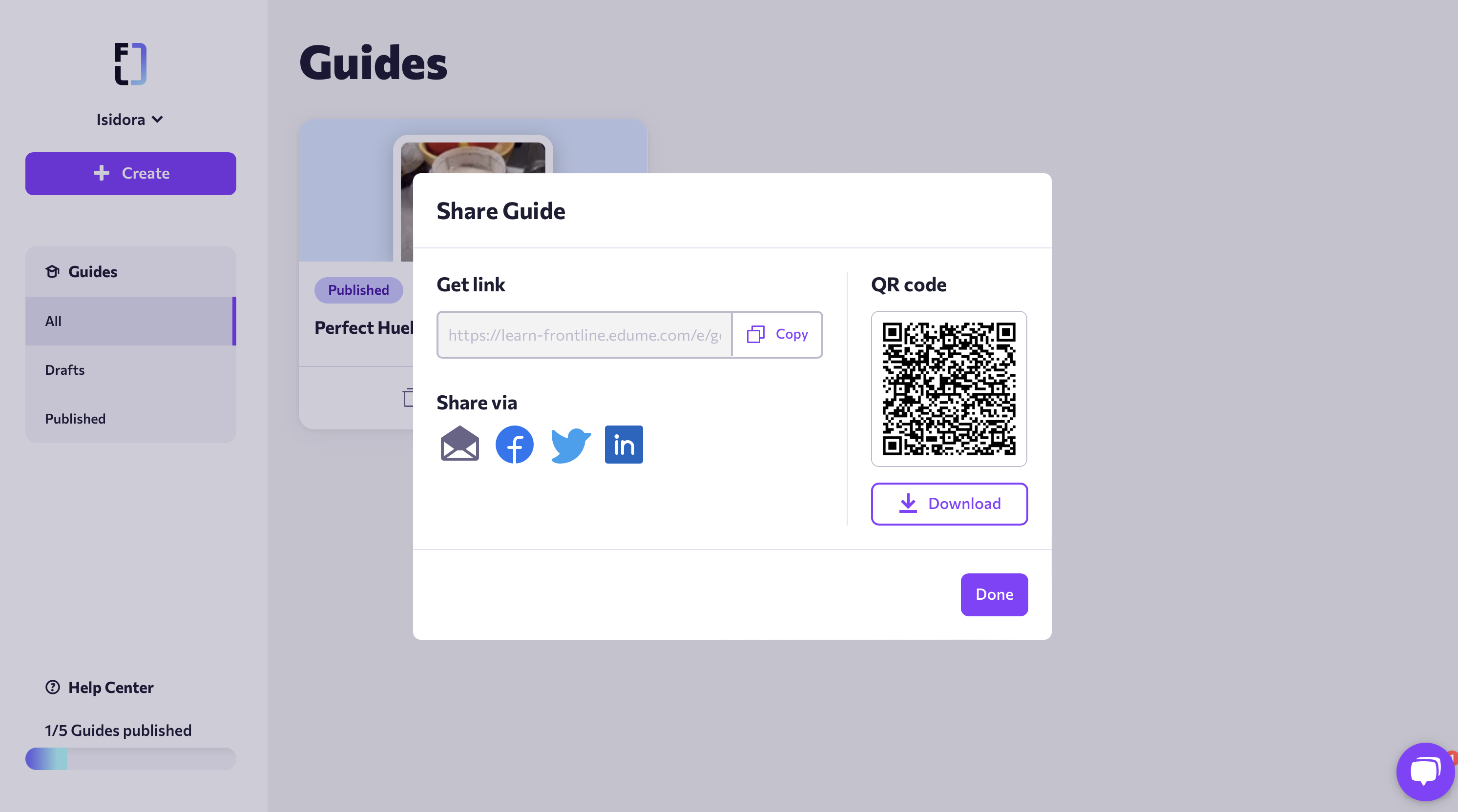 Alert them of new training via SMS, emailing them a link, or printing out a QR code and placing it strategically on premises for them to scan (e.g. a QR to 'forklift operation' placed by the the forklift).
✓ Free
✓ Simple content builder
✓ Optimized for mobile consumption
✓ Familiar, social-media like UX
✓ Process-based training and SOPs
✓ Sharing options include QR, WhatsApp, SMS, Email, Slack
To start creating highly visual, social media-esque lessons for your frontline sign up for free today.
Axonify is another mobile-based LMS that helps you deliver learning and development content across your business.
Axonify is an AI-driven LMS. It relies on machine learning and algorithms that prompt employees to complete courses on time. Although this is not a feature unique to Axonify, it does improve completion rates, encouraging more of the workforce to improve their skills. That's because AI means you can deliver personalized courses targeted to each employee.
✓ Accessible from mobile, tablet, or desktop
✓ Microlearning
✓ Game-like elements such as leaderboards and points rewards
✓ Reporting and analytics
✓ Personalized delivery of content
✓ Integration capabilities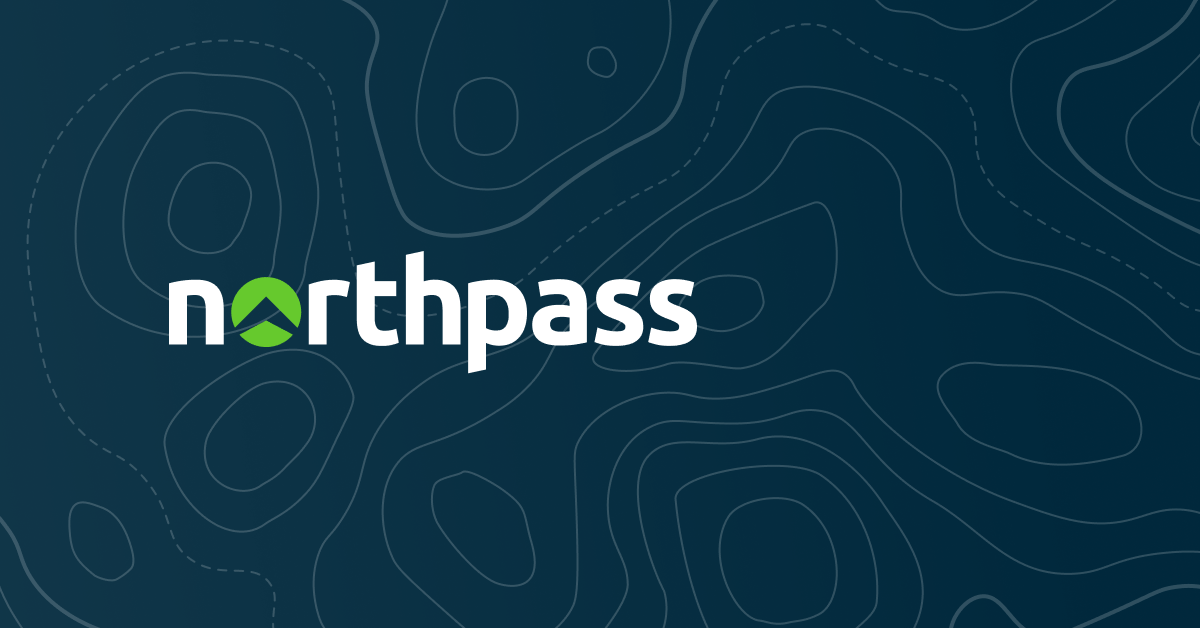 Northpass provides learning designed to improve employee engagement and retention. The tool is used by a range of industries to set delivery dates that give workforces the freedom to learn on their own time. Giving employees the flexibility of self-paced learning improves completion rate.
✓ Easy course creation
✓ Game-like elements and discussion boards
✓ Track learner progress and performance over time
✓ Third-party integrations with Salesforce and Slack
✓ Encryption technology to secure data
Unlike eduMe and Axonify, Northpass is geared more toward non-profits and small to medium businesses.
Formerly known as Obie, Lessonly is a cloud-based LMS for medium-sized businesses.
The platform offers a simple, easy-to-use training tool that allows administrators to create content quickly. A drag-and-drop functionality allows for text, images, videos, GIFs, and more to be added to courses easily.
Although content creation is simplistic compared to other contenders, Lessonly offers a performance monitoring report. Businesses can then measure completion rates and use data to improve future team training.
✓ Drag-and-drop interface
✓ Workflow delivery automation
✓ Real-time performance tracking
✓ Gamification elements
✓ Group collaboration features
✓ Mobile-friendly platform
EdApp is another mobile-based LMS that is designed to be very easy to use for administrators and content creators.
Content creators can build from a template and add their content features like games, quizzes, and videos. Like eduMe, EdApp allows you to use and link to external online videos. This way, your company doesn't need to upload a video in multiple places or spend time and money creating its own.
The tool also allows you to repurpose other documents, like PDFs, PPTs, and other file types. This means that you can reuse existing L&D material to save time and resources.
✓ Gamification elements like leaderboards and badges
✓ Content template library
✓ Adaptive learning paths
✓ Reporting dashboard
✓ Social learning features
Implementing Your LMS
Using an LMS is the best option for providing training for any frontline workforce. Where time is limited, face-to-face training sessions and lengthy PowerPoints just won't cut it.
Instead, easy-to-use learning systems, like eduMe, are far more effective. We can help each employee be productive in their own, personalized way. This can make a massive difference to your business: keeping teams happy and learning, while saving your business time and money.
Don't miss out on the latest and greatest in mobile training technology. Our cutting-edge technology is here to help you make an impact (head here for customer stories).
Book your free demo to find out how our software can take your training to the next level 🚀