With over 65 million users, Workday is perhaps the most recognizable software provider in the HR space.
For many businesses Workday represents the center of all HR operations, with a vast range of solutions designed to give employers everything they need to maintain a productive, engaged and successful workforce, all in one place.
Unsurprisingly, Workday Learning has become a go-to Learning Management System (LMS) for L&D teams across a variety of industries, with the ability to house learning within their existing HR ecosystem as a big selling point.
However, there are Workday Learning 'competitors' out there. What are these solutions? What do they offer that Workday's LMS doesn't?
If you're asking yourself these questions, we've got the answers. Here are the best Workday Learning alternatives that you need to know about, and how they each offer something unique, whether within or independently of Workday's LMS.
Workday Learning: Overview
Best for: information workers
Launched in 2016, Workday Learning is a cloud-based LMS designed to help organizations deliver personalized and engaging learning experiences to their employees. It's one of many applications that form part of the Workday suite, including payroll, benefits and talent management.
If you're reading this you may already be familiar with Workday Learning's capabilities, but - just in case - here's a quick overview of what you can do with the platform, both as a learner and as an admin.
Learner experience
Learners access Workday Learning via desktop or the mobile app, where they are met with a personalized learning homepage. Here they can read announcements from the learning and development team, be reminded of required training (and due dates to complete), and explore and enroll in content via the learning catalog.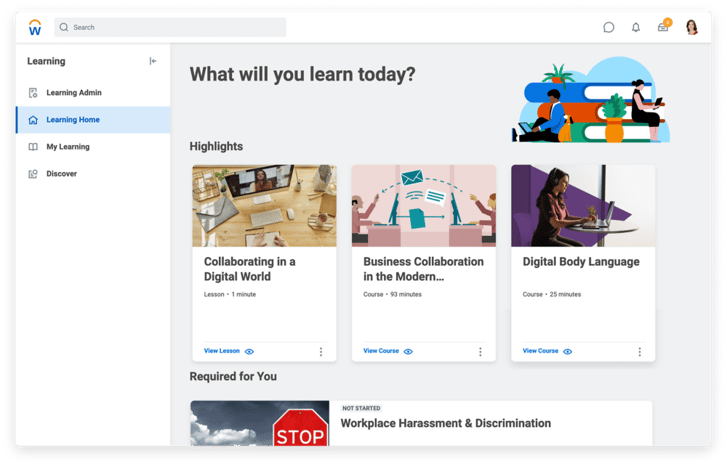 One of the key features of Workday Learning is the ability to create customized learning paths, which are like playlists for learning.
Users can self-serve by browsing content, or they can be assigned role-specific learning paths by their managers. Finding the right content to populate these learning paths is simple - you can search for specific topics, explore the 'most popular' list, or view recommendations based on your personal interests (which can be adjusted in settings).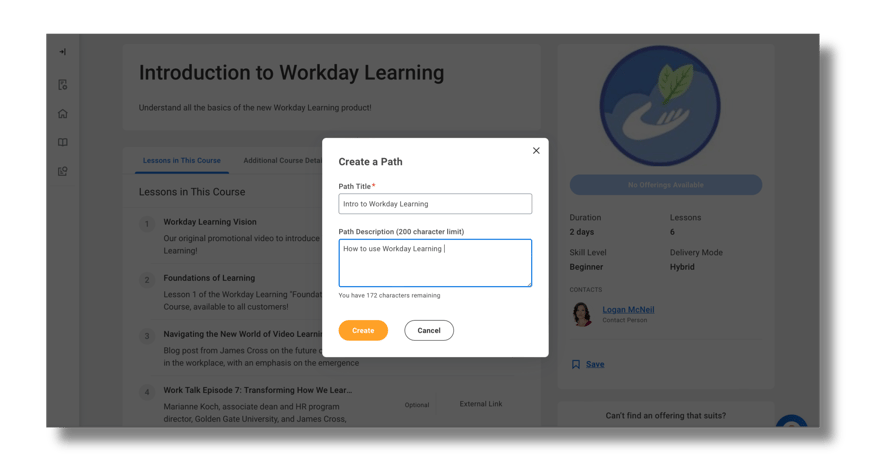 Another appealing feature is the ability for employees who are subject matter experts to record videos on their phone and upload them to Workday Learning themselves. Admins can then review and approve the content so that it gets added to the learning catalog, encouraging peer-to-peer learning and using familiar faces to increase engagement.
Learners can also navigate to the 'My Learning' tab to view their learning history, manage their enrollments and edit their learning preferences. This self-serve approach empowers learners to take charge of their own development and customize their learning experience to their own needs and preferences.
While this works well for employees who spend most of their day at a desk and have the time to go searching for relevant content, it may not be the best solution for frontline workers.
Time-poor and constantly on the go, frontline employees are more likely to benefit from training when it is brought to them in bitesize form. So, it's important to consider who you're delivering training to, and whether Workday Learning alone can meet their specific needs.
Admin experience
For admins, the experience is fairly similar. They can browse content in the learning catalog and enroll direct reports (individually or as a team), but can also set due dates and flag training as required. As mentioned earlier, they can create and assign customized learning paths for their teams that are specific to their objectives, making for a more personalized and impactful learning experience.
Admins can also view detailed learning reports that are updated in real-time, using data such as enrolled content and completion status to keep track of performance and adjust their strategy where needed. As an extension of Workday's existing HCM, Workday Learning brings disparate registration and tracking systems into one place and allows admins to easily manage L&D programs alongside other HR processes.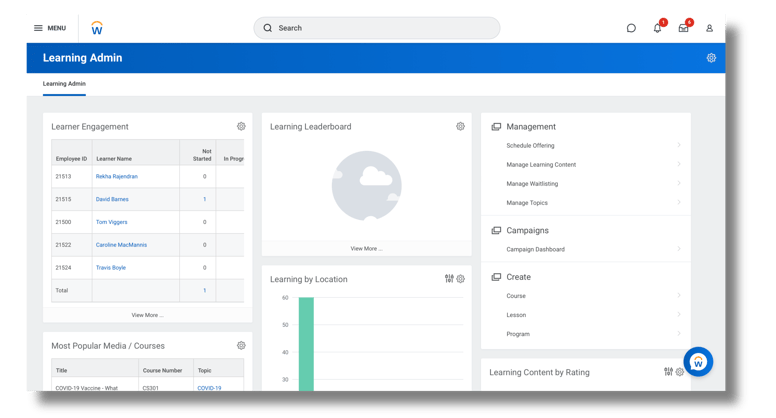 While it is possible to create training content natively within Workday Learning, the platform is somewhat limited when it comes to creating more complex courses or customizing the look and feel of content. As such, admins often use third party authoring tools to achieve their desired result and then upload or connect them to Workday Learning instead.
Therefore, Workday Learning is best seen as a content management tool. Workday has partnered with multiple third party content providers to offer a wide range of courses and learning resources - including Udemy, LinkedIn Learning, Coursera and more - to give admins access to off-the-shelf content that meets technical requirements such as SCORM.
Pros and Cons
PROS
Fully integrated with Workday HCM
Personalized learning recommendations
Comprehensive learning reports
Convenient cloud-based delivery
Wide range of content via third party content providers
CONS
Native content authoring limited
Longer-form content
Less suited to frontline workers
Workday Learning pricing
Available upon request via Workday's website.
Reviews
What better way to understand Workday Learning than to hear from actual users? Here are some recent reviews and ratings of Workday's LMS offering.
Demo
To see a full demo of Workday Learning and its features, head to their website.
The best Workday Learning alternatives
1. eduMe vs. Workday Learning
Best for: frontline workers
eduMe is a leading microlearning solution that's purpose-built for deskless workers, providing passwordless access to training within the tools they already use day-to-day. This is why Workday not only invest in eduMe, but have chosen us as their official frontline training partner.
The eduMe-Workday Learning integration enables organizations to bridge the gap between HQ and the frontline by delivering instant access to relevant, engaging training at the exact time it's needed.
What eduMe adds to Workday Learning
While Workday Learning is a good solution for office-based employees who have the time to browse an extensive learning catalog, it's limited in its ability to serve the frontline - who need the right information, right away.
eduMe was built to serve this need, giving workers immediate access to the specific knowledge they need to do their jobs. Removing barriers such as unnecessary sign-ins, app switching and searches for relevant content means your workers can learn within the flow of their everyday work, without ever having to leave the floor.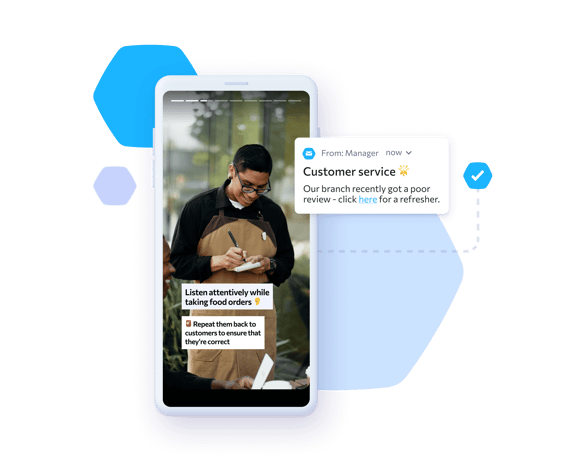 The content available in Workday Learning tends to be longer-form and generalized, requiring employees to carve time out of their working day. By contrast, eduMe breaks essential learning into bitesize microlearning that can be accessed and consumed on the go.
Interactive, social media style formats replicate the content your workforce already consume daily via their personal news feeds, resulting in a more engaging learner experience that commands attention.
Instead of relying on third party authoring tools, admins can create eduMe lessons in minutes with intuitive, AI-powered tools designed to speed up the content creation process. Similarly to Workday Learning, eduMe also empowers your local teams to create and share their own content with Guides - a social media-inspired feature that lets your internal experts share knowledge with their peers in a format that's familiar and engaging.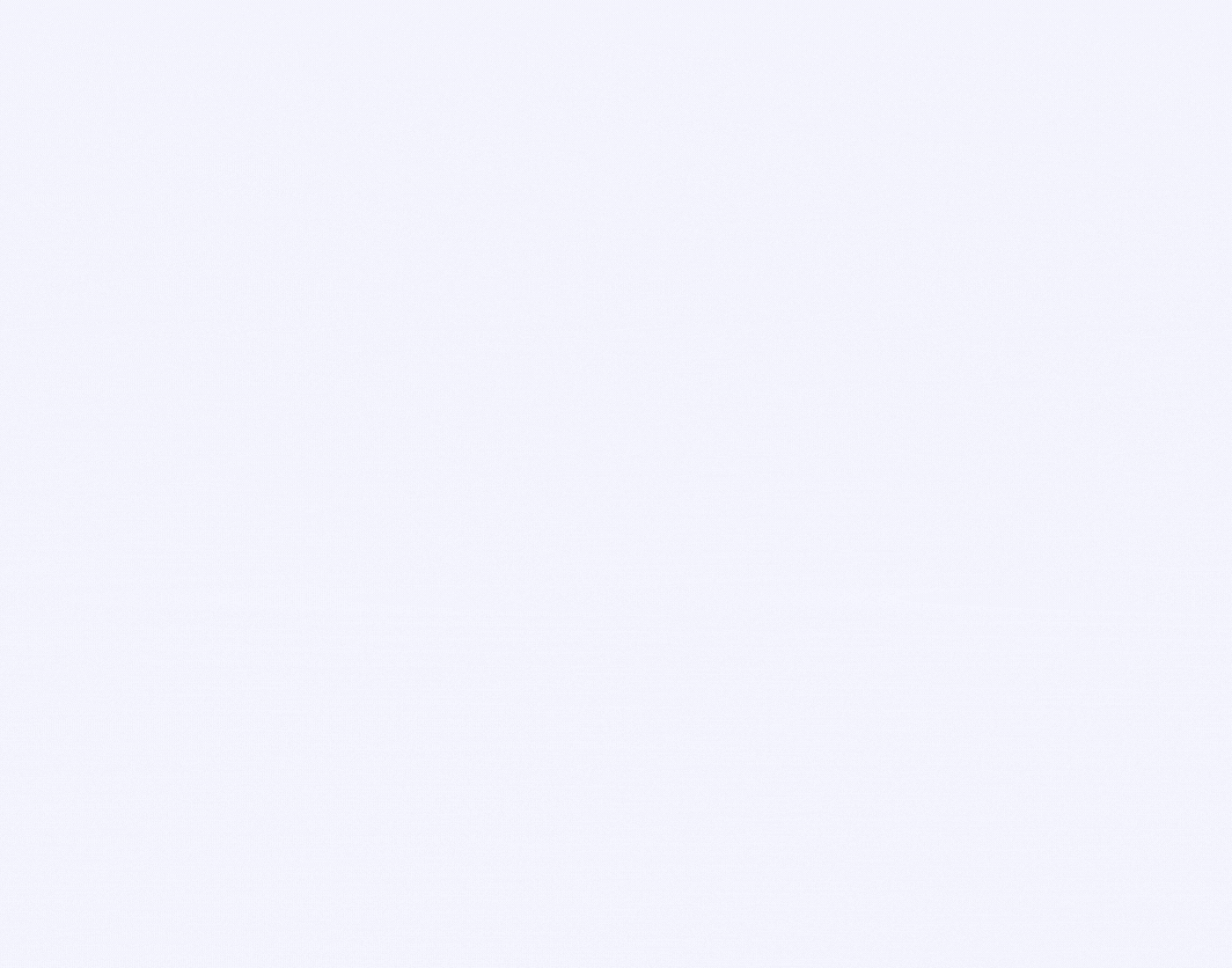 Once created, you can share content via email, SMS, a physical QR code placed in the workplace, or within one of your existing tools - including Microsoft Teams, Speakap or even Workday Learning itself.
Better yet, eduMe's seamless integration with Workday simplifies learner management with intelligent, role-based assignment. By connecting Workday HCM with eduMe, you can leverage up-to-date user data to automate the assignment of relevant content to the right learners and eliminate the manual effort to create and delete users.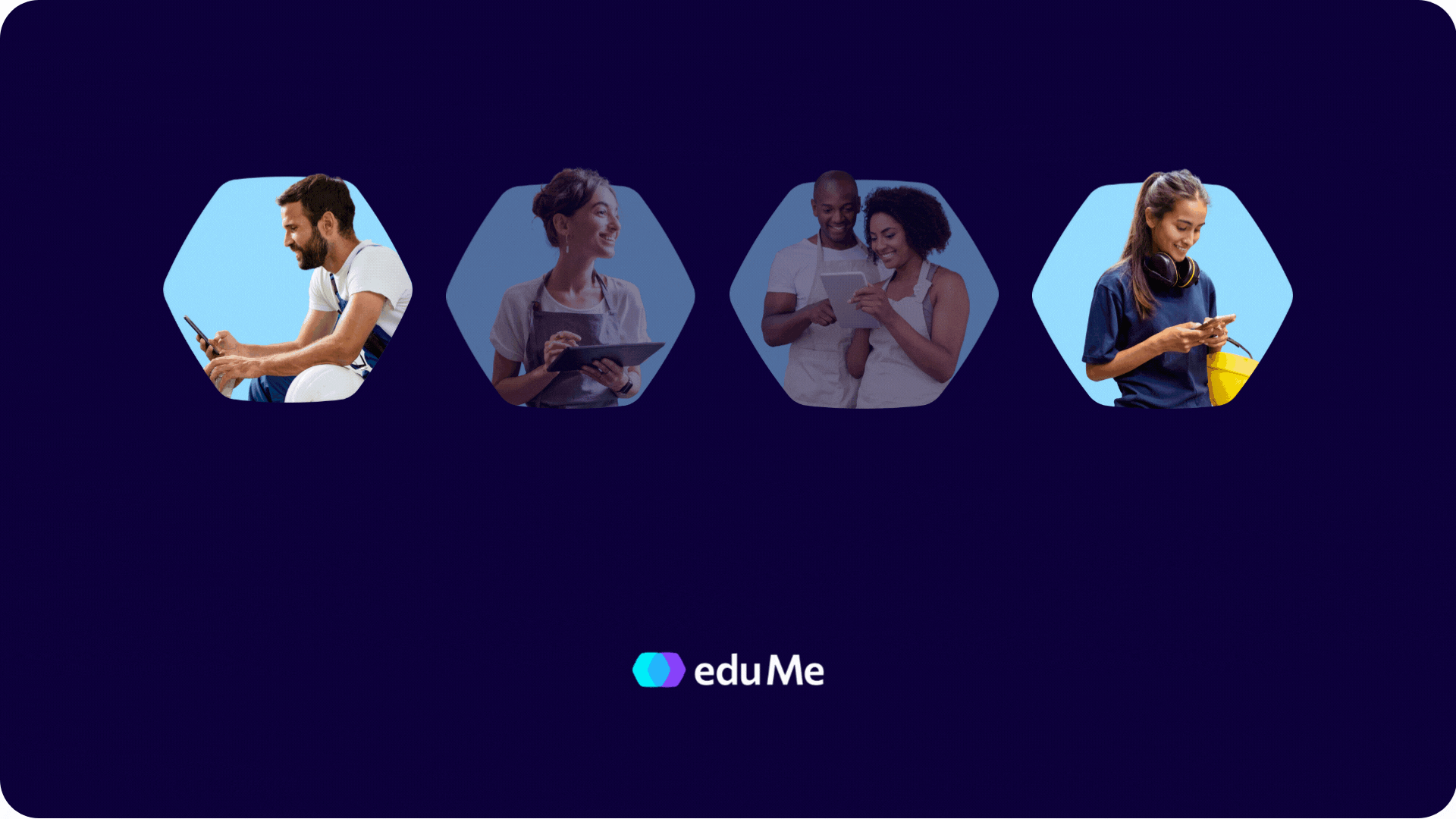 For example, you can set up dynamic learning hubs and paths based on user attributes such as location and job role. This means that a store associate in Dallas will see different content to a call worker in NYC, all without an administrator having to manually log employee changes or assign content individually.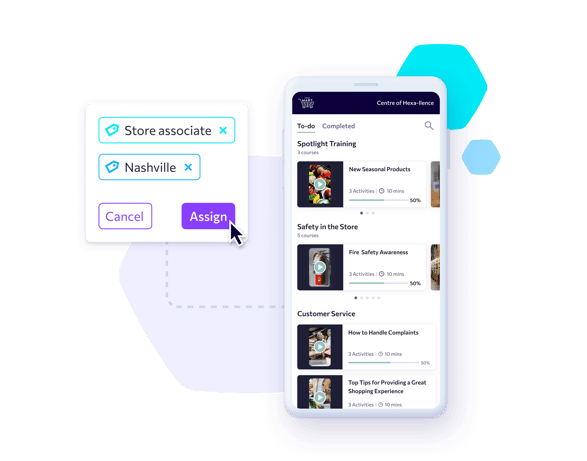 Completion data is then automatically synced from eduMe, giving you full visibility of workforce performance within Workday Learning so that you can review and adapt your strategy in real-time.
eduMe is the top solution for frontline workforce training, helping you to boost productivity, reduce turnover, prevent injuries and much more.
eduMe Pros and Cons
PROS
Fully integrated with Workday
Passwordless access to training at the point of need
Mobile-first, fun microlearning format
AI-powered tools for speedy content creation
Automated learner sync and training assignment
Real-time reporting data within Workday
CONS
Less suited for desk-based workers
Does not support long-form training content
SCORM incompatible
eduMe pricing
All eduMe pricing is tailored according to your organization and the number of users required. To get a personalized quote for your team, get in touch.
eduMe reviews
What better way to understand eduMe than to hear from actual users? Here are some recent reviews and ratings of the eduMe platform.
"eduMe is helping us scale our training curriculum and is allowing us to get necessary training out to the masses in ways that they're able to digest and learn. We're not currently able to customize how courses can be organized based on our business needs…eduMe has been incredibly open to customer feedback and finding customized solutions, so I expect we'll have a solution for this in the near future." (

G2)

"The best part of eduMe is that it is straightforward to use and build content within. I also love that it can be linked with other internal tools our business operates to place the learning content for the best visibility." (

G2

)
"The eduMe team has been nothing short of extraordinary to work with - assisting with content mapping, ideation, and making sure we are laser-focused on ROI. In general, I love how user-friendly the eduMe platform is, and all of the educational content they have around building a digestible, effective course." (

G2)



2. Leapsome vs. Workday Learning
Best for: corporate people enablement
Leapsome is an all-in-one people enablement platform aiming to help companies create a more engaged and productive workforce. A wide range of features - from goal and OKR management to performance and 360 reviews - give employees the tools and resources they need to succeed, and provide managers with the insights they need to develop their teams.
With an integration that lets you automatically sync user data with Workday, Leapsome is a powerful platform for employee development.
What makes Leapsome different to Workday Learning?
While Workday Learning is focused on learning and development, Leapsome is an all-in-one platform that combines performance management, employee engagement and personalized learning.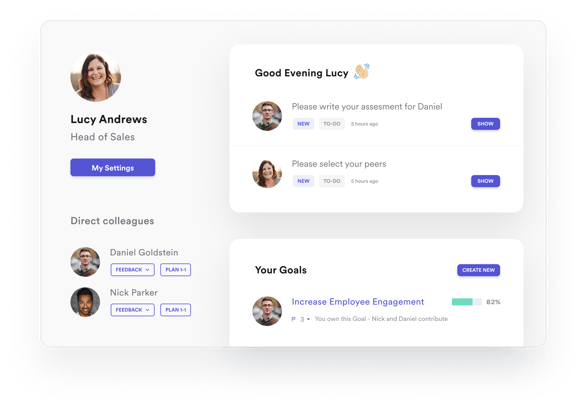 Leapsome's main selling point is its suite of people enablement tools - including performance management, OKRs, reviews etc. - however Leapsome Learning offers companies a chance to support these processes with learning.
For example, admins can create custom learning paths based on feedback and departmental goals that guide employees to progress in their careers, with learning material sourced from a curated third party library or created in-house. Learning can then be distributed in-platform via an automated content release schedule to free up more time for your L&D team and encourage continuous learning with regular reminders.
Real-time insights into completion rates and learner activity help you make proactive decisions about employee success, while data synced with Workday removes the need to manually assign teams and managers so that admins can focus on the wider picture.
Combining Leapsome Learning with their other employee engagement products - including surveys, feedback and praise - gives you even more tools to strengthen employee retention and engagement.
Leapsome Pros and Cons
PROS
Alignment with people enablement processes e.g. OKRs and feedback loops
Unlimited personalized learning paths
Automated timelines for content release and completion deadlines
Real-time performance insights
Automated user sync with Workday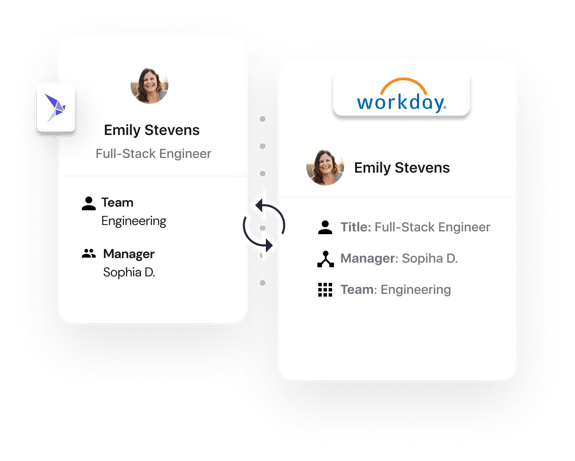 CONS
No gamification or social learning features
Inability to deliver training within Workday Learning
Not optimized for frontline workers
Leapsome pricing
Leapsome calculates pricing based on the number of employees, contract length and the number of modules used. Plans start from $8 per user per month - contact Leapsome for a custom quote.
Leapsome reviews
What better way to understand Leapsome than to hear from actual users? Here are some recent reviews and ratings of Leapsome Learning's offering.
"Having 1 on 1's and team Meetings, tied in with Goals, Reviews and learning makes it a very holistic system." (

G2

)
"It's very detailed & user friendly. It also provides customer support & has a number of features in it like helping managers to establish clear objectives, track progress, and align individual goals with organizational objectives, fostering a goal-oriented workplace culture…there is a learning curve associated with adopting Leapsome, which impacted the initial user experience." (

G2

)
"Leapsome's platform offers a range of features to support ongoing learning and development, regular feedback and recognition, and structured performance reviews…The platform's features are not always easy to navigate, and I often feel frustrated trying to find the information I need." (

G2

)
3. EdCast vs. Workday Learning
Best for: peer-to-peer learning
Sitting under the Cornerstone umbrella, EdCast is a learning experience platform (LXP) designed to enable end-to-end employee journeys, spanning learning, skilling and career mobility.
Leveraging AI-powered personalization and social learning to enhance the user experience, EdCast is a strong competitor in the learning space.
What makes EdCast different to Workday Learning?
Social learning is at the center of EdCast's learner experience, with a number of features that make it easy for employees to learn from one another - e.g. discussion forums, social media integrations and the ability to create and share learning playlists. This interactive approach to learning is designed to drive high engagement with training, while encouraging peer-to-peer knowledge-sharing.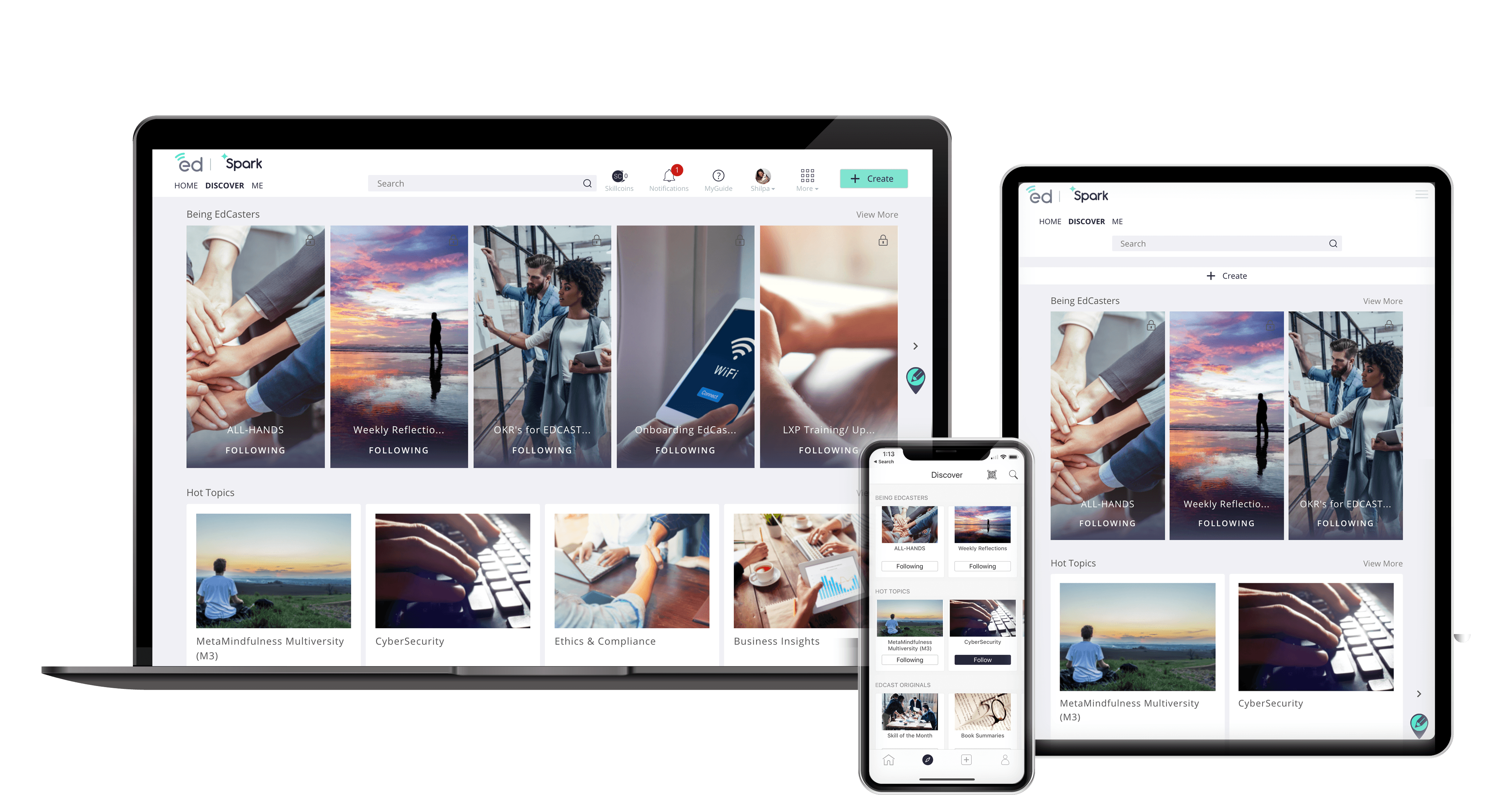 While Workday Learning gives admins the ability to create custom Learning Paths, these are generally more static and must be updated over time. EdCast, however, uses AI to recommend learning content based on a wider range of learner data (including interests, skills gaps and career goals) and enables the creation of dynamically updated learning paths.
EdCast also leverages AI to enhance the learning experience both for admins and end users. AI-enabled search and recommendation engines use robust filtering to help employees find the information they need quickly, and serve up relevant training to help them progress in their roles.
On the admin side, AI-proctored assessments give you a comprehensive view of full lifecycle skills management at the individual, functional and organizational level.
EdCast Pros and Cons
PROS
Engaging and collaborative social learning approach
AI-driven recommendations and search
Learning plans with assignments, progress and analytics
Centralized knowledge cloud
CONS
Not integrated with Workday
Not optimized for frontline workers
EdCast pricing
Contact Edcast for a custom quote.
EdCast reviews
What better way to understand Leapsome than to hear from actual users? Here are some recent reviews and ratings of Leapsome Learning's offering.
"Overall I feel the app goes beyond generic e-learning platforms and has excellent learning content.…I personally felt the number of choice of courses for each topic was a little too much. Since it creates more confusion." (

G2

)
"We found it to be an excellent collaborative space for your entire company to communicate and share knowledge with each other." (

G2

)
"The Edcast LXP is very easy to use and has streamlined all major functions into an intuitive dashboard. Some admin functions are still clumsy and could use a design revamp." (

G2

)
Workday Learning vs. eduMe vs. Leapsome vs. EdCast
By now we hope you're feeling crystal clear on each software, their differences, and unique capabilities.
But if the whirlwind tour has you feeling a little lost, fear not. We've summarized the key differences between all four softwares in a handy table below 👇
| | | | | |
| --- | --- | --- | --- | --- |
| | Workday Learning | eduMe | Leapsome | EdCast |
| Primary audience | Office-based | Frontline | Office-based | Office-based |
| Content source | External content libraries and third party authoring tools | Created natively in-platform | External content libraries and third party authoring tools | External content libraries and user-generated content |
| Mobile- readiness | Mobile compatible | Built for mobile | Mobile compatible | Mobile compatible |
| Push training | Possible to push (e.g. Spotlight Cards and Announcements) but only in-platform | Primarily push - SMS and email delivery features as well as third party integrations | Possible to push - third party integrations | Possible to push - third party integrations |
| Pull training (self-serve) | Primarily pull | Possible to pull - customizable Knowledge Hubs | Primarily pull | Primarily pull |
| Training visual identity | More traditional training course formats e.g text on screen, multiple-minute videos | Social media-esque visuals e.g. portrait mode, tap to progress | More traditional training course formats e.g. PDFs, multiple-minute videos | More traditional training course formats e.g text on screen, multiple-minute videos |
| Integrated with Workday HCM | ✅ | ✅ | ✅ | ❌ |
| Training accessible within Workday Learning | - | ✅ | ❌ | ❌ |
| Automatic user data sync | ✅ | ✅ | ✅ | ❌ |
| Completion data synced with Workday | ✅ | ✅ | ❌ | ❌ |
The final verdict - what's the 'best' Workday Learning alternative?
Workday Learning is a reliable, well-known LMS that serves a number of different industries.
You've probably pieced together that it's not really a case of which software outperforms the other, rather, which is best tailored to your needs - each serves a slightly different learner profile.
For example, if you're looking to deliver training optimized for frontline workers specifically, Workday Learning is best enhanced by the addition of eduMe.
Though there are many alternatives out there, eduMe is the number one choice for Workday customers who are looking for a way to better connect with their frontline.
We support eduMe because of its innovative training and learning platform that helps organizations navigate change and grow while serving an ever-expanding deskless workforce.



- Mark Peek, Managing Director & Co-Head, Workday Ventures
Our seamless integration with Workday lets you leverage your existing data to deliver the right training to the right people, and easily view and track completions within Workday Learning.
Employees can access highly relevant, bitesize and engaging training within the flow of their everyday work - meaning less time spent training, and more time driving results for your business.
Want to see how it works? Book in some time with the team for a personalized demo 👇