We know that leveraging an effective training strategy can have a significant impact on a company's bottom line: by directly increasing productivity, improving customer service, and strengthening employee retention it indirectly drives higher profits.
A recent study by Accenture actually found that every dollar spent on training got a $4.53 return, generating an ROI of 353%.
The evidence is there, but proving the value of training to internal stakeholders is still a major challenge for learning and development teams. How can you demonstrate the need for training to help your organization meet its business goals, and find assurance that you're making the right investment for your team?
The answer is simple: by measuring the return on investment of your training. Read on to find out what training ROI is, why it's important and how to calculate the ROI of your own training program.
Quick navigation: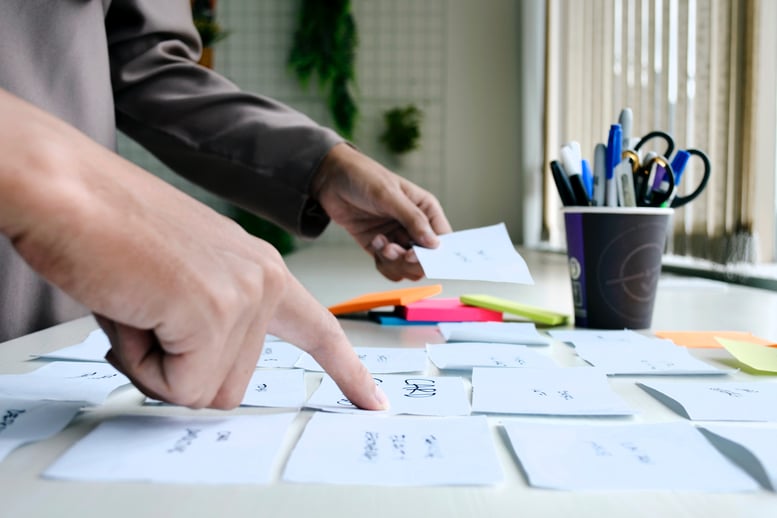 What is training ROI?
Before we delve into how you can calculate ROI in training and development, it's important to understand what exactly we're referring to.
Whereas standard ROI calculations focus on the net profit versus the total investment made, training ROI looks at the impact that training has on profit.
Giving your workers the tools they need to better understand the product or service you're providing, work more efficiently and provide a higher quality experience for customers is directly related to increasing profitability - training ROI allows you to take these factors into account.
It's important to note that, when we're looking at the ROI of training, we don't just want to break even. A new training solution should aim to bring in more revenue and drive further growth for your company, which is why your goal should be to achieve an ROI of over 100%.
Why is measuring the ROI of training important?
Of course, ensuring that every investment you make ultimately generates more revenue for your company is key. While ease of use and compatibility with your current organizational setup are key factors to consider, the crucial question to ask is whether it's producing the desired results.
Is the training actually helping your employees to perform better and reduce business costs? Is the cost of training outweighed by the benefits it brings to both individuals and the wider company?
Calculating training ROI is important not just in measuring whether it's a good investment, but also whether it's being used in the right way. Collecting concrete data on the performance of your training and how it's helping (or hindering) employee productivity will allow you to identify where things can be improved.
4 steps to proving employee training return on investment
Now, let's take a look at which steps you need to take in order to properly measure and prove return on investment for training employees.
1. Define your success metrics
It's impossible to determine whether a training initiative will be successful if you don't have a clear understanding of what success means to you. Before anything else, you need to decide which metrics are important to your specific goals and will be the signifiers of a great investment.
Have a think about your organizational and departmental goals. If you're working in HR, the goal for your training program might be to increase employee satisfaction and retention. If the training initiative is being implemented in the sales department, the objective might be to - you guessed it - increase sales.
Then, consider which targets each of your employees will need to achieve in order to hit those departmental result metrics. Following on from the sales example, this might be to make ten sales per day or start serving customers two days faster.
Defining the right success metrics for your training can be tricky, which is why eduMe's Customer Success team works with clients on a case-by-case basis. We've worked with many different departments across many different industries, and offer our expertise to help you determine what's right for you and your business.
2. Set KPIs
The next step is to establish KPIs for your training. At this stage, we recommend using the Kirkpatrick Model - a key framework used to measure the effectiveness of a training program by analyzing each stage of the learning process and how it produces results.
The Kirkpatrick Model uses four different steps: Reaction, Learning, Behavior and Results. Considering each of these stages allows you to determine exactly what you're hoping to achieve with your training initiative, and the steps that will be required to get there.
Let's take a look at how you might use this model in context. For example, when setting KPIs for a training initiative designed to improve upselling at a retail store.
Level 1 - Reaction
Measure your employees' immediate reactions to the training content. Was the training useful? Was it relevant to their roles and day-to-day responsibilities? Was it easy to use and understand?
The simplest way to do this is with a survey at the end of the course. With eduMe, you can surface pulse surveys at any point in a training course to receive live feedback as people are completing your training. Our surveys are also modular with free text field options, allowing you to personalize questions according to your specific training goals and more accurately measure ROI.
Level 2 - Learning
Assess what your employees have learned during the training. Have they come away understanding how to upsell? Have they absorbed the product information you provided?
Testing their knowledge with a brief quiz at the end of the course means you can prove that they picked up new techniques from your training course, and now have the information they need to maximize sales. Using eduMe means you can track even more data - including assessment scores, start date, progress, completion rate etc. - and provide better visibility of how employees are engaging with your training program.
Level 3 - Behavior
Think about which behaviors you want your employees to take up as a result of the training. In this example, we want to prove that store employees are using the upselling techniques they've learned in training and are recommending additional items or services to customers.
You might do this by having line managers observe employees as they complete sales, or monitoring whether the suggested add-on items have been added at checkout. Behavior can sometimes be difficult to track, and this is where using the right technology can make a difference.
Most POS systems - like Square or Odoo - will allow you to track units per transaction (UPT), a useful metric for upselling as it allows you to monitor whether sales assistants are recommending more products to customers. Select a few employees and look at the average UPT on sales made before and after completing the training to see if they've managed to upsell more items.
Level 4 - Results
Finally, decide on your results metric. In this case, we want to see an increase in average transaction value (ATV). If you are able to prove that the previous stages have led to measurable results - e.g. ATV by 12% - you can be assured that your training has been a good investment.
Once again, leveraging intelligent technology will help you to measure results more effectively. Data analytics solutions such as Dor give you better insights into sales performance, enabling you to track fluctuations in metrics such as ATV, conversion and revenue and provide a more accurate picture of how your training has performed.
3. Confirm the results
It's all well and good showcasing an uptick in performance, retention or productivity - but how can you prove that it's a direct result of your training? There are a number of factors at play which might influence these metrics, which is why we recommend running an A/B test.
Create a control group consisting of the same demographic and KPIs, but do not provide them with training. The performance of this group can then be compared against the group who did receive the training, allowing you to give a more accurate and compelling report on the success of the initiative.
This is a technique that we often suggest to our clients, and one employed successfully by online delivery platform, PedidosYa. When launching their new onboarding plan designed to engage new vendors and keep them active on their platform, they created two groups: one received the eduMe-hosted training, and the other did not. At the end of the launch period, they were able to see that those who hadn't received the onboarding training were more likely to go inactive. In fact, switching to eduMe helped them to reduce vendor inactivity by 15%.
How to calculate ROI in training and development
Once you've decided on the right metrics and KPIs, you're ready to start making your calculations.
This is the formula for calculating ROI: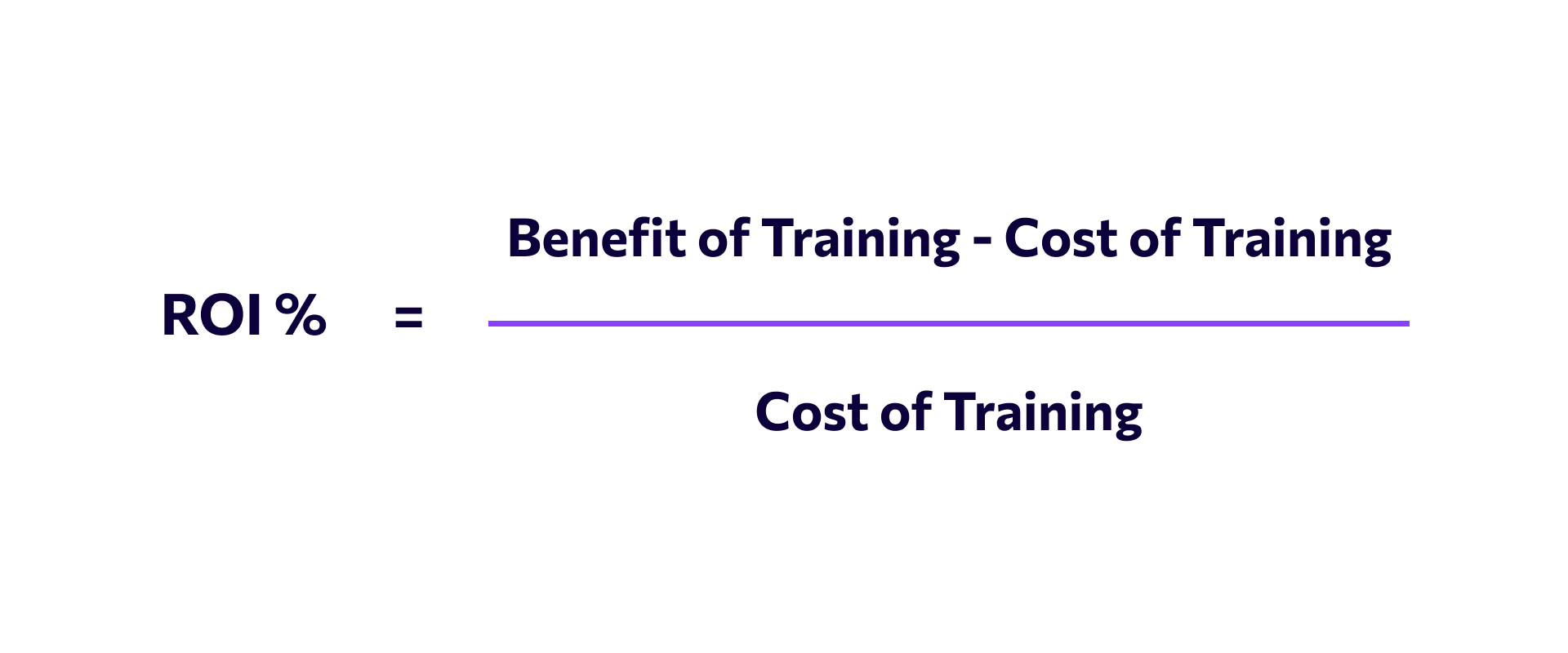 So, going back to our earlier example of a training initiative designed to increase average transaction value in a retail store, this is how we'd calculate ROI.
If we can prove a 12% increase in ATV as a result of the training, that equates to a $250,000 increase in sales over the next year. That gives us our figure for the benefit of training.
Next, we need to figure out how much it costs to provide the training over the course of that year. When calculating this figure, you'll need to consider:
The cost of creating and implementing the training program, and the price of the training platform used to do so
The number of hours employees spend completing the training rather than working, and how much they're paid per hour
The cost of running the course i.e. whether you need to hire a space, buy materials or provide technical support
If we say that, in this example, the retail store is using an embeddable mobile training solution to upskill their employees, the costs of running the course are $0. As training is delivered online, the costs of running an in-person training program are immediately eliminated.
Delivering courses seamlessly via mobile also enables employees to learn within the flow of work, meaning that less time is spent on training. In fact, these retail workers will be able to complete courses within 2-5 minutes via mobile devices, vastly reducing the lost productivity cost and enabling them to pick up new skills while out on the shop floor. So, another $0 figure.
Then, it's simply a case of calculating how much it costs to create and deliver the training. In this example, let's say it's around $30,000 - which would involve time spent authoring content, assigning material to relevant groups, analyzing data, and so on.
Using the above formula, that means our ROI is 733% - a very healthy number and proof that the training has been successful.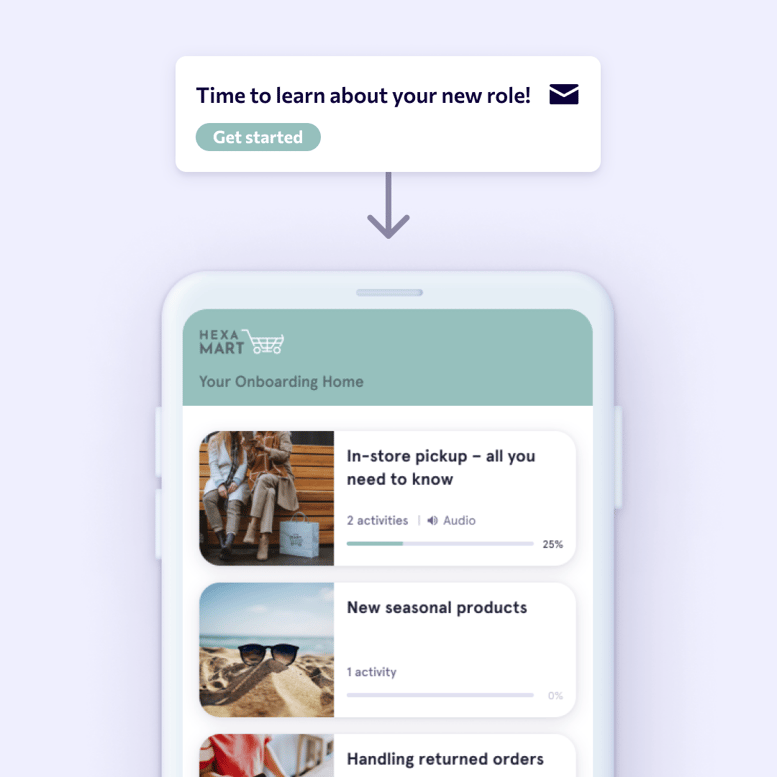 Why use eduMe over other training platforms?
There are a wide range of training platforms and Learning Management Systems (LMS) on the market. You might be thinking, what makes eduMe any different?
Firstly - and most importantly - eduMe works however you need it to.
Whether you'd like to use our seamless link technology to generate and manually distribute links to training via your preferred communication channel, or want to embed training within a tool you use, eduMe is unique in that it provides seamless, one-tap access to training regardless of the distribution method you opt for.
We also integrate with a number of workforce management and communication tools including Workday, Microsoft Teams and Braze. This means your workers can complete training in the flow of their everyday work. Content is delivered contextually based on their role, department or even user behavior, and surfaced within the technology they already use day-to-day.
eduMe is the gold standard of what it looks like to integrate technically
Tamara Palmer, Internal Communications Manager at Flagger Force
Providing one-tap access to training has been game changing for our clients, with results like a fourfold increase in training completion rates. eduMe courses are also built to engage. Our 2-3 minute lessons leverage microlearning to drive better engagement and knowledge retention for learners, and save valuable time and money for employers.
Once you've distributed it, it's time to take stock. eduMe's in-depth analytics let you monitor the performance of your training in real-time, highlighting problem areas so that you can continuously refine your strategy. You can also use our APIs to export data to other tools - whether that's an applicant tracking system or a data visualization tool such as Tableau - to gain better visibility and ensure that everything works the way you want it to.
"If you're looking for something can move the needle on these crucial metrics, eduMe certainly returned the investment we have made several times over"
Sriram Trikutam, Director of Strategies & Operations at Via
Finally, after you buy eduMe, you're not alone. Our in-house experts become an extension of your team, helping you to maximize knowledge retention and ensure behavior change across your organization. Our extensive Learning Consultancy offering includes workshops around your business objectives, learning strategy, launch plan collaboration, reviewing your existing training content, and much more.
We are by your side each step of the way, so that you can launch eduMe quicker, more effectively and ultimately - increase ROI.
Book a demo with us now to see how we can work together 👇