The hospitality industry is competitive; there are more than 101,000 restaurants and mobile food service businesses in the UK alone. That's just a small slice of the global hospitality industry.
Hospitality brands are fighting for consumer attention, and with new players entering the market all the time, delivering exceptional customer service has never been more important to help you stand out further, which means training your frontline staff.
But in hospitality, you're facing many training challenges. From high staff turnover and onboarding simultaneous seasonal hires to navigating shift patterns and training multiple job roles, for these reasons and more, standardized training just doesn't cut it.
That's where a learning management system for hospitality can help you achieve your training goals. Read on to learn more about the value they can offer and which are the best learning management systems.
Quick Navigation:
Why train your frontline hospitality staff?
According to 46% of hospitality executives, employee turnover in the sector is higher than the historical average. But there's good news — you can improve employee retention by 82% by delivering a comprehensive onboarding program.
And by lowering your turnover, you don't have to worry about constantly onboarding new employees. Instead, you can focus on building your current employee's product knowledge, which means consistently improving your customer experiences.
Other reasons to train your hospitality employees:
Training your staff means you can offer a more consistent service to customers and empower them to meet customer expectations.
Training means employees complete tasks correctly and efficiently, streamlining your customer service processes. This way, there are significantly fewer mistakes, and energy isn't expended on redoing tasks.
Challenges when training hospitality staff
When training hospitality staff, you run into a few specific issues. The most obvious challenge is employees commonly operate on shift working patterns, which means they'll never align, making it difficult to carry out consistent, group-based training.
The seasonality of hospitality employee training needs also means your business might make a batch of new hires to cover busy Christmas periods, and suddenly, you have a whole load of new employees to onboard quickly and efficiently. Again, group-based training falls short of needs and expectations.
And, if you operate a hotel chain, for example, you can't efficiently train groups in different locations, even though they require the same training. Again, this causes training headaches.
But you can find a solution to all these problems in a learning management system.
Benefits of a Learning Management System
Let's get a quick definition out of the way. A learning management system is a software solution that allows your organization to create, oversee and deliver training courses specific to your business needs.
I.e. You're a restaurant owner with an ever-changing menu. Staff need training on how the produce is cooked, where it's sourced, what allergens are present and perhaps the story behind the dish. They need to know everything about your menu to deliver exceptional customer service to all your diners.
But you don't have time to train staff face-to-face, particularly if you have a chain of restaurants with lunch and evening shifts.
A learning management system gives employees a centralized training portal, improving the learning experience. They can log in from wherever they are, whenever they're free, to receive consistent training across your locations. And some (like us) allow you to push training videos through the most-used channels like email or SMS.
Hospitality businesses can track and manage each employee's training journey, view progress and set up automated reminders to notify staff members when it's time to take some scheduled training, such as health and safety or GDPR compliance training.
The 4 best hospitality LMS
There are plenty of hospitality learning management systems out there, so it can take time to sift through them to find the best fit for your business. Here, we're sharing four of our top learning and development platforms.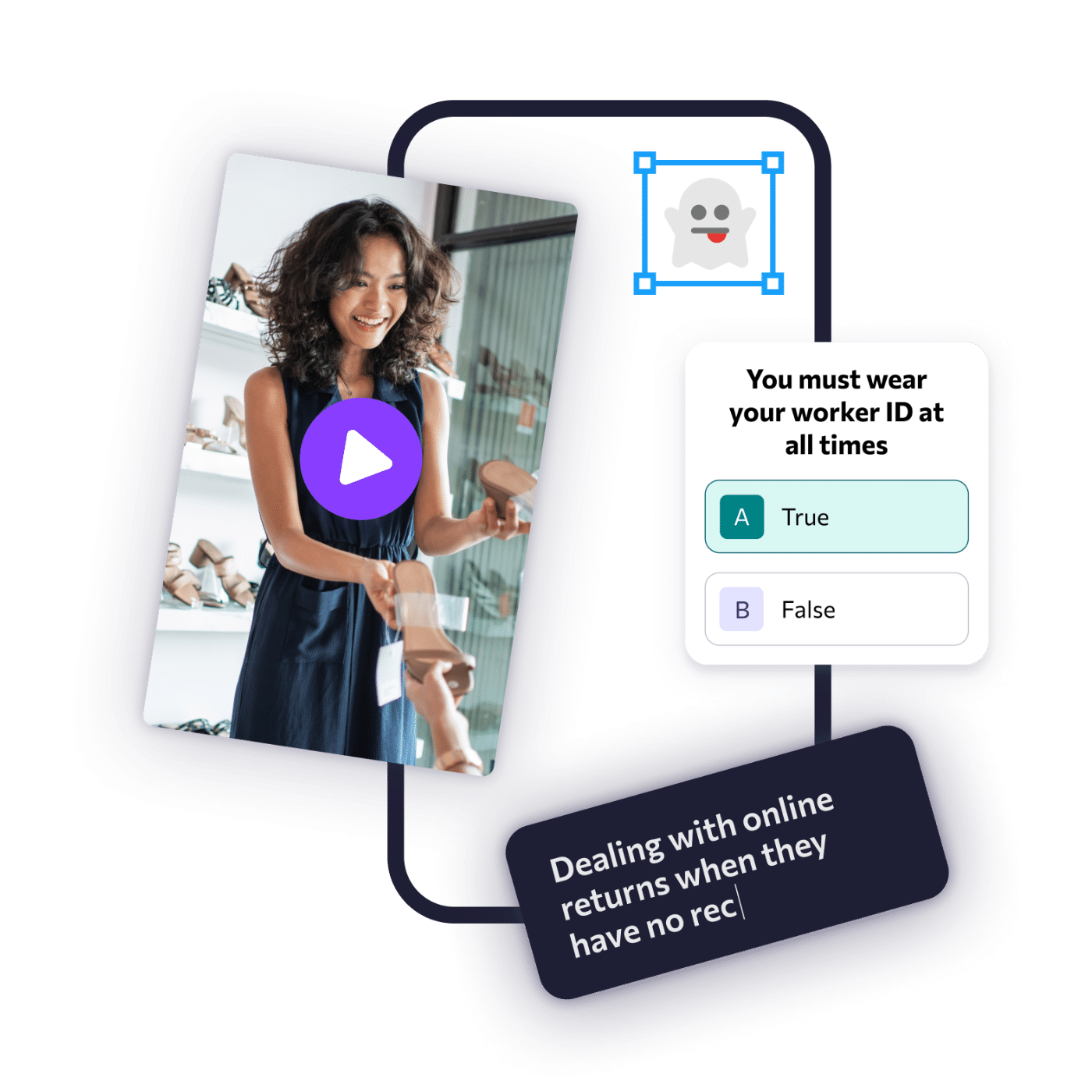 Our frontline training software is accessible to all types of frontline employees and plugs straight into your existing workplace tools, processes and workflows. With our mobile platform, you can share quick social-media-style video training to correspond with an action, i.e. a staff member receives a poor customer rating; our platform can push out a quick refresher course to keep staff knowledge topped up.
This real-time approach to interactive training means your frontline staff can upskill in mere minutes, accessing learning content on the go via channels most familiar to them — SMS, email, Workday, Microsoft Teams — take your pick.
"We've seen a steady improvement in productivity by two points - that's worth circa £100k per month to us as a business." — APC Overnight
Pricing
From $149 per month or custom enterprise pricing
Or sign up for free forever with our freemium product, Frontline (perfect if your team is smaller than 20 staff).
If you're looking for an LMS with experience serving the hospitality industry, TalentLMS could be a good option. The system allows customers to create brand new course content from scratch, or when you're short on time or inspiration, you can use their ready-made courses.
Its user-friendly interface means everyone can use it easily, even beginners, making ongoing training much more straightforward for training managers to implement and oversee.
Pricing
From $69 per month
Or sign up for their free forever plan

If you're in the hotel business, you might want to consider a hotel-specific LMS. eHotelier is an online learning platform to educate hotel staff, and with over 200 hospitality courses covering topics from compliance to executive development, this could be a good place to start when improving your frontline staff knowledge.
So, if you're looking to access hundreds of courses in the hotel industry and want global platform access, check out eHotelier.
Pricing
From $4.50 per license per month
Or sign up for a free 7-day trial

Another LMS with experience servicing hospitality brands is Litmos. This LMS allows brands to build courses, assign them to employees and track their progress. If you're a global enterprise with millions of learners, Litmos can accommodate your vast training needs across 150 countries and in 35 languages; this LMS is perfect for scaling international businesses.
Pricing
Pricing on request
Or sign up for a 14-day free trial
The Takeaway
Finding a suitable LMS solution for your hospitality business doesn't have to be difficult; as you can see, there are plenty of options available. It's just about understanding your frontline training needs and finding a solution that helps you meet your employee training goals.
We're the go-to training solution for many hospitality brands, including Hilton and Marriott. Let us help you effortlessly educate your frontline staff, too. Book a demo.
Select one of our lesson examples to see us in action: