Inequalities within the workplace are often met with a shocked and appalled: "It's 2023!". We are, indeed, almost a quarter way through the 21st century, and prejudicial perspectives aren't just unjust – they're outdated.

In this day and age, Diversity, Equity and Inclusion (DEI) training is rightfully taking center-stage. But what topics are the most relevant to your employees? And which training formats are the most effective? In today's blog, we'll guide you through the 5 expert-recommended topics to focus on when administering DEI training.
Quick Navigation:
1. What is DEI training?
2. Why is DEI training important?
3. The benefits of DEI training
4. 5 DEI training topics
What is DEI training?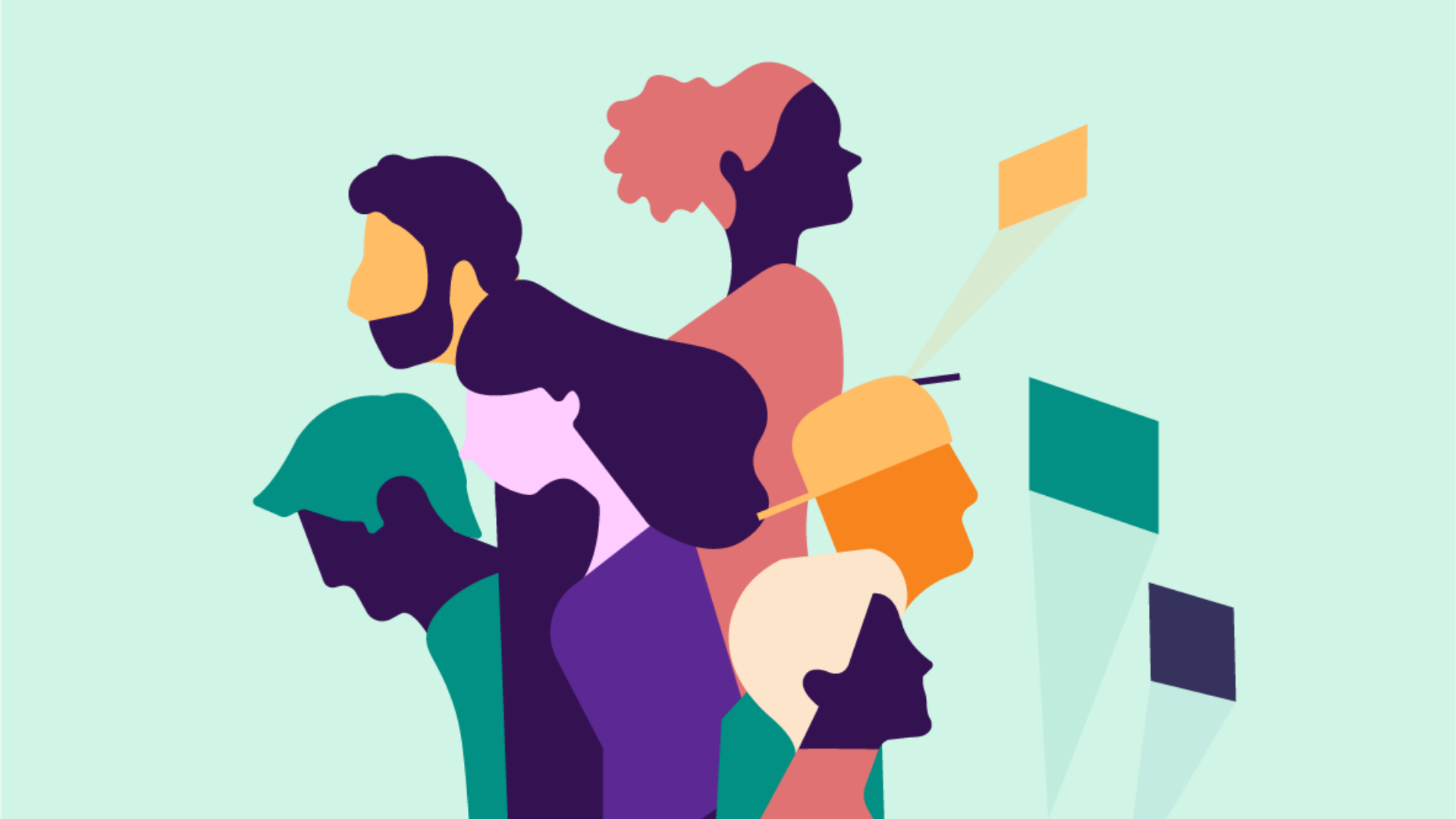 DEI training topics are included within company training programs and aim to actively enhance diversity and inclusion in the workplace. DEI training provides a crucial learning curve for both leaders and employees alike and is now a mandatory feature in training programs for many companies across the globe.
However, we still have a way to go: just over half (52%) of employees claim that they have DEI meetings or training at work, while 61% say their organization has policies in place to ensure equality in hiring, promotions and pay. The ultimate goal is to elevate these figures to 100%!
Why is DEI training important?
Unfortunately, while progress is steadily being made, prejudice and discrimination still exists – in the workplace, and in society as a whole. But how do we combat this? Through continuous, adaptable proactivity.

For example, an HR professional's responsibilities should extend beyond ensuring there are no signs of microaggressions within their team, but further, to create a diverse, inclusive working environment. There is a key difference between an organization which doesn't tolerate discrimination and one which is actively anti-discrimination.

The volume of such important conversations has amplified since 2020, and is set to continue gaining momentum across all industries.

Regular DEI training for employees is a crucial player in the campaign to enact real change, as it provides actionable steps that employees can take, while also increasing their empathy for team members from marginalized groups. Effective DEI training creates a more mindful team and a fair, inclusive space for all – where all voices are heard, regardless of age, race, sexuality, gender identity, disability or socioeconomic background.
The benefits of DEI training
Clearly, one of the core benefits of DEI training is teamwide awareness, empathy and mental wellbeing. You want your company's work environment to be a safe space, where employees feel they can thrive. And as we all know, a happy, healthy team dynamic fosters innovation and productivity.
What's more, DEI training provides a plethora of other benefits for your company. From attracting top talent to retaining it, it is certainly within your best interests to prioritize diversity and inclusion: 3 in 4 job seekers and employees told Glassdoor that a diverse workforce is an important factor in their decision-making process. Also, more than half of the employees in the survey sample thought that their company should be doing more to increase diversity and inclusion.
If you're a company with a frontline workforce, you may think that DEI training is either irrelevant or impossible to roll out. But those beliefs couldn't be further from the truth. Most frontline workers spend parts of their day interacting with others, whether with customers (e.g., retail associates) or other employees (e.g., warehouse staff), making DEI training absolutely necessary. And while training a dispersed workforce poses challenges, it's entirely possible to roll out practical training at scale.
APC Overnight are a logistics company with a large frontline workforce. They partnered with eduMe (that's us!) in order to continuously reinforce their core values to their frontline workers via mobile training. Now they're able to share content designed to support topics including diversity and inclusion, mental health, and social responsibility. The company recently rolled out a 'warehouse to wheels' training program that helped their first female colleague become a HGV driver.
"We use the whole range of eduMe formats to keep the learning really fresh and fun, but whilst still imparting those serious sound bites of learning that are always underpinned by that culture of care and respect."

5 DEI training topics
Without further ado, here are 5 DEI training topics which are pressing topics of conversation for your company.
Diversity vs Inclusion
First, you need to start with the basics: ensure that your employees understand the difference between diversity and inclusion. The two terms are often paired together as they go hand in hand, but it's important to differentiate between the two, and, therefore, set out clear goals for your company and its employees.

Diversity means representation of marginalized groups, while inclusion is the active process of supporting diversity at work. DEI training should aim to improve both the diversity and inclusion in your workforce – so it's vital that everyone's in the know beforehand!

However, the matter of diversity falls in the hands of the employer – they are responsible for hiring processes and addressing pay gaps, to name but a few. Therefore, the majority of employee training will focus on inclusion: actively championing the diversity of their colleagues.
Identity Awareness
Everyone has a unique identity and will, therefore, benefit from identity awareness training – but there are certain groups for whom it is especially necessary.

When discussing the importance of respecting colleagues' identities, you should educate your employees about the wide range of identities and cultures in your company – and beyond. Teach them to embrace the diversity of age, race, religion and gender identity in your team, and to be vigilant for any signs of exclusion.
Unconscious Bias and Microaggression
These are two different topics which fall under the same umbrella. Both can be perceived as 'minor' or unintentional forms of discrimination, yet this does not lessen the severity – especially if said actions build up over a period of time.

During their DEI training program, teach your employees to recognise prejudices they may not even be aware of. In the workplace, such unconscious bias can impact employees' behavior; again, these 'minor' inflections can feel major to the recipient.

Microaggressions, however, are far more at the forefront. While they may be subconscious and tend to evolve from unconscious biases, they actively contribute to a hostile working environment – particularly for those on the receiving end. It is crucial that you address such behaviours from the outset:: educate your employees on examples of microaggressions, and provide preventative solutions.

For example, anti-racism courses cover the full spectrum of racial discrimination, from microaggressions to full-blown harassment. Unfortunately, racially-motivated microaggressions such as repeated name mispronunciations and inappropriate questions still occur today, and DEI training highlights such behaviors as wholly unacceptable.
Bullying & Harrassment
Your DEI training should span a wide variety of topics, including levels of severity. While this may be a particularly sensitive subject, you need to be transparent about the potential for discriminatory behaviors to escalate to bullying and harassment. Some employees may claim that this is something they would never do, but sadly, there is an alarming record of bullying in the workplace— 35% of employees have experienced bullying or harassment during their career.
When discussing tools to combat workplace bullying, you must, of course, stress the disciplinary consequences of such behavior. This topic is also an opportunity to flag the importance of bystander intervention: ensure employees know what to do when they witness discriminatory behavior at work, and have a clear internal process in place.
Intentional Inclusion
Once your employees have the knowledge and incentive to be inclusive, you need a plan of action. Give employees specific guidance on how to practice purposeful inclusion – which covers everything from accessibility to inclusive language.

We would recommend a combination of clear company policies and encouragement for individual instinct. Stress that, while we're only human, it is our collective responsibility to learn and grow from past mistakes.
Which training tool should I use?
There are a variety of training platforms available to take your employees on their Diversity, Equity and Inclusion training journey. eduMe is proud to be paving the way for companies like yours, with our range of accessible mobile training courses.
We've already successfully partnered with Uber, launching anti-racism and LGBTQ+ initiatives through our mobile training tool. By seamlessly integrating into Uber's app and delivering engaging content, the ride-hailing company experienced impressive results:
"…the other result that we were really excited about was drivers and delivery partners saying that this content helped them modify some type of behavior because they learned that it was incorrect. So having 58% of participants saying that they did change something because of the content is really for us an amazing result and something that we are very excited about."



If you want eduMe to transform your company's DEI training, get in touch to book your demo today!