Around one third of frontline employees say they're not getting the continued coaching and training they need to help them do their jobs safely and productively.
The result? Higher employee turnover, lower productivity and reduced employee wellbeing - not to mention loss of revenue for businesses.
Though the current state of frontline employee training is poor, the secret to fixing this issue lies in the platform you're already using - top-rated employee training apps in Microsoft Teams put all the tools you need to train and retain your frontline workforce at your fingertips.
Here's what you need to know about using MS Teams for training and the 5 best Microsoft Teams training apps available right now.
Click the links to skip ahead to see the 5 best Microsoft Teams training apps - plus the key features you need to know about.
1. Can Microsoft Teams be used for training?
2. Frontline employee training in Microsoft Teams
3. Top benefits of using training apps in Microsoft Teams
4. 5 best Microsoft Teams training apps for your frontline workforce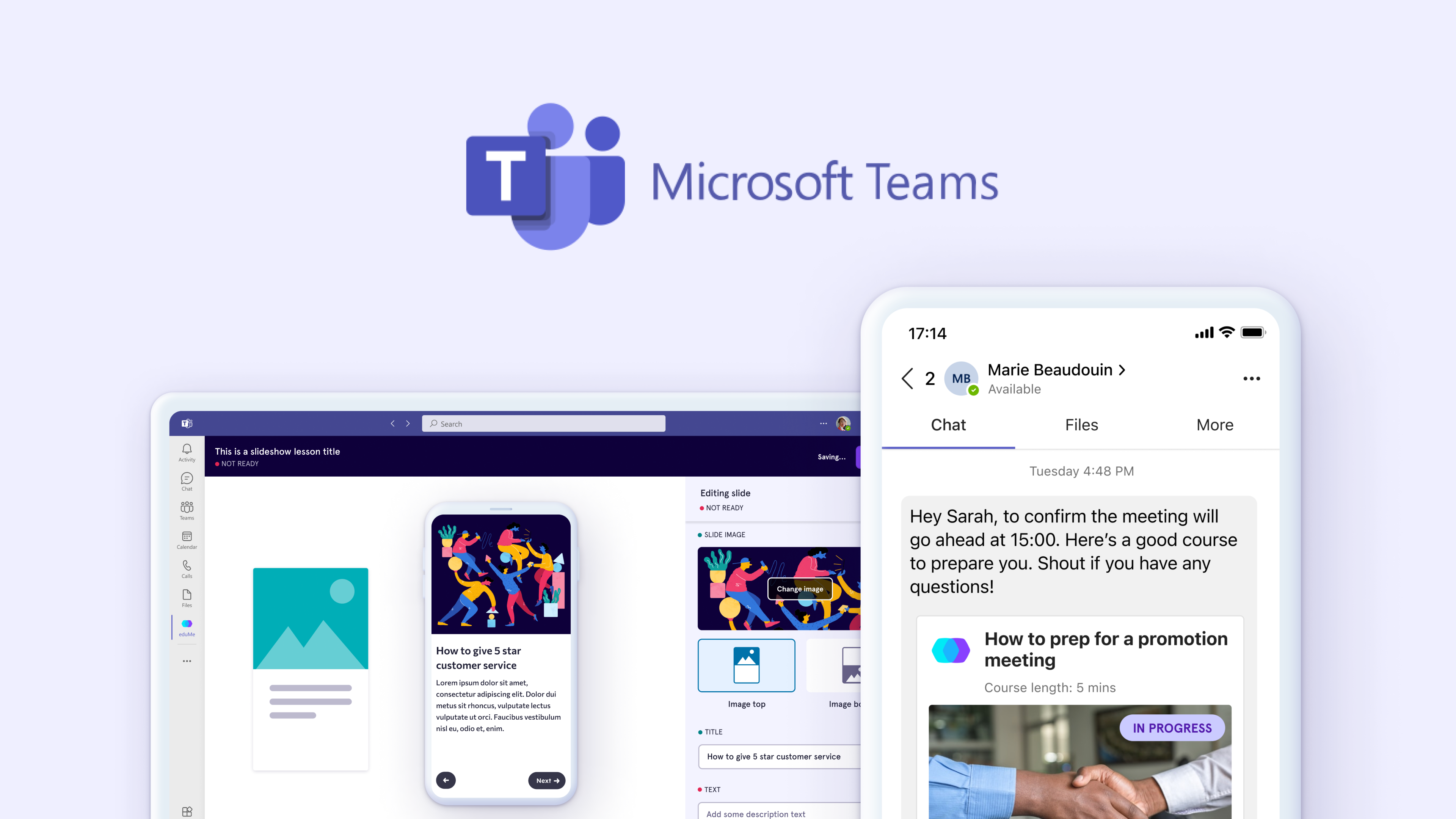 Can Microsoft Teams be used for training?
Since March 2020, Microsoft Teams has seen 400% growth in monthly active usage among frontline workers.
This means it's an untapped opportunity for connecting with frontline and deskless workers and delivering essential training.
While Microsoft Teams is not a training platform in itself - a wide range of integrations have opened up new opportunities for employee training directly within Microsoft Teams.
In the past, the platform was primarily used for communication and collaboration within teams, but third-party app integrations have dramatically expanded the capability of Microsoft Teams, turning it into an all-in-one platform for employee training, engagement, productivity and much more.
With the right training apps, Microsoft Teams gives organizations the power to deliver seamless training to frontline teams, delivering onboarding and ongoing training materials to employees without interrupting the flow of work.
Keep all activity on one platform to reduce digital friction and make training part of every day, rather than a one-off event.
Frontline employee training in Microsoft Teams
When it comes to training frontline workers, Microsoft Teams can be transformative for businesses.
From factory floor workers to education professionals to essential healthcare workers, the frontline workforce represents over 2 billion people globally.
But despite making up 80% of the world's workforce, frontline workers have largely been neglected when it comes to employee training and upskilling.
In fact, research shows that 40% of frontline workers receive training just once a year or less - and 55% have had to learn new technology on their own, without formal training or practice.
Standard employee training solutions fail to reach this highly mobile workforce, leaving frontline workers without critical safety and compliance training, product knowledge and learning opportunities needed for career progression.
Frontline workers need an employee training program that's standardized, comprehensive and intuitive - that delivers essential onboarding and training materials to them where they are, not in a clunky app they never use.
For organizations, the benefits of training frontline employees with Microsoft Teams can't be ignored.
The right training solution can help employees to:
Deliver the best customer service

Understand your unique processes

Upskill on new product offerings

Remain safe and compliant on the job

Feel engaged and connected to your organization
When you get it right, the results can be significant - like continuous training for retail sales employees that was found to boost sales by 50%.
Top benefits of using training apps in Microsoft Teams
Make your Microsoft Teams subscription go further by utilizing top training apps in Microsoft Teams to educate your frontline workers - and bring critical employee training and onboarding into the tools they already know and use.
Here are 3 of the top benefits of training apps in Microsoft Teams for your frontline workers:
Seamless: 92% of people who forget their login info will simply leave a site - minimize digital friction by embedding employee training apps within MS Teams to make learning seamless, instant and easy to access.

Convenient: 78% of deskless employees said they'd prefer to complete training on the job - roll all your communications and training into one platform to give your employees the ability to access learning materials in the tools they already use, making training more convenient by miles.

Engaging: Bite-sized microlearning modules help boost knowledge retention up to 80% - and when embedded in the apps you use every day, can increase engagement with training by up to 300% and improve learning outcomes too.
Find the best Microsoft Teams training apps for your frontline workforce and start reaping the benefits.
5 best Microsoft Teams training apps for your frontline workforce
eduMe
Key features:
Mobile-first microlearning solution for frontline workers

Streamlined access to employee onboarding and ongoing training

Create, assign and share courses to teams in MS workspaces

Share course recommendations in private chats and channels

Set automated course notifications to boost completion rates

Monitor learner progress and completion metrics in MS Teams
We're jumping in here at number 1 to give you a heads up about our leading microlearning app for frontline employee training - deliver essential onboarding and training to your workforce in Microsoft Teams and make learning part of the daily flow of work. By eliminating the need to app hop, login or learn a new program, you can maximize employee training outcomes with the eduMe training app in Microsoft Teams (and get back the average 23 minutes it takes to recover focus after a digital distraction).
Our bite-sized approach to employee learning is the ultimate way to train your workforce, improve workplace safety, and boost employee engagement and productivity across your organization. Provide seamless access to continuous training for your frontline workers in the eduMe Microsoft Teams training app and transform on-the-job learning with immediate effect.
Utilize in-built analytics and insights tools to get real-time updates on employee training progress to gather key performance data and track the outcomes of your training strategy. Access reports for meetings, employee feedback sessions and more. It's employee training - but simplified and streamlined.
Don't just take our word for it - customers that integrate eduMe into their frontline communication tools see an 84% training completion rate, 93% learner satisfaction, and a 15% increase in usage of the primary app (in this case, Microsoft Teams).
Microsoft Viva Learning
Key features:
Search for content across your organization within Microsoft Teams

Send content within MS Teams

Users get personalized content recommendations

Track progress and recommend content to colleagues
Microsoft have created their own Microsoft Teams training app - Microsoft Viva Learning - to help make learning a central part of your employees' day. Assign, share and explore learning content from their course library or access integrations from Coursera, Udemy Business, edX and more. With the Microsoft Viva Learning training app, you can search for learning content across your organization using MS teams. Personalized content recommendations also help make employee training more engaging and relevant for every user.
Skillsoft
Key features:
Learn, discuss and share training content in Microsoft Teams

Search and share Skillsoft Percipico content within MS Teams

Get AI-driven learning recommendations

Promote key content on your homepage
Get one-click access to Skillsoft Percipico content in the Skillsoft Microsoft Teams training app aimed at facilitating social learning between team members. Search and filter to find relevant training content directly within Microsoft Teams and access video, courses and more. Encourage collaboration between colleagues with recommended content, discussion groups and tools to share content directly into individual and group chats. Something important to showcase? Post promoted content on your MS Teams homepage for all workers to see.

Kahoot!
Key features:
Host kahoot training directly within Microsoft Teams

Assign challenges to colleagues and send automatic reminders

Launch live or self-paced quizzes in Teams

Create company-wide or team-based tournaments
Specializing in gamified employee training, Kahoot! is built to make learning more fun. Create quick learning experiences within minutes using Kahoot!'s blended learning solution to design and publish live or self-paced quizzes. The simple interactive microlearning tool lets you create unlimited quizzes for onboarding, training, team building and more. Host team-based or company-wide training tournaments with a leaderboard to incentivize and engage learners and reward top-performers - it's a dynamic way to instantly engage learners and get them excited to take part in training.
Rise Up
Key features:
Complete eLearning courses within Microsoft Teams

AI-powered virtual coach for personalized learning paths

Provide Rise Up access to restricted groups to segment workforce

Access progress tests directly in MS Teams
Train your frontline workforce without leaving Microsoft Teams - Rise Up gives you the chance to embed eLearning courses in the MS Teams platform so employees can complete essential modules, access resources and manage their groups all within MS Teams. Get a personalized learning experience with LIA, an AI-powered virtual coach that's designed to adapt to learners' individual requests and suggest eLearning content. Single-Sign-On technology means passwords need to be input only once to access training. Reduce barriers to learning with the Rise Up training app in Microsoft Teams.
Start using training apps in Microsoft Teams today
Using MS Teams as a platform for delivering employee training and learning maximizes success by encouraging employees to access learning resources on the job, improving employee safety, productivity and wellbeing company-wide.
The eduMe Microsoft Teams training app is specially designed to target frontline employees who often get missed in regular training. Bite-sized mobile-first microlearning is tailored to engage, inspire and educate your frontline workforce and provide them with the essential knowledge they need to succeed.
Don't neglect employee frontline - start using the eduMe training app in Microsoft Teams for better results, no matter where or when your workforce are working.
See how it works - book a demo.