A problem many on-demand food delivery companies face is a high courier sign-up rate, but seeing those contractors drop off after an initial 2-4 week period, i.e. they churn shortly after onboarding. This pattern may have been one heightened by COVID-19, as couriers feel reluctant about being on the frontlines due to concerns over their safety.
So what efforts can you make to better retain couriers, and keep them active on your app? The key to unlocking continuous engagement is to prove yourself as inextricable to, and invested in, your couriers' continued success.
We have been collaborating closely with one of our clients, Uber Eats, to improve their courier engagement and by extension, courier in-app activity. Want to know Uber Eats' secret to courier success? Read on...
1. Make it quick and easy for couriers to learn how to earn money and deliver great customer service
Timely and relevant information is the key to engaging, motivating, and empowering people to perform at their very best. But your workforce also needs to be reached with this information where they are (smartphones), when they need it, in a concise, user friendly and accessible way.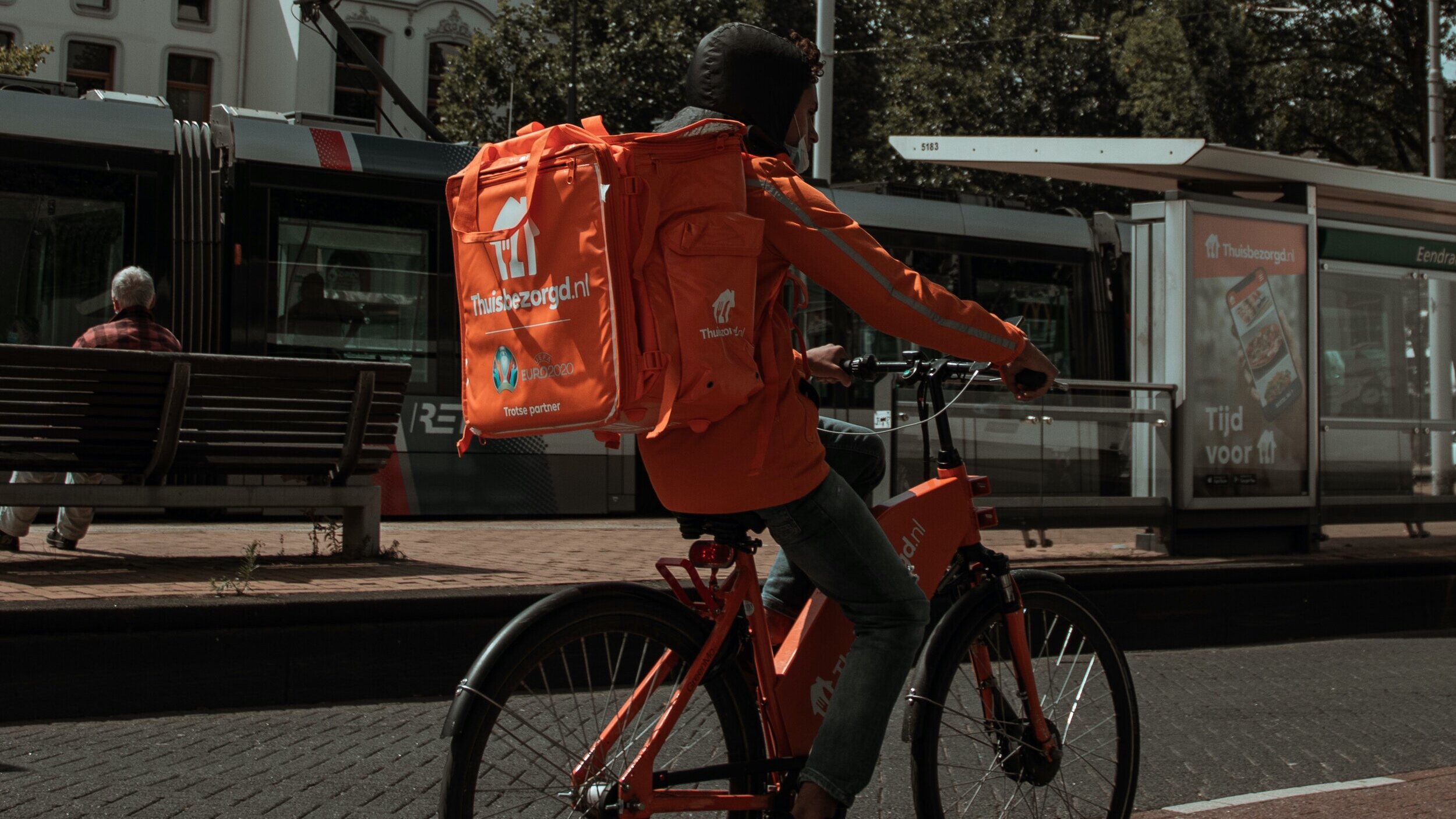 Did you know most people report only having 4 minutes daily to designate to upskilling themselves? On top of this, the average human attention span is at an all time low of just 8 seconds.
On-demand delivery companies looking to thrive need a modern solution to this modern problem. A way to inform, train and engage people that is optimised to suit reduced attention spans and lack of time.
Uber Eats use eduMe to engage couriers via bite-sized, microlearning lessons. These are no longer than 5 minutes and are sent directly to couriers' smartphones so they can access them flexibly on-the-go between deliveries.
Achieving success goes beyond simply reaching people where they are, it's also about providing them with invaluable information that they can easily act on to improve their success on your app.
Using eduMe to create a continuous learning journey that will promote courier retention
Like most on-demand contractors, couriers are primarily interested in how quickly and easily they can make money. If their route to achieving this through your app is simpler than through your competitors', you will reduce churn by inspiring contractor loyalty.
Given that couriers' main incentive to act is monetary, to continue engaging them following effective onboarding training, drip feed them information that relates to improving their earning potential.
Disperse information on how improve earning potential by increasing the quality of their service, such as:
What good collection etiquette is - e.g. how to conduct themselves when collecting food from restaurants, making sure they have collected the correct order

What good delivery etiquette is - e.g. how to ensure food always arrives in a satisfactory condition, how to be timely, how to communicate with customers

Measures they can take to elevate their level of customer service - e.g. looking presentable, behaving in a friendly and respectful manner

How to consistently be timely in collection and delivery of food - e.g. keeping their phone charged in order to communicate and receive updates, having sufficient data, having sufficient fuel, having a reliable mode of transport

What to do in the event that customers are unresponsive on arrival

Pointers on how to use the app more generally - some couriers are less tech savvy, and experiencing friction in your app will cause them to churn

What they'll get if they increase their number of trips - send motivational push notifications about improving their earnings to incentivize them to use the app

How and where to reach your customer support team in the event that anything related to their usage of your app is unclear
Present this information in an engaging format, e.g. a video with voiceover that is under 1-minute in length. Follow this up with a quiz, to cement retention of the knowledge contained within.
The more contractors reap material reward (higher income) from using your app, the more they will be motivated to keep opening it and making deliveries. Facilitate their path to greater earnings by feeding them relevant information in an engaging and ongoing way.
2. Upskilling delivery partners on Health & Safety
Following adequate Health & Safety measures is always critical when it comes to handling food, but in the wake of the COVID-19 pandemic, Health & Safety measures have become more stringent.
Your couriers are your brand representatives and need upskilling on these new rules so they are staying compliant and meeting new food hygiene standards.
Couriers may have also understandably become more reticent about using your app, if they do not feel sufficiently upskilled and supported by you on how to stay safe on the road.
Being on the frontlines during this time can be daunting, so dispersing such information additionally ensures they feel comfortable and knowledgeable in what protocol to follow in order to ensure their own safety and wellbeing.
When compiling COVID-19 related updated Health & Safety measures, be sure to always consult reliable sources:
Local or national government websites

Your organization's COVID-19 dedicated resource page
Via eduMe, Uber Eats have compiled concise lessons to upskill couriers on essential COVID-19 related Health & Safety information, like:
Hand washing best practice

Usage of sanitizer gels with a minimum of 60% alcohol

Avoiding touching their eyes and mouths

How to clean food delivery bags

Cleaning food delivery bags between deliveries

Making sure bags are properly sealed to prevent contamination

Laundering clothes worn on the job

Maintaining appropriate distances

Conducting no-contact deliveries
Lessons like these are infinitely more impactful when accompanied by a brief tutorial video - most people learn best by watching something being demonstrated. Video activates over 50% of our brains, and we are able to process visual information in just 250 milliseconds.
In eduMe, you can upload your own videos, or use videos from YouTube in lessons. All you need to do is copy and paste the link.
The takeaway…
By first ensuring your couriers' success through dispersing relevant, timely information about how they can maximise their earning potential, and how to do so safely and satisfactorily in our new post-pandemic world, you will retain them by ensuring their continued use of your app.
And ultimately, it's their continued use of your app that determines and secures your success in the market.
If you'd like to see how you can use eduMe's mobile-first remote learning platform to ensure the safety and success of your contractors, freelancers or clients through timely, impactful and engaging upskilling opportunities… 👇