In times of uncertainty and instability, motivation is easily lost to feelings of deflation, disheartenment and the subsequent disengagement these lead to.
Much has been said so far about making sure office-based employees' transition to working from home is as productive and non-disruptive as possible. (Here's what we've been doing internally at eduMe).
But for some, our essential workers, there is no choice but to be on the frontlines in a time of crisis. What can you do to make sure they are being supported as adequately and equally as those working from home?
1. Communicate a clear mission and vision
A mission statement covers the day-to-day, laying out primary objectives and unifying your people around a near to medium-term goal. It looks to address questions like 'What do we do, who do we do it for, and why do we do it?'.
A vision statement is more long-term, i.e. 'where do we want to be and how will we reach this?'.
What are your vision and mission statements? Do your employees know them? Are they aligned with both? If not - they should be. Mission-aligned employees are 30% more likely to be high performers.
When employees rally around a shared goal it gives context and meaning to their professional life. They are 24% less likely to churn. Humans are purposeful creatures - stripped of purpose we would have no reason to get out of bed in the morning.
"Every single person, every single organization on the planet knows what they do. But very, very few people or organizations know why they do what they do. And by "why" I don't mean "to make a profit." By "why," I mean: What's your purpose? What's your cause?" - Simon Sinek
Your vision and mission lie at your company's very core, they are the reason for its existence. You invested in them, your company's early backers invested in them, make sure this investment extends to your workforce too. How?
Hit home the purposeful nature of the service they are providing and the significance their role holds. But don't just make it a one-off, it has to be executed in a sustained way.
When people feel passionate, because they are doing something that is purposeful or worthwhile, they are intrinsically motivated to perform at their very best.
This is a desire to do things because fulfilment or pleasure is derived from doing it, rather than because of an external impetus like a monetary reward. This is the most powerful form of motivation. Harvard Business Review wrote that "meaning is the new money", after finding 90% of people were willing to earn less if they considered their work 'meaningful'.
One idea would be to send daily, motivational video messages from the C-Suite. Seeing managers or executives impassioned, positive and enthusiastic energises employees, boosting motivation. This is a practice Apple carries out daily.
2. Empower with information
Given the rapidly evolving nature of the COVID-19 outbreak, information needs to be sent out in a way that's both quick for you to create as well as easy to access for your workforce.
Use the right tools to ensure you are empowering them with what they need to know, when they need to know it. If people begin to feel disconnected or kept in the dark, motivation suffers.
Those on the frontlines who are spending their days outside, on-the-go, when most of the world has been ordered to stay inside, will have legitimate concerns about their health.
They also most likely won't be at a computer, or have a laptop to hand. So not only should you ensure knowledge and information is being delivered in an ongoing and timely way. You should be striving to reach them where they'll be able to access it - i.e. their smartphones.
Fire off a concise online course on steps they can take to stay safe on the job. For example:
Maintaining physical distance with customers

Wearing Personal Protective Equipment (PPE)

Making sure PPE or work garments are regularly washed

Washing their hands frequently

Using antibacterial gel with at least a 60% alcohol content

Wiping down food delivery bags

Employing no-contact deliveries
Keep communication open and flowing. Don't send out one lesson and think the job is done - re-engage people with course follow-ups, daily updates and frequent reminders, for instance, to notify you if they begin to feel sick.
Make sure they know where they need to go in the event that they need to report symptoms - make clear where relevant internal and external contact details can be found. In terms of the tone of the content you push out, keep it informational, factual and reassuring.
To protect yourself and your people from fake news, rely on:
Local Government websites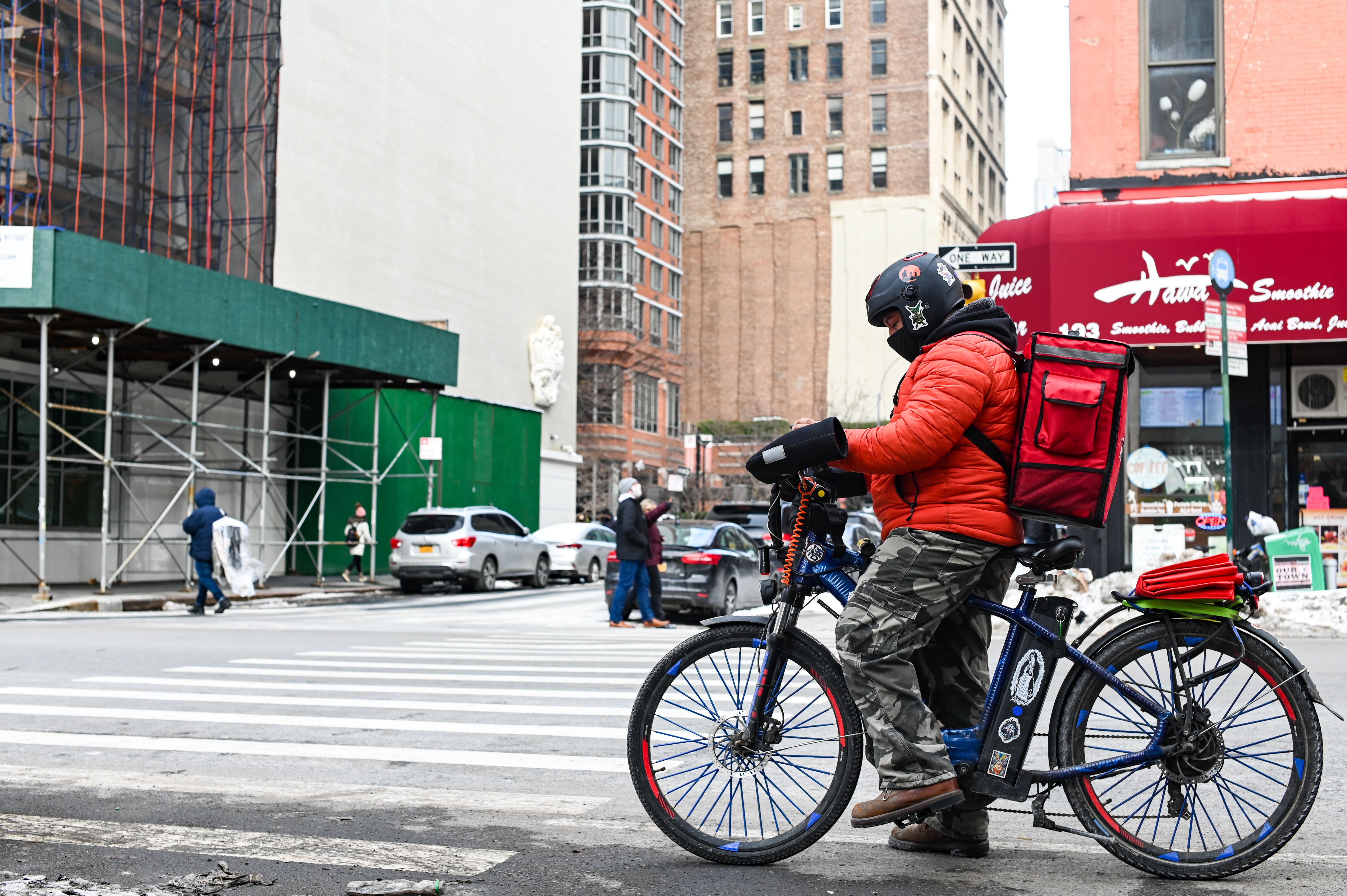 3. Recognise them
Recognition is a form of extrinsic motivation (motivation driven by external factors, like praise or reward) and a cornerstone of employee motivation. Providing attention in a personal way builds emotional bonds between you and your people. The way to build a recognition-rich culture is through an employee recognition program.
What are the behaviours, or feats, that are recognition worthy? The answer to this question is the foundation of your program.
Set a standard so people know what is required to achieve recognition, then embed that standard. Let employees recognise each other, so the flow of recognition is not one way.
This puts power back in employees' hands, and makes them feel like all voices are of equal value rather than them feeling at the whims of senior management, or victims of favouritism. Peer-to-peer recognition is also 36% more effective than manager-only recognition.
Public or social recognition programs are especially effective and self-maintaining - the more you recognise your people, and the more they recognise each other, the greater the grasp everyone will have on the particular actions that are recognition-worthy.
And the more your people see each other being recognised, and the more they feel like they are contributing to the success of the company, the more motivated they will be to replicate these recognition-gaining actions.
Recognition is addictive because receiving recognition triggers the release of dopamine. This positive, feel-good association with being recognised fuels the desire to be recognised again.
You can give recognition in many ways:
Physical or virtual thank you or well done cards given to teams or individuals

Company-wide or team-specific acknowledgement emails

Flashcards or video messages in EduMe

Recognition and rewards software like bonus.ly

Social media praise

Gamifying their learning experience

'Employee of the week' or a 'wall of fame' initiatives

Badges or in-app visual features that signify milestones made or achievements 'unlocked'
It really can be as simple as a 'thank you' - 75% of employees reported their motivation and morale would be boosted were they thanked by managers.
By putting high performance on a pedestal, highlighting individual successes and generally acknowledging your people you are saying: 'we see you and appreciate what you're doing as individuals'.
4. Seek feedback
There is no one that seeking feedback fails to benefit. It's a window into your workforce's soul.
By asking things like: 'how do you feel?', 'what can we improve?', 'how helpful was lesson x on y?', 'what should we cover next?', you are better informed on how best to serve your employees and contractors - it puts you in tune with their state of mind and needs.
Empowered employees are motivated employees. Part of empowerment comes from knowledge - knowing what they need to know, when they need to know it.
But the other facet to empowerment revolves not around the 'Head', but the 'Heart'. Only with both elements combined can Workforce Success be achieved.
By providing them with the opportunity to give feedback, you are providing them with the essential other component to empowerment - you are giving them a voice. Showing concern for, and malleability to, evolving employee needs does not go unappreciated - employees that feel heard and listened to are 4.6 times more likely to perform at their very best.
By proactively seeking feedback, rather than just directing frontline employees to support lines or emails that will more likely fuel rather than resolve any agitation, you are saying: 'we hear you and value you'.
And executing this doesn't have to be a huge resource or time drain. One simple way to better keep a finger on the pulse of your workforce is to send out daily pulse Surveys.
As the current situation is evolving by the day, it is important to check in with frequency. Surveys are easy for you to create and for them to complete - extensive, multi-question surveys suffer low completion rates and employees will just end up frustrated if they've spent time filling in text boxes with answers that aren't addressed, acted on or seemingly ignored.
The idea is less, but often. Send out a single-question check-in Survey daily, or twice daily. The question could be related to learning material you've sent out, or employee wellbeing. Provide preset answers, or use a simple yes/no, thumbs up/thumbs down format.
Receiving this knowledge on an ongoing basis means you can react effectively and adequately to support them.
Paving a path to Workforce Success
Workforces are living, breathing and complex organisms. They aren't static, and no two are the same. As a result, there is no one-size fits all solution that you can employ once to secure motivation long-term.
Employee motivation must be considered on an ongoing basis, and contextually. Our current context - a pandemic - is an appropriate time to readdress or double down on your strategy.
That said, there are some overarching practices, that we have more or less outlined above, that you can enforce that work regardless of context, industry and company size, simply because of the way our brains are wired. Giving recognition, for instance, triggers the release of dopamine, for everyone, every time.
Start by taking the fundamental ideas behind each, then mold them to fit your unique situation to pave the way to Workforce Success - which is achieved when your workforce are impassioned, committed, motivated and resultantly empowered to perform at their very best.