What a fantastic 2 days at UNLEASH London! It was wonderful to meet HR and L&D practitioners from companies around the world, representing industries as diverse as pharma, retail and engineering. The theme of 'learning in the flow of work' came up repeatedly and we're pleased to be helping our clients make that a daily reality for their people. But in this blog I'd like to share my personal highlight of the conference.
When I saw that Costas Markides was going to speak, I knew I'd be in the front row, listening intently. Costas is a professor at London Business School which is where my Dad studied. I grew up hearing about academics like Charles Handy who predicted the rise of a 'portfolio life' where people move between jobs, employers and types of work. Although this was almost unheard of in Dad's time - the 1970s - we now know that Charles was spot on. According to the US Department of Labor, today's high school graduates expect to have 10-14 jobs before they reach the age of 40. And in 2018, 50.2% of the UK workforce was working remotely or from home.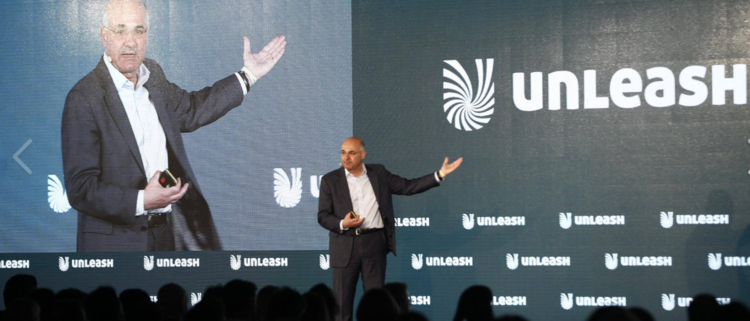 The 'portfolio life' means that employees are less loyal, more impatient, more informed and more demanding of their employers. Combined with the rise of remote working and the gig economy, we're left with the challenge of how to create a sense of belonging.
How can employers bring people together so that they share, interact and work towards a common goal?
Your organisation needs to have a compelling sense of purpose. But that's just the first step - the vision & mission also needs to be clearly and regularly communicated to your people. And even that's not enough - you need to invest time and energy to get buy in. Costas suggested using stories and visualisation techniques but most importantly, walk the walk.

Invest in your people! The more you invest, the less likely they are to jump ship. We know that millennials value learning and development opportunities very highly. The 2018 Deloitte Millennial Survey found that 81% of this group stated that self-paced learning would allow them to perform at their best. So make sure you deliver continuous, self-directed training in a way that fits around busy schedules, and gives people easy access to the skills and knowledge they want and need.

Create a culture of inclusiveness and belonging. Do things together like company events and team outings. And although this may not be possible for everyone in a large dispersed workforce, there are plenty of other things you can do. For example, recognise people for their achievements, give them ample opportunity to express their opinions and keep everyone informed about what's going on in the company. The latter is underused and yet highly effective!

Don't underestimate the importance of rituals and symbolism. Of course, celebrate company successes, but it's equally important to celebrate people's personal milestones like birthdays, weddings and children. As obvious as this sounds, Costas reminded us that we're all human and need to feel like we're people, not just numbers.
And talking of numbers, Costas explained that academic studies have proven that creating a sense of belonging results in all of these:
increased productivity,

reduced turnover & absenteeism,

increased innovation,

and surprisingly, higher customer spending.
Having made such a compelling argument, Costas left us all with the challenge of going back to our respective companies and thinking about the small changes we can make that will go a long way in creating a sense of purpose and of belonging.
I'm proud to be part of the eduMe team where we've created a learning platform that helps companies adapt to the demographic, societal and technological changes we're experiencing. I'd love to show you how we can work together to increase workforce engagement and loyalty in your organisation.