As a ride-hailing company you're operating in a fiercely competitive arena. There are many peer-to-peer ridesharing companies providing a similar - if not the same - service, and the casual nature of the contractor-contractee relationship is a double edged sword.
On one hand, it means on-demand companies can recruit new hires, at scale, more easily. But on the other, it means these same new hires can leave you for a number of competitors, just as easily as they joined. The barriers to entry (and switching) are low. 25% of freelancers are able to find new work in 24 hours.
In the absence of formally drawn contracts and their associated bindings - notice periods and submissions of resignation - in on-demand, a contractor "quitting" is akin to a contractor never opening your app again, or deleting it entirely.
Is this an inevitability, or can ride-hailing companies combat churn and retain drivers? If so, how?
Retention is possible, and for inspiration you need not look further than longstanding players in the market, Uber, who endeavour to do so in a particular way.
Introducing Uber Pro
"Uber Pro is all about recognizing and rewarding drivers' commitment and quality service. From higher earnings to a higher education, we want to help drivers reach their goals, on and off the road." - Daniel Danker, Head of Product, Uber Eats
Uber Pro is a loyalty program by Uber, first introduced in 2018. Uber Pro incentivises repeat high performance and cements loyalty among driver partners by tapping into their extrinsic and intrinsic motivation.
With every trip, driver partners gain points that contribute towards unlocking different levels - blue (no points required, available to all driver partners), gold (from 600 points), platinum (from 1,200 points) and diamond (from 1,800 points). This trajectory to success based on levels is an example of gamification in action - game-like elements used in non-game environments to encourage participation.

When humans are intrinsically motivated, their motivation stems from within. Their actions are carried out unprompted by external forces, because a sense of accomplishment, progress and pleasure is derived from completing the task itself. Gamification helps elicit these feelings (accomplishment and progress) through making driver partners' progress both visible to them and within their control.
This gamified 'ranking up' through levels, from blue, to gold, to platinum, motivates driver partners to aspire then work towards achieving their desired status and goal, while affirming their sense of their competence in their role. Gamification's associated feel-good feelings are caused by dopamine release in the brain. The combination of these factors means drivers are intrinsically motivated to keep providing a 5-star service.
Though Uber Pro leverages gamification's intrinsically motivating qualities to elicit participation, it also offers a whole host of tangible rewards to driver partners, which extrinsically motivates them.
These rewards (like bonuses and perks) use carrot-on-stick motivation to function, i.e. you will be rewarded with x, once you accomplish y.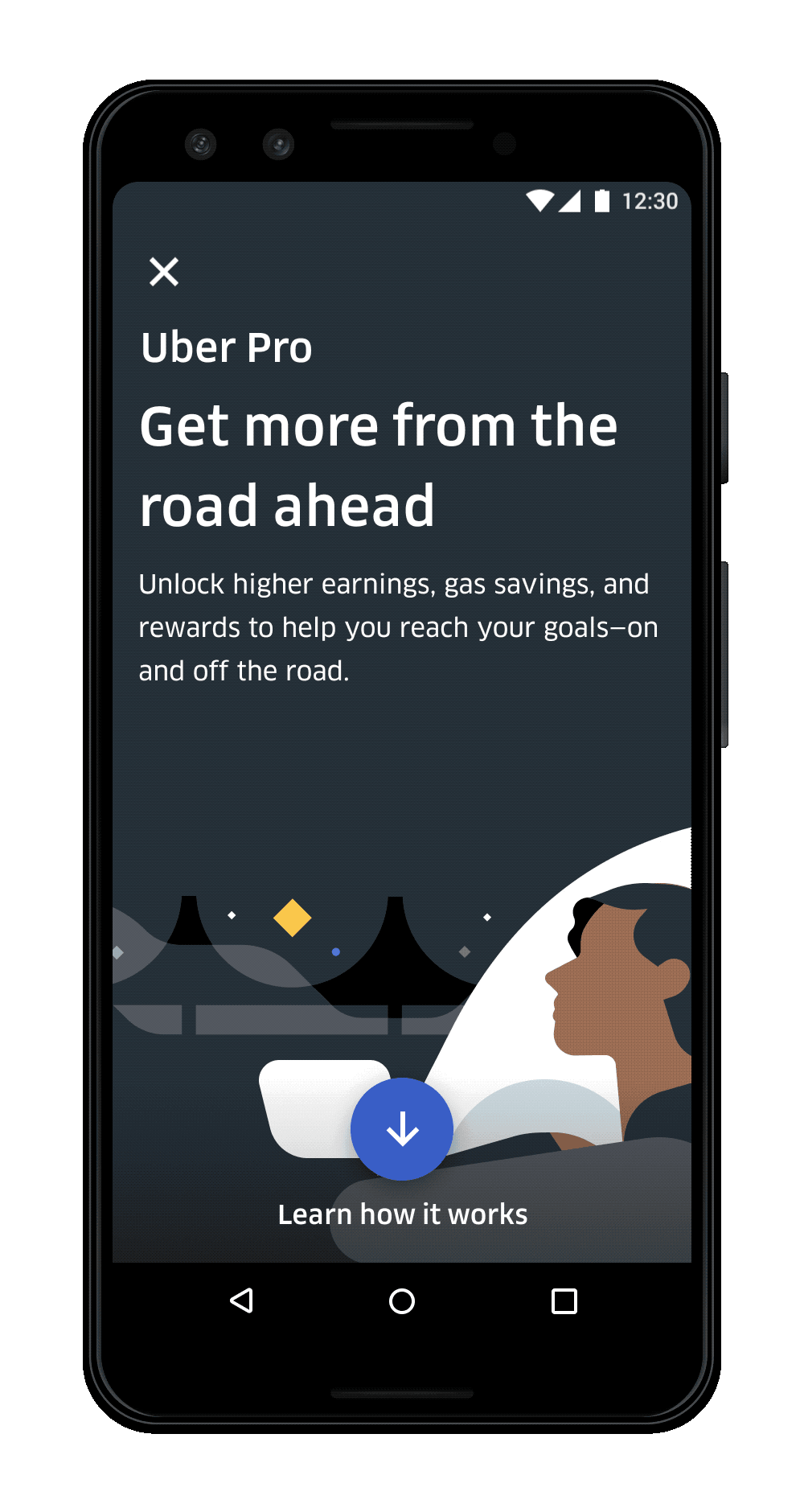 To be eligible, drivers must drive for a minimum period (three months), and accrue a certain number of points. To keep benefitting from rewards, their performance must remain consistent, above a minimum set threshold. And to level up and unlock higher statuses for more rewards, they must maintain a cancellation level of below 4%, a star rating above 4.85 and a ride acceptance rate above 85%, while having completed a certain number of rides in their next three month period of driving. These 'strings' attached to rewards in Uber Pro exist to incentivise consistently high performance.
The loyalty scheme's perks fall into two categories - 'On the Road' and 'Off the Road'.
On the Road rewards
Drivers who meet the necessary criteria set out by Uber have a range of benefits at their fingertips. These aim to better support driver partners in succeeding in their role, as well as speaking to their immediate interests - boosting earnings and making as much money as they can.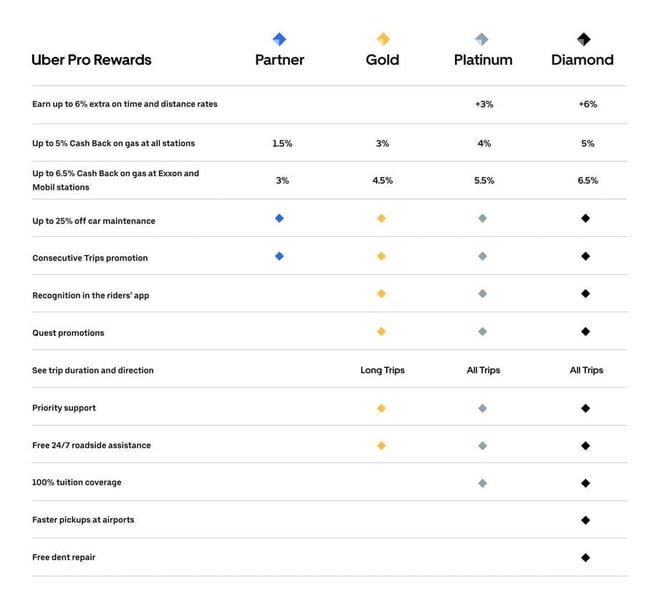 Though the specifics of Uber Pro rewards vary from city to city across the world, they tend to include things like:
Dedicated customer support

Airport priority pickup

Free MOTs

Fuel savings

Free 24/7 breakdown assistance

Discounted motor insurance

Free destinations (choice over where drivers want to go next)

Higher earnings and savings
On the Road rewards motivate repeat high performance in driver partners, and foster loyalty, by dangling a 'carrot' - the prospect of elevated earnings through savings on fuel and car maintenance - in front of them.
Uber Pro also seeks to support drivers by making sure their questions are prioritised and tended to in a timely, efficient manner, so they are always equipped with the information they need to perform at their very best.
Off the Road rewards
Uber Pro doesn't seek to simply offer rewards that improve driver partners' experience whilst driving for the app, but in their life beyond it too.
Uber's 'Off the Road' rewards contribute to the personal development of their contractors - whether that be physically or mentally - in capacities which do not solely relate to their role. These include unique perks like 100% covered tuition fees for undergraduate courses, and subsidised gym membership options.
"We're really excited about this. Drivers won't have to pay for tuition through our partnership. By using this, anyone can accelerate their path to where they want to go next." - Ali Wiezbowski, Product Lead, Uber.
In the U.S., Uber drivers are able to digitally enrol into any of over 80 undergraduate degrees at the Arizona State University (ASU). Classes begin at 4 hours each and can be completed on-demand - that is, whenever best suits a contractor. Uber Pro's free tuition benefit was concocted with flexibility at its heart, so contractors' lives aren't oriented around rigid hours, rather, they choose to learn at times most opportune to them.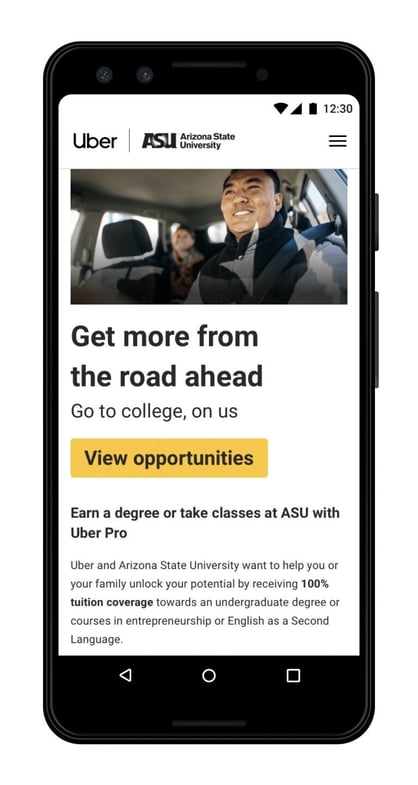 This level of flexibility in learning makes sense, given that the #1 reason contractors report being drawn to Uber's platform in the first instance is because they cherish the ability to work entirely flexibly - whenever, wherever, however frequently - or infrequently- they want.
These courses available range from English language courses (of which there are over 8) tailored to accommodate varying skill levels, to entrepreneurship.
The estimated saved cost in tuition fees for contractors is between $49,920 – $70,000 (numbers based on a four year degree). Through this perk, Uber Pro makes something invaluable but inaccessible, accessible, by removing the barrier of cost. One driver described it as "the most valuable nugget in [the Uber Pro] package".
It's unsurprising this perk has been popular among driver partners - demographically, the on-demand economy consists of millennials in higher proportions than it does any other generation, and opportunities for self development and growth is what millennials value most.
Should driver partners be unable or unwilling to complete a degree themselves, they can transfer the free tuition coverage to spouses, children, siblings, parents, legal guardians or dependents.
eduMe and Uber Pro
It's one thing to devise a loyalty scheme, but ensuring awareness and understanding of it among a worldwide workforce is another. eduMe has been instrumental to the successful rolling out of Uber's loyalty and retention program.
It is through eduMe, which is seamlessly integrated into the Uber app interface, that drivers are upskilled in the ins and outs of the program. This is done through completing a series of short, engaging, 2-5 minute microlearning modules on it.
Our remote learning tool, provides continuous upskilling opportunities to drivers on Uber Pro.
Each lesson is delivered in bite-sized chunks so that it remains engaging and digestible to drivers, who come from all walks of life and have little time to carve out for learning in a day (the average employee reports having 4 minutes), and need to access information on-the-go, through a smartphone device.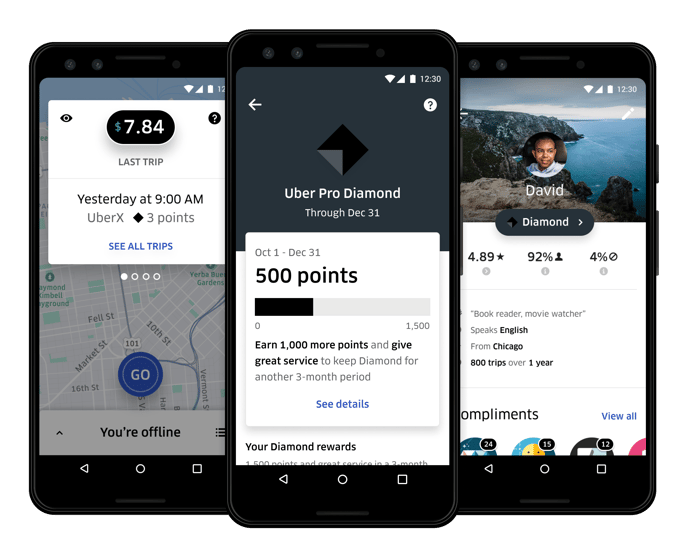 They include introductions summarising the lesson, a short, animated video that expands on the introduction's points, a quiz on the video's contents to promote knowledge recall in learners (which helps commit information to long-term memory) and a summary, reinforcing what they've learnt. The structure of lessons follows an eduMe template, that we have created and optimised to promote engagement and knowledge retention at every step of the way, making learning accessible and fun.
Loyalty schemes like Uber Pro possess the power they do by combining the motivating forces of extrinsic, carrot-on-stick and intrinsic motivators into one, to improve loyalty, contractor performance and customer service.
Ultimately, you can't stop competitors from marketing to your contractors. But you can counteract (and dull) the sound of competitors' calls with your own unique selling points. And keeping new, innovative offers and incentives flowing is at the crux of standing out from the crowd in on-demand.
Looking to seamlessly and successfully roll out a loyalty program or retention initiative that will help differentiate you from your competitors?
We can help 👇