In today's competitive environment, businesses looking to improve operations while differentiating themselves competitively must optimize their employee training. Doing so can increase revenue (24%), reduce costs, improve employee retention (50%), and enhance the overall customer experience, among other things.
But administering repeat training in a busy environment where the average employee only has limited time to dedicate to training, and you have little time to put together that training, can feel unmanageable. Especially if you're operating on an L&D, Ops, or HR team of one. You need a solution that's quick to implement and helps you achieve your employee training objectives.
And that's where freemium subscriptions come in handy. Instead of diving headfirst into a paid-for solution, with protracted buying processes and the need to get stakeholders on-side internally, there are plenty of freemium subscriptions or free trials out there to test the water.
Quick navigation:
The benefits of free employee training software
Accessing free employee training software is the ultimate try before you buy. You don't need to part with credit card information, you don't need management sign-off; you can sign up there and then to test it out and decide whether it can add value to your employee training program.
Some software offers forever free 'freemium' subscriptions, while others offer free trial periods. While both options give you a behind-the-scenes view of the software without parting with cash, squeezing the value out of these free periods to test-drive the software against your ambitious employee training goals is important.
Getting the most out of your free employee training software
Here are four things you should do when you've signed up for a free trial:
Figure out how you'll use the software
Understanding exactly how you plan to use the software is a good idea. Are you training a particular subset of employees? Or are you using the training for one specific reason, i.e. to onboard new employees or deliver safety and compliance training? Find software that matches the type of training you need.
Make sure you know what's included
Without knowing this, you'll never rinse your free trial or subscription for everything it's got. You'll want to know what features are available; that might mean jumping on a demo call or scouring their site to find actionable tutorials.
Make the most of the trial period
Don't sign up for a seven-day trial on Monday if you don't have time to use it until Thursday. You need to rigorously test all the software on your shortlist, which means blocking some space in your calendar and making time to test it.
Ask for help if you need it
The people behind the software know how to help you use it best. If you have specific questions about any drawbacks or limitations of the software, ask the experts working there or contact customer support.
Best free employee training software
What's the best employee training software? Well, that depends on what course content you want to create and who you want to create it for. Here, we're sharing our top three picks for you to sign up for and test for yourself.
1. Frontline by eduMe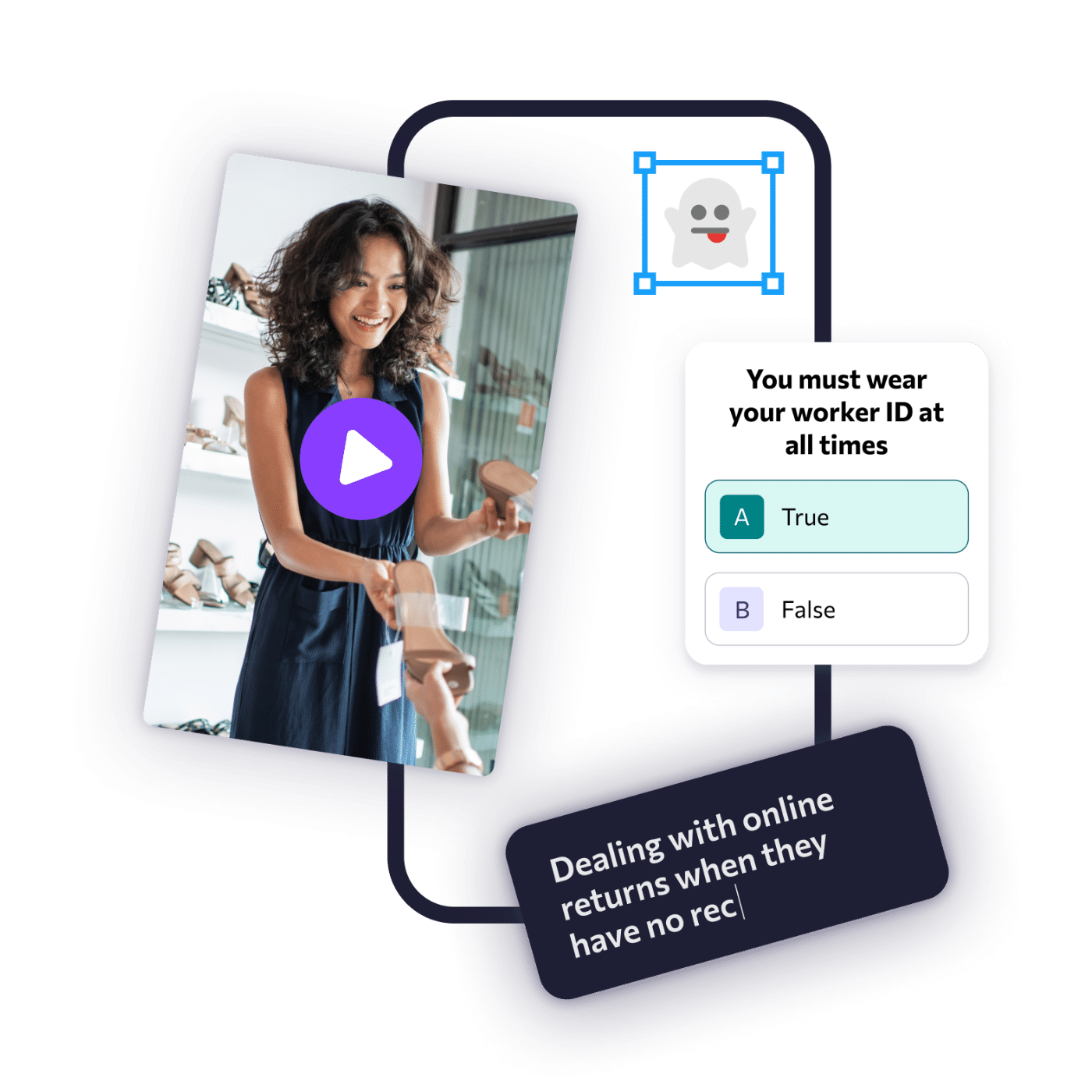 Frontline by eduMe is our forever-free employee training software for small businesses. Perfect for illustrating SOPs in a highly visual way, create free, social media-like lessons in a familiar, tap-to-progress format, to quickly upskill e.g. your factory workers on manual handling best practices, or push out a short video exchange to sales associates on how to deal with difficult customers.
Your frontline staff are brand ambassadors—they interact with your customers daily. As far as customers are concerned, they are your brand. So if their knowledge isn't up to scratch or they deliver lousy customer service, it reflects poorly on you.
Share your lessons through channels employees have easy access to - like WhatsApp, SMS, email, Slack, or copy and paste a link any other channel you need to, to improve training engagement and completion rates.
Compile a lesson from scratch - shoot natively through your smartphone camera, then add text, emojis, and round things off with a quiz for knowledge reinforcement.
Put employees—your experts on the ground — in the driving seat and allow long-standing employees to create best-practice content for new hires. Frontline has the tools you need to empower your frontline employees on everything from getting started in their role, to new product information, safety training, compliance and more.
Pros: Free forever, no credit card required, create quick social media-style videos to upskill front-line staff.
Cons: Limited features on the free plan, not suitable for medium to large enterprises who want to scale employee training programs.
2. Moodle Workplace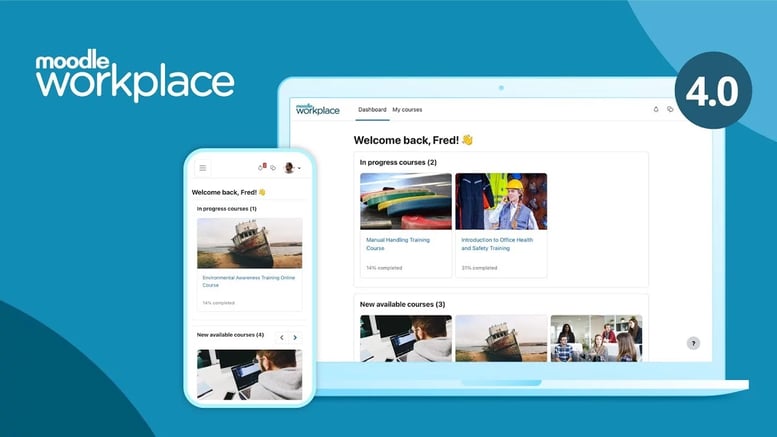 With Moodle Workplace, you can create courses in various formats, create tests and assignments, and deliver comprehensive courses to meet all your workplace online training needs, from onboarding staff to streamlining the entire employee training system. Deliver courses on compliance and health and safety, create, deliver, and measure them all easily through the MoodleCloud training platform.
Although Moodle Workplace isn't free, you can sign up for a 45-day free trial. That's over a month and a half to play around, create course content and dabble with the platform in full. After the free trial, prices start from just £100 per year for starter plans up to £1,310 per annum for up to 1,000 users.
Pros: Lots of features to take advantage of exams, assignments, online class discussions and more. Great for any sized business.
Cons: A highly detailed platform that requires greater time to navigate. It's also not completely free; they only offer a free trial.
3. Coggno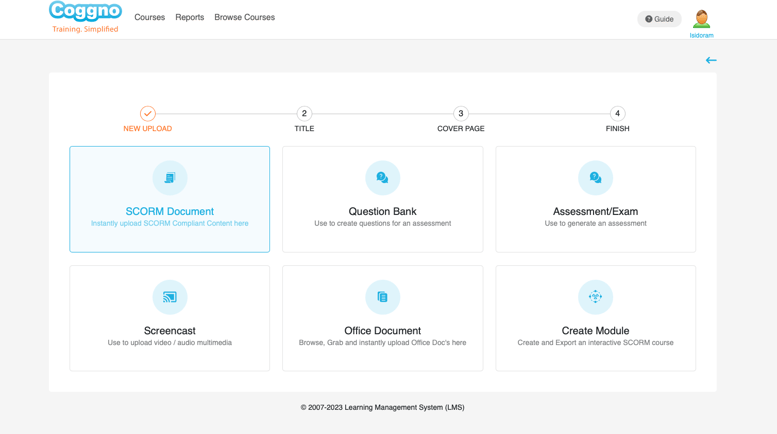 This learning platform offers its users access to various pre-made courses covering various topics, from construction safety to workplace diversity. The Coggno platform offers a freemium subscription with basic features, including logo branding, course attachments (to additional learning resources), certification, and survey creation and ticketing.
Aside from the wide choice of course topics, the best part about this platform is the ability to add unlimited users. So if you're a small business looking for a suitable free employee training platform, join the platform's 500,000 users today without spending any of your budget.
Pros: Cloud-based and cost-effective. With a freemium subscription, users can play around with the software, creating courses before upgrading their subscription.

Cons: Limited customization abilities and no course templates to help you create content quickly.

The takeaway
It's hard to come by a training platform that is entirely free, so when you do, simply signing up to test the waters yourself is a no brainer. This allows you to determine a product's value and suitability to your training needs and business' goals quickly and independently.
Ultimately the right platform will propel you towards your employee training goals, so take advantage of free trials and freedom subscriptions, explore feature sets, and don't shy away from reaching out to customer support teams for further information.
To try out Frontline by eduMe, simply click the banner below and start using our FREE frontline employee training software (no credit card information required) today 👇