September was filled with plenty of exciting new features and improvements, all geared toward helping you streamline your processes and create content with ease. From our Workday integration to new AI features to improved creator tools, we've got you covered. Read on to find out what's new in eduMe.
Workday Integration
The eduMe and Workday integration provides a simple solution to managing frontline training, making it easier and faster to get relevant training to the right people and track completion data to keep on top of workforce performance.
Sync your user data with eduMe 👥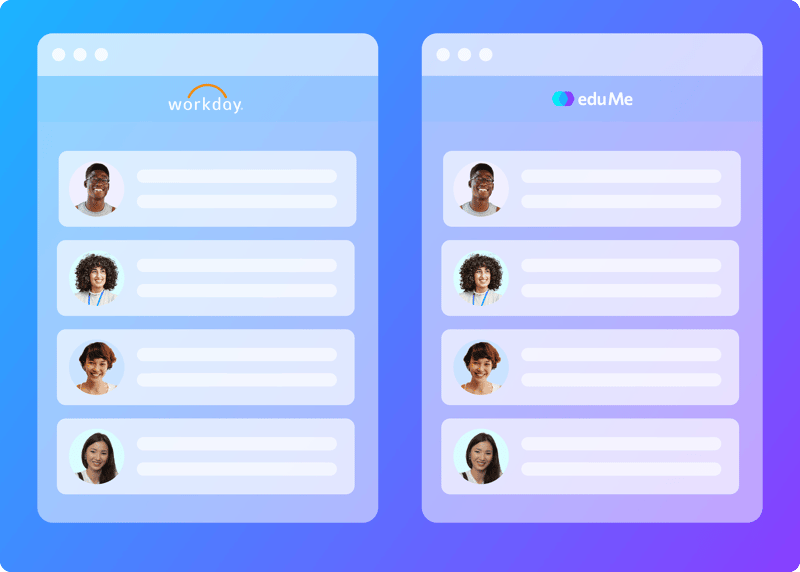 Tap into your system of record to reduce management effort and more easily target the right learners with the most relevant content to them.
Syncing user data from Workday HCM with eduMe means you always have access to the most up-to-date information about your workforce that lets you deliver training based on what your team needs most, when they need it.
Automate assignment of content based on user attributes stored in Workday, such as job title, location or language, then deliver training via any of your preferred channels.
Not a Workday customer but interested in simpler and smarter user management? Ask us about our other HR and Active Directory platform integrations, including ADP, SAP Success Factors, UKG Pro and Azure.
Completion data into Workday Learning 📊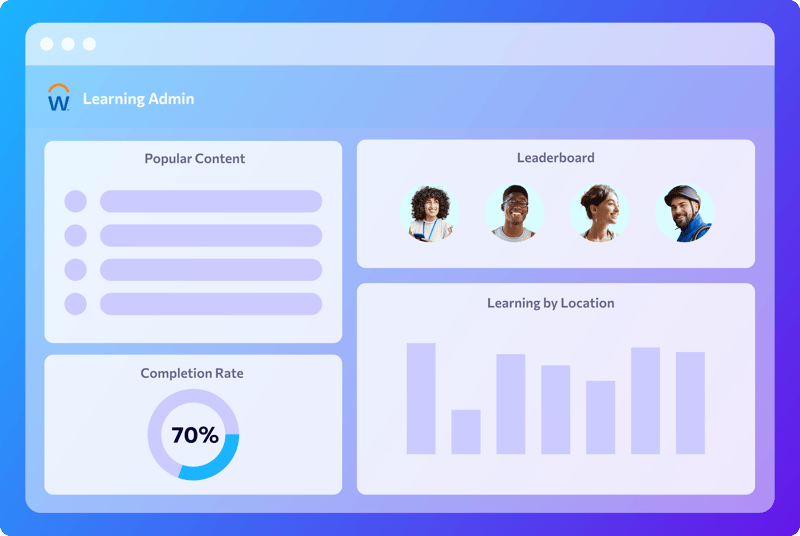 Streamline your most important insights and view completion data in your source of truth. User completions are synced with Workday Learning, allowing your team to keep track of training data in the platform you rely on for all business operations.
Quickly see who has or hasn't completed training and leverage eduMe tags to see content performance by demographic data such as location, job role or language.
Get started instantly with our Workday integration >
eduMe AI
We're constantly bringing new updates and improvements to eduMe AI to help you create, ideate and deliver content faster. Last month we released two new AI features that you can get started using right now.
Write better content – faster ✨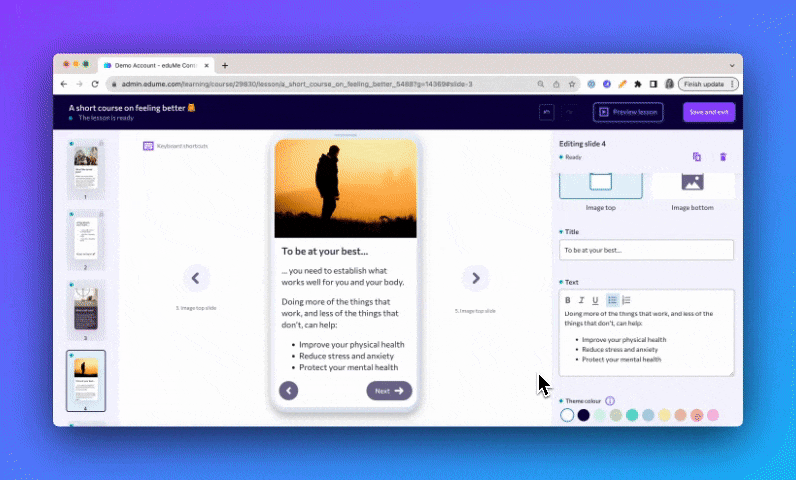 We all need a helping hand from time to time when it comes to crafting the perfect copy, and that's exactly what eduMe AI's Content Assistant is here to do.
Now, when you're editing text in a slideshow lesson, just click the three purple sparkles when they appear at the bottom of the text box and choose from a selection of options to help tweak and perfect your writing.
Make it shorter, longer, friendlier, simpler, or just ask for a bit of emoji inspiration 😎✌️✨
AI-generated Guides in any language 🌍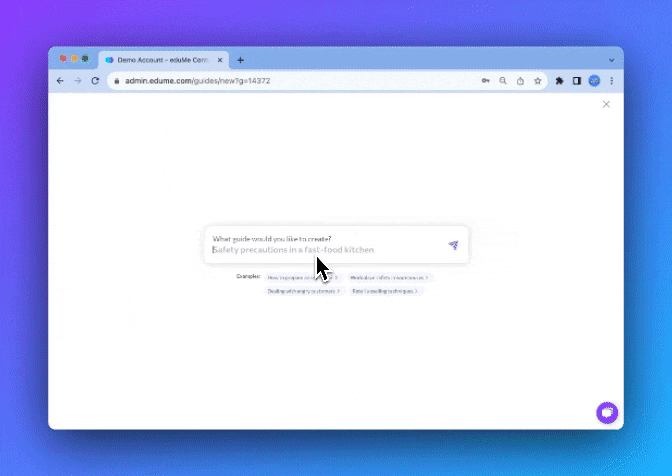 eduMe AI speaks your language, offering instant content creation in the language of your choice.
With our latest update, you can now generate a Guide using AI in any language by writing your prompt in the desired language. eduMe AI will then generate the entire Guide, complete with relevant images and videos.
A seamless experience for eduMe creators
We know that as an eduMe content creator, you care about delivering high-quality, high-impact learning to your workforce. That's why we're always looking to make improvements to the way you create in eduMe, for a smoother, more seamless admin experience.
Here are a few of the things we launched and improved in September to make it easier to create, manage and access content as an eduMe administrator.
One user profile for all your activities ☝️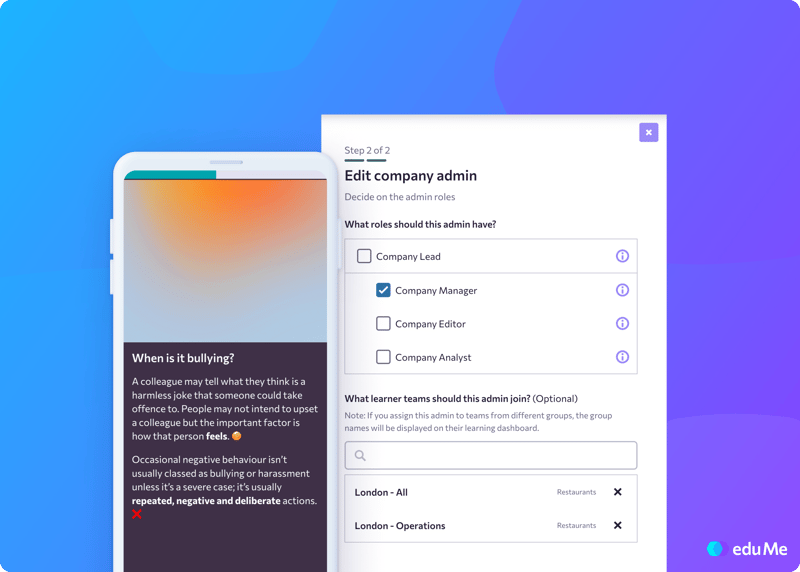 We know you rely on eduMe to deliver training across your organization – that includes delivering training to those who create and manage content, too. That's why your eduMe user profile – whether you're an administrator or a learner – is now flexible, giving you access to create and complete training under one account.
Organize your content with Collections 🗂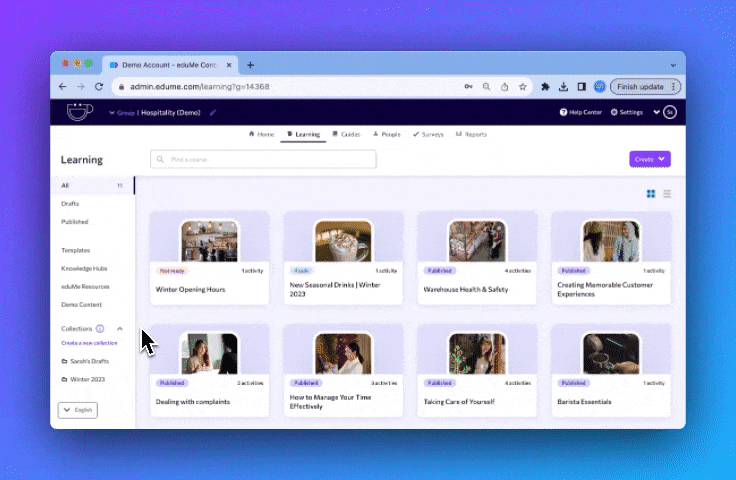 Find what you need faster and make collaboration across content creators simpler with content Collections. Group your training content into customizable folders that you can organize as you like; whether by training topic, a folder of content for your team to review and edit, or a personal folder for the content you're working on.
Keyboard shortcuts ⌨️
When you're spending time creating content, the quick wins can make a difference. You now have more control at your fingertips when creating slideshow lessons thanks to keyboard shortcuts. Delete slides, undo actions, navigate – and more, all with intuitive keyboard actions.
You can even copy slides from one lesson to another 🤯 Just click cmd/ctrl + C to copy the slide, head to the lesson you want to paste it in and click cmd/ctrl + V.
Quickly stylize text ✍️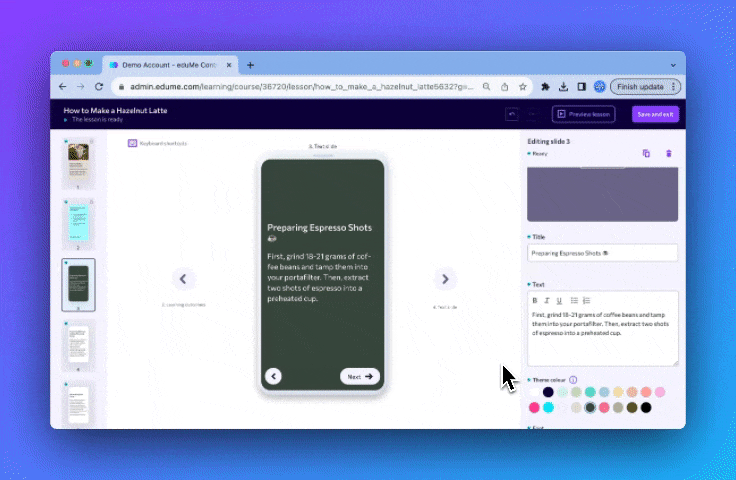 Make it bold, make it clear and make it stand out. You can now quickly make style changes to your text in slideshow and conversational lessons with the rich text editor for easier and faster editing – and make use of those keyboard shortcuts too, to bold, underline and italicize text.