If you're on the hunt for the best Workday LMS integrations, we've got good news — this blog explores four of the best learning management system integrations for Workday, to plug into your Workday ecosystem.
Top-tier integrations play a crucial role in achieving greater operational efficiency. In the case of an LMS integration, it can optimize your existing tools by increasing your options and capabilities as a L&D department when it comes to the task of upskilling employees.
So, let's make sure you're best placed to maximize every inch of your Workday investment with these handy Workday learning management system integrations.
Quick Navigation:
Why you need an LMS integration for Workday
Workday is a tool with a lot to offer, but no software can do it all.
By integrating new solutions into your most used or primary software, you not only add value to the base tool by unlocking new functionality, you ensure that new purchases are used.
In having siloed softwares, enterprises lose as much as $7.4 million annually. 30% of enterprise softwares go completely unused, with a further 8% used only once a month. And this is little surprise when the average small business has 172 separate softwares in their tech stack (a number which goes up 4x for enterprises). There's simply too much to keep on top of.
If the Workday Learning LMS features just aren't cutting it when it comes to delivering training in the manner you need to, it's a no-brainer to bring third party tools into the Workday environment to elevate your training function. Something you probably know if you're here reading (hi! 👋).
So without further ado, we'll run through a couple of training integrations on offer within the Workday ecosystem, all of which can be added to your Workday solution to enhance how you deliver training across your organization.
What you should be looking for in a Workday LMS integration
Learning Management System (LMS) integrations for Workday should make your work life easier. They should help you deliver your training, removing any obstacles and making it more simplistic.
Here are some questions to ask when researching Workday learning management system integrations:
How long does it take to complete the integration?
Can I have a working demo of the product?
Does the LMS fit my training needs?
What's required on your end to make this integration successful?
What data integrates across the LMS and Workday platform?
Our top 4 Workday LMS integration picks
Something missing in Workday is a way for you to deliver effective frontline training.
89% of Retail and Hospitality businesses are currently using Workday (or an adjacent tool) for their frontline, yet 66% of the same audience have training as a standalone application.
Frontline training has different criteria when compared to information worker or corporate employee training. Frontline workers are often dispersed from HQ, with antisocial or long shifts and hours, and limited access to technology.
As a result, they have certain needs from training content. Material needs to be brief to complete in between tasks or when they have time, it needs to be role or even location-specific, and most of all, they need to access it easily — they don't necessarily have any other technology to hand but a mobile phone, or other role-related devices.
eduMe takes Workday micro-learning to a whole new level, and best of all, you can access all of it in your Workday platform. Pull eduMe through into the Workday interface and display training in app banners, Spotlight cards, menu items and catalogs.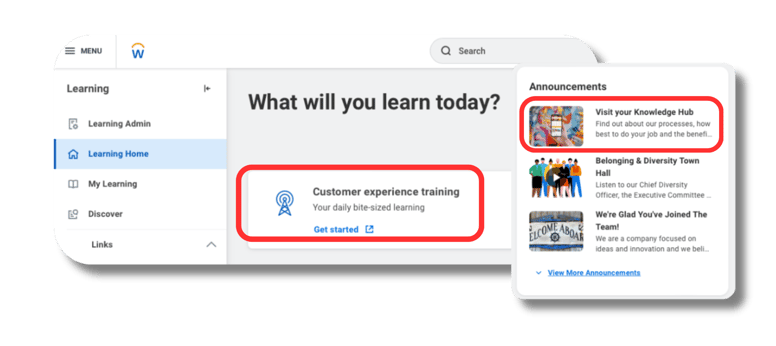 Just two places eduMe can be found within the Workday & Workday Learning interface
Have difficulty getting your frontline into Workday? No problem. Training can additionally be delivered through external channels, like SMS, QR codes or even via your proprietary app.
As for the UX - your employees just need to click (or scan), and they're taken straight into a library of content that is personalized to them based on corresponding data in Workday, like their location, role, language, or previously completed content. The training itself is brief and highly visual, built to resemble popular leisure-time applications, to ensure high engagement and minimal workflow disruption.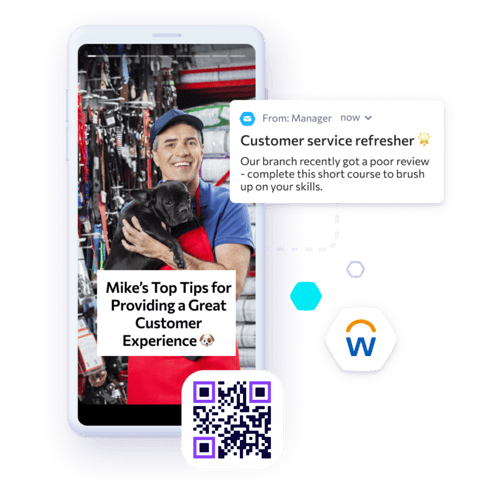 Best of all? Ongoing background data sync means that any information housed in either software is up to date and reflected accurately in eduMe and Workday at any time, meaning no manual user uploads for you, as well as automated training delivery.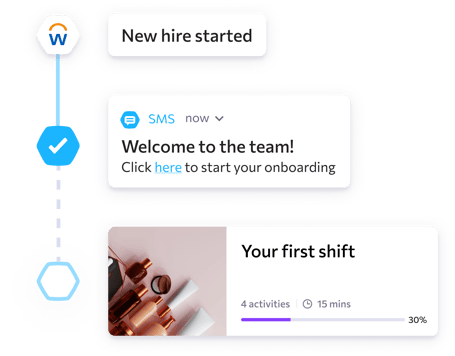 Automated training delivery based on changing user records in Workday
Training delivered in a familiar format that plugs straight into Workday, what's not to like? Pst. eduMe is the chosen training partner of Workday; in fact, they invest in us!
🐕 Pet Supermarket's story
💢Problem: existing Workday customer and US-based retail chain Pet Supermarket were in the market for a training solution that turned their retail associates into product experts and empowered them to deliver best-in-class customer experiences across their 200 branches.
💡Solution: eduMe delivered training in-store via QR Codes, on topics like promotions, customer care, and product range. By utilizing social media-style formats that resonated with the younger demographic, eduMe inspired higher lesson completion rates, allowing Pet Supermarket to improve CX by standardizing training across locations.
Docebo is an LMS used by many companies globally, particularly those with information (desk-based) workers.
Docebo's integration with Workday is not an integration in the same way as the eduMe integration is - connecting the two softwares will not make Docebo modules available within the Workday interface.
What Docebo's integration is, is a data integration. This means data between the softwares can be synced and then returned to Workday, so users of these two systems can have a single system of record, particularly handy for things like ascertaining how many new hires have completed your onboarding training, for example.
Onboarding training is the main use case for the integration, and with good reason. Delivering an excellent onboarding process is crucial. With a poor onboarding experience, employees can decide to jump ship; research suggests that 64% of new hires leave their jobs within the first year due to a negative onboarding experience.
Integration is achieved through the 'Docebo connect' module. Once activated, your Workday org structures can be correlated to Docebo branches and groups.
What does this mean? Simplified onboarding enrollment and reduced admin work - no more investigating who has completed what. Knowing this automatically, you can then create learning for new hires in Docebo that's based on up to date that has been sent over from Workday.
OpenSesame is a learning marketplace that lets you find courses from different publishers.
The platform offers an expansive range of readymade courses for employees to complete, covering subject matters from DEI and compliance, to wellness. Their business skills category totals 13,311 courses alone, so there's certainly a lot on offer.
In terms of where this content originates from, OpenSesame partners with various SMEs, for example, construction safety video company 'Ally Safety', who provide OpenSesame users with content like "confined space safety" - a 40-minute video-led course on the topic.
Though courses available span all the way from 5 minutes to over 1 hour in length, the majority (two-thirds) of the content skews longer-form, coming in at over 11 minutes in length.
OpenSesame integrates into Workday Learning, Workday's training management system. By connecting OpenSesame with Workday Learning, you can send OpenSesame courses to people within Workday Learning.
This enables employees to quickly find and access course content available from the OpenSesame library, in a familiar Workday interface.
If you have a desk-based workforce with diverse learning needs, OpenSesame could be a viable option. The Workday LMS integration supports multiple content formats like podcasts and virtual reality, offers more than 20,000 e-learning courses in 19 languages, and suggests machine learning-driven recommendations for curated content.
Tovuti is a 'people-first' LMS that hones in on a social and collaborative style of learning, where peers can interact via digital whiteboards and recorded sessions. Their 'live learning' offering involves virtual instructor-led training, in a hybrid training approach that combines in-person and online.
Learners can also set up profiles to connect and communicate with others, as well as participate in community discussions. The platform offers extensive gamified learning features, including memory games and fill-in-the-blanks. A way to attach reward to training as a means to motivate your learners, some companies report a 50% productivity boost from training that uses these carrot-on-stick motivational mechanisms.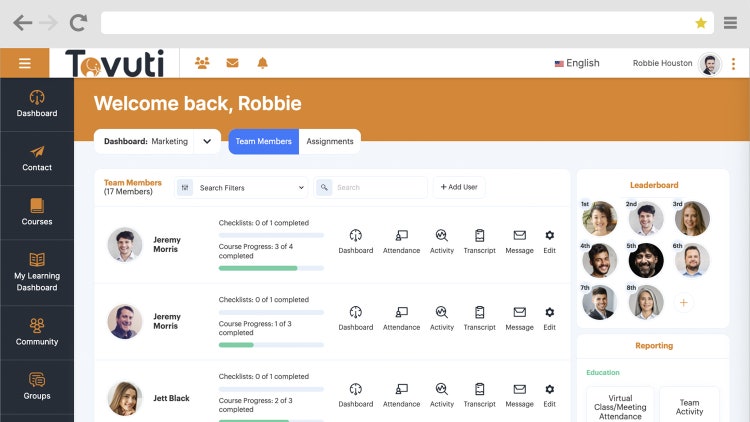 Like Docebo, the Tovuti-Workday integration is not one in which content created in the Tovuti LMS can be made to appear within Workday, but rather, a data integration.
By connecting Tovuti with Workday, HR leaders are afforded a unified perspective on HR management and training activities through a centralization of data from disparate tools. Users of the integration can determine which learners in Tovuti see certain training, based on fields in Workday.
What else can you do? Choose which users you sync from Workday, import and sync all users and training, and automatically assign training to employees.
The takeaway
If you feel like there's something missing in your Workday LMS, don't worry. As you can see, plenty of Workday LMS integrations are available on the market, whether they entail user data syncs, or more.
So, take time to assess your training needs and choose the best-fit software to help bolster your training efforts.
eduMe is Workday's chosen training partner thanks to our ability to optimize various business areas, including sales, onboarding, and productivity. Our seamless integration makes it easy to sync worker data, share training, and automate assignments helping you maximize Workday functionality and ROI.
We support eduMe because of its innovative training and learning platform that helps organizations navigate change and grow while serving an ever-expanding deskless workforce.



- Mark Peek, Managing Director & Co-Head, Workday Ventures
If you are a current Workday or Workday Learning user looking to deliver engaging and accessible frontline training within your Workday ecosystem, get in touch.