Q-commerce is booming - companies like Jokr, Weezy, Getir and Flink are cropping up at great speed across the globe, a trend undoubtedly influenced by Covid-19 lockdowns and the reduced accessibility to everyday items and household goods.
But what is it, why is it so popular, and what does its rise mean for consumers, cities and traditional operators?
What is Q-Commerce?
Q-commerce vs. e-commerce
'E-commerce' refers to the online purchase, or sale, of a good or service.
Alongside the democratization of the internet, came the marvel of online shopping. Customers could order a product digitally, be that an electronic gadget or apparel, and receive it in the next 3-5 days - a bracket of time considered to be acceptably quick.
Q-Commerce meaning
Q-commerce ('quick commerce') - sometimes used interchangeably with 'on-demand delivery' and 'e-grocery' - is e-commerce in a new, faster form. It combines the merits of traditional e-commerce with innovations in last-mile delivery.
The premise is largely the same, with speed of delivery being the main differentiator. Delivery is not in days but minutes - 30 or less, to be competitive.
This has in turn expanded the breadth of what individuals can order, with perishable goods - like groceries - being a large niche q-commerce companies speak to. It tends to focus on the micro - smaller quantities of fewer goods. For example, a missing ingredient urgently needed for a recipe that's already in motion.
"Consumers now want and expect more items than ever to be delivered to their doorstep...It is no longer a case of waiting 24-48 hours for a delivery. Rather, the expectation for this is now a matter of minutes." - Daniel Alonso, Global Director of q-commerce, Glovo
The bigger, less visible, difference happens on the backend - in the way that q-commerce operate behind the scenes.
Not all have the same business model, but many use 'dark stores' - strategically located warehouses - to ensure a quick turnaround from order to doorstep. These can be anywhere between 3229 and 7500 sq ft (300-700sqm) in size and tend to stock upwards of 1,000 unique products.
Many also crowdsource labor, equipping them with a fleet of individuals ready to spring into action at any moment.
The combination of these factors, plus others (including adoption of the latest softwares, and the layout of dark stores themselves) provides them with the ultimate agility and flexibility required to adeptly respond to customer demand, round the clock.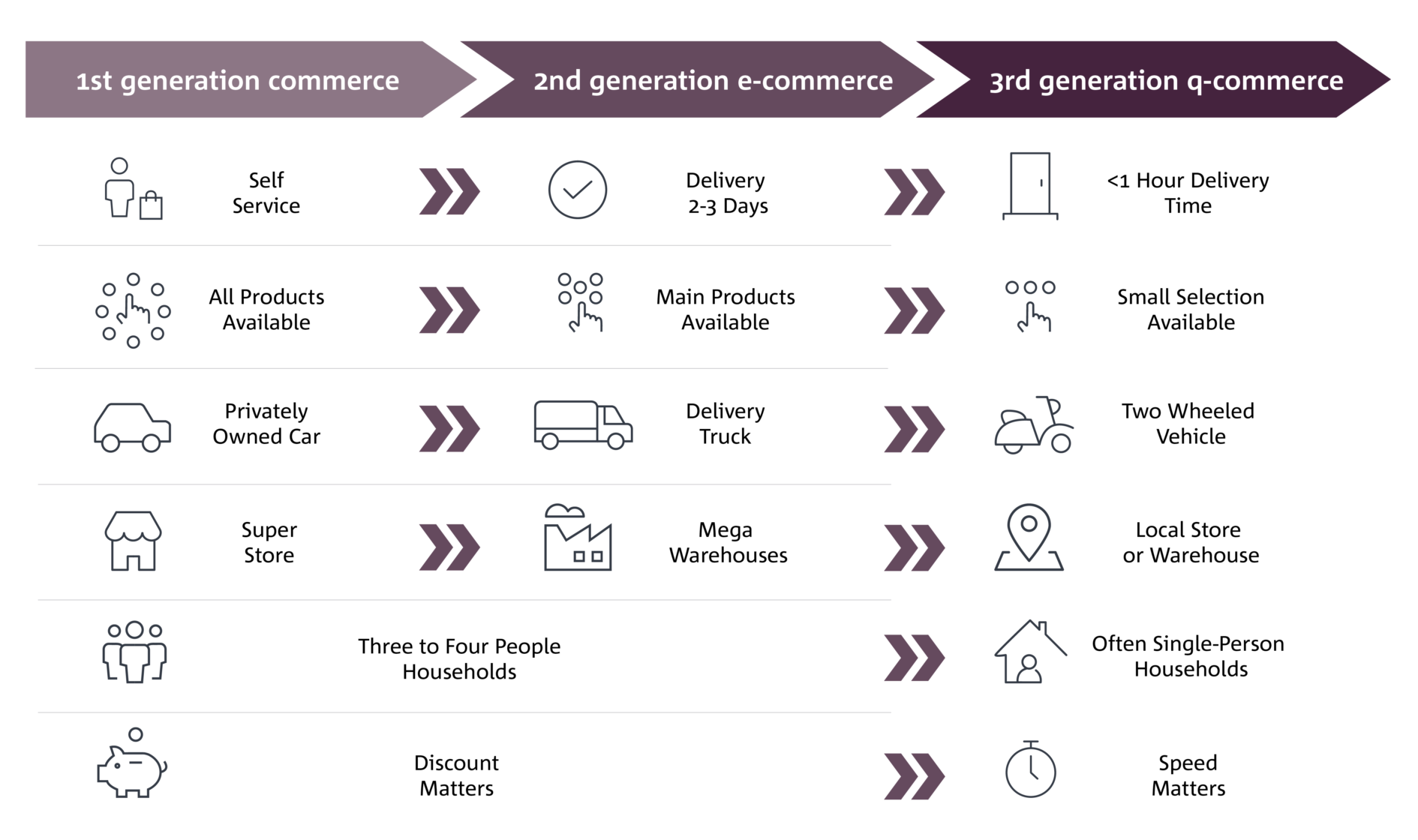 Q-commerce examples
Big players in the market include companies like Delivery Hero and Gorillas. The former reported 400% year-on-year growth (for comparison, Apple's is around 11% ) and the latter raised €245 million in their Series B funding round, leading to a $1 billion valuation that turned the company into a unicorn just 9 months after its inception.
Glovo, another q-commerce company, raised a Series F round of $530 million, the largest sum ever raised by a startup in Spain.
What are the benefits of Quick Commerce?
4 ways in which q-commerce stands apart from traditional retailers to customers are…
1. Speed
Compared to a conventional retail outlet, q-commerce companies are able to get goods to customers in a fraction of the time.
This is due to the aforementioned hyper-local micro-fulfilment centers ('dark stores') dotted around densely populated stretches of cities and positioned in close proximity to those making orders - usually no more than 3km away. This means orders can be fulfilled ~25% faster than traditional in-store fulfilment.
With every inch of their floorplan optimized for efficiency, dark stores don't need to sacrifice precious square footage to accommodate shoppers browsing aisles. Once orders are ready, couriers are able to easily zip back and forth between dark stores and customers' locations.
2. Guaranteed availability of curated, relevant products
It isn't just quicker delivery on offer, but items are more likely to be available, due to investment in AI and technologies that monitor demand and adjust inventory in real-time. Intelligent software identifies demand patterns, and the companies can respond by ensuring items are supplied accordingly.
They also make use of mobile technologies to keep their legion of couriers - who play a pivotal role as the face of the brand - informed, upskilled and providing a high level of service to customers.
3. 24 hour operation
Dark stores can operate 24 hours a day, 365 days a year - they are not limited to set daily opening hours like brick and mortar retailers are.
This round the clock availability resonates with the 'always-on' culture smartphone technology has given rise to - people are awake at all hours with smartphones within arm's length at all times.
4. Ease
If you could choose between stopping your current activity, rummaging around for keys and cards, tying laces, walking a block or two, then around the store in search for your items, being unable to locate them so engaging with a staff member for help, queuing, paying, bagging items, then walking back home, or remaining exactly where you are, opening an app and pressing a few buttons - which would you opt for?
Ease is the fundamental - and very enticing - value proposition that q-commerce companies offer time-scarce customers.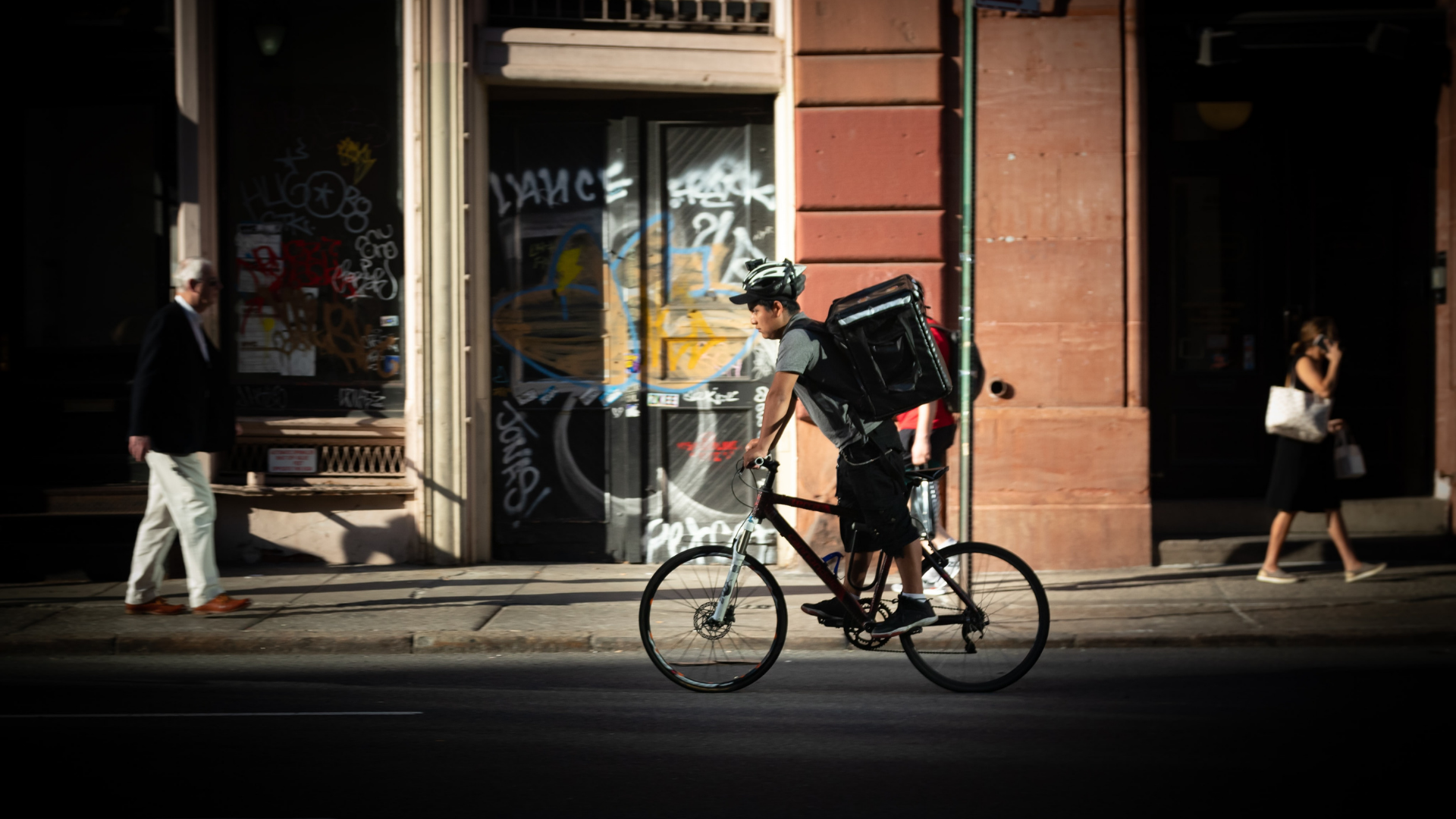 What is the future of q-commerce?
"Digital natives are setting the tone about what the new shopping experience should be like." - Alexandra Journeau, Co-Founder, Asap
Convenience is the currency of the decade. Technology has shaped consumer expectation irreversibly, so much so that we harbor an expectation of instant gratification.
Whether this gratification comes in the form of typing a question into Google and having the answer flash before you in seconds, or ordering dessert via an app and receiving it 10 minutes later.
To isolate one example of this technology-induced impatience - e-commerce site users deem a page load time of more than 2 seconds unacceptable. (Google aims for a page load time of 0.5).
A complementary solution
Does the rise of q-commerce signify the fall of brick and mortar retail? The fate of each remains to be seen, but the prevailing opinion is that q-commerce provides a complementary solution, rather than an outright replacement.
"The problem is that we've been waiting for this shift for years now and it is happening very suddenly, leaving traditional retailers quite unprepared to face and meet the new demand. [They are] huge businesses, very often with heavy operations, which make them much less agile to move at the same pace as customers' mood swings." - Alexandra Journeau, Co-Founder, Asap
Some q-commerce companies are marketplaces, meaning they do not operate out of dark stores, nor do they stock products at all. Instead, they rely on the stock of supermarket chains like Walmart and Carrefour.
A good example of this symbiotic relationship was the pivot made at the height of Covid-19 pandemic, where many traditional retailers joined forces with delivery platforms. In the UK, Deliveroo partnered with supermarket chains such as Waitrose, ALDI and Co-op. Elsewhere, Delivery Hero added 1,500 vendors in order to 'support local restaurants, grocery stores and pharmacies'.
With storefronts shuttered, these were mutually beneficial relationships, each filling a missing piece of the puzzle for the other. Supermarkets gained a fleet of delivery personnel, and marketplaces gained access to more - or new types of products - to present customers with.
Others maintain the supermarket is for the macro (e.g. a weekly shop) while q-commerce steps in to fill any gaps in between.
The infrastructure of cities
It has been documented that ridesharing impacts urban mobility - more vehicles on streets leads to an increase in the intensity and duration of congestion in metropolitan areas.
Existing roadways, especially in places like New York City, are lacking in adequate infrastructure to support such a boom in goods being delivered.
To rectify the issue, local governments may look to draw up congestion zones with associated fees, or restrict vehicle entry into certain areas altogether.
Anything on-demand
Many q-commerce companies specialize in grocery delivery, but will likely expand beyond the everyday into 'delivering anything'.
Glovo has already made moves in this direction - website visitors are greeted with the tagline 'groceries, shops, pharmacies, anything!'.
Technological adoption will determine who wins
It is from technology that q-commerce was born, and it is with technology that it will thrive.
There are many similar companies currently operating in the space, in close competition with one another to gain market share.
The winners in months and years to come 'will be the ones that are the most technologically obsessed with operational efficiency', as Eleonore Lafonta, Venture Capitalist at Five Seasons Ventures put it.
eduMe is mobile-based training platform used by q-commerce companies like Uber Eats, Gopuff, Deliveroo and Fancy, to provide their personnel with seamless access to relevant information, wherever they are, whenever they need it.
To see how we could help you scale onboarding, enable high performance and ensure safety & compliance, pop your details in below 👇