Gone are the days of lengthy powerpoint presentations and clunky Learning Management System courses. The global workforce has officially entered the era of punchy, bite-size training strategies, aka: microlearning.
This new way of learning, adapted to the needs and behaviors of the modern workforce, has been proven to be more engaging, more efficient and more cost-effective. But, what does microlearning actually entail?
Here's everything you need to know about the microlearning method, including definitions, proven benefits and examples of how to implement it into your own training strategy.
Quick navigation:
What is microlearning?
Microlearning is a way of teaching and delivering content to learners in bite-sized (3-5 minutes) bursts at the point of need, with a focused and specific learning outcome. The learner is in control of what and when they are learning, and can complete their training at a time and place that suits their busy schedule.
Think about how you consume content in your day-to-day life. Most likely, it's via short bursts of information on your Twitter feed, or news update notifications on your mobile phone.
Microlearning harnesses this behaviour by replicating your existing habits, allowing you access to short bursts of information that are more engaging and easily digestible.
Josh Bersin makes a good point of how microlearning fits into the overall learning environment and also provides a nice distinction between micro and macrolearning.
While microlearning offers us quick answers to the questions we need right now, macrolearning enables us to fully immerse ourselves in learning and delve deeper into a certain topic. These two styles of learning complement and reinforce each other throughout the overall learning journey as the below image illustrates.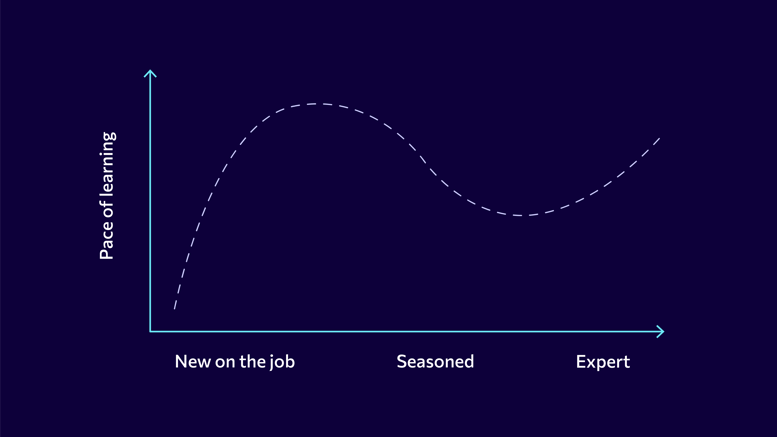 Why is microlearning so important for employers?
Microlearning isn't just a trendy new buzzword. It's a groundbreaking new way of learning that's designed to fit around our increasingly hectic lives.
In a working week, learners are shown to have just 1% of their time set aside for learning and development. With such a restrictive schedule, how can we expect them to be able to sit down and spend hours absorbing new information?
It's not just about timekeeping, however. The way that we prefer to consume information has fundamentally changed. 68.1% of all global website visits in 2020 came from mobile devices, and the installed smartphone base is now 2.5X greater than PCs. It's no surprise that microlearning and mobile-friendly training is on the rise now that everything we do is somehow connected to our phones.
It is for this reason that mobile learning and microlearning are so closely connected, and often appear in tandem. While microlearning breaks information down into short 2-5 minute bursts, mobile learning enables us to deliver that information through the devices that Millennials - and society at large - use religiously.
Finding a way to engage and motivate learners in an era characterized by short attention spans and increased turnover rates has been crucial for modern employers, and in microlearning lies a solution.
Some examples of microlearning
Microlearning content can take many different forms. The one non-negotiable, unsurprisingly, is that it must be short.
Here are some examples of microlearning formats:
Text - flashcards and short paragraphs

Images - illustrations and visual aids

Videos - short and simple explainers

Audio - snippets of speech or music

Interactive - quizzes or games that test learner knowledge
Microlearning platforms that utilize a variety of content formats and mimic the experience we have while having a quick scroll on social media are the ones that will best engage your audience. It's all about making learning fun and convenient for the end user, so they can quickly pick up where they left off and still be motivated to continue.
This way of learning can be effective in a number of use cases, from onboarding new employees to launching company-wide safety initiatives. Companies leveraging the microlearning strategy have seen a considerable increase in retention and productivity, with some even noting a 99% reduction in time to productivity.
How can I get started with microlearning?
We've gathered a fair amount of experience in the field of microlearning during the last few years, working with companies like Uber and covering lots of different use cases with clients in various markets.
Below are our top tips for launching a successful microlearning strategy, or improving your existing one.
1. Make your microlearning mobile-friendly
As we mentioned earlier, it's not a coincidence that microlearning and mobile learning are becoming more and more popular at the same time; they are complementary.
When you begin designing your learning, think about how people use their mobile phones rather than how your existing elearning is structured. Build on familiar and intuitive behaviour so that you don't have to teach the learner to use the learning tool on top of everything else.
2. Make it easy to get started...and to keep learning
Learners will decide in 4-5 clicks whether your learning platform is worth the effort. Making sure it's easy to access is the first hurdle.
Most e-learning platforms out there are not easy to log in to and they will log you out after. This is not compatible with the very notion of microlearning, which requires very easy access.
Make sure to map out the process of getting started - how many steps are involved? Ensure that learners can stay logged into the learning platform once they've identified themselves through the initial activation process - they shouldn't have to do this more than once.
3. Keep it concise, keep it relevant
In the words of Josh Bersin, "today's employees are overwhelmed, distracted, and impatient". This means that your learners will take 5-10 seconds to decide whether to proceed with training, based on whether it looks relevant and will fit into their busy schedules.
In our experience, the sweet spot for a microlearning lesson is between 3 to 5 minutes long.
4. Use videos
We all love videos, so make sure your microlearning incorporate them. The "keep it concise" rule applies here too: attention spans won't stretch to more than 2 minutes.
Use real life situations that your learners can relate to and improve knowledge retention by using on screen text and graphics to highlight main takeaways.
Finally, add subtitles to make it easy for learners who don't want to enable audio on a crowded train when they forgot their headphones.
If you want to find out more about creating great microlearning videos, we've created a three-part series of blog posts on this topic and you can find the first part here.
5. Use a light-hearted, conversational tone
The words 'Corporate Training' set off alarm bells for most people – they're expecting something dull and boring. Use interactivity, a conversational style, and a dash of humour to challenge these perceptions. You need to create a strong pull-effect to draw learners in on a regular basis. Break down all the traditional barriers.
6. Make learning a daily habit
We believe corporate training should reflect how we consume information - in short bursts, at the point of need, from our smartphones, or even while on the go. For micro-learning to be effective in terms of driving behaviour change and business results, it has to be done regularly.
So, provide snippets of useful information and short, relevant courses that your learners can dip into. When they check into their microlearning, they should always find new, interesting content.
7. Make use of 'spaced repetition'
The concept of Spaced Repetition means that we learn by being exposed to new skills and ideas over time, with spacing and questioning in between. Subsequent input of new knowledge is quickly forgotten, and only if we repeat the process over time do we halt the decrease in knowledge retention.
The research also shows that when we repeat information, with spaced intervals between, and we ask people questions to force us to retrieve information we create new learning paths. It's the same way you learn on the job by repeating tasks and questioning information.
8. Encourage, and enable, 'binge-learning'
We have found that our learners are completing an average of more than 3 eduMe lessons at a time, so we adapted our learning design to this behaviour.
Make it easy and compelling for people to keep going with their learning by lining up the next short lesson (think Netflix). In fact, recent research suggests that you should front-load your learning content and make it possible for your learners to consume as much as they want. Not only will they stay on the platform longer and learn more, they'll learn better too.
Want to start incorporating microlearning into your corporate training strategy? Here at eduMe, we help companies like Uber, Deliveroo and Gorillas to deliver microlearning content straight to their end users via our mobile-based platform. Our Content Studio makes it easy to create sleek and engaging learning content that's optimized for on-the-go learning, so that your workforce can perform at their best.
To find out more about eduMe's microlearning technology, book a free demo below 👇