For the last decade, e-commerce has rapidly ascended to the peaks of the retail industry, with giants such as Amazon reporting record profits during a period when the global economy is faltering. In contrast, brick-and-mortar stores continue to see sales and profits drop, and the Covid-19 pandemic only accelerated this decline, causing many historic retailers to close and leaving others hanging on by a thread.
This mass closure—dubbed the "retail apocalypse"—is only going to get worse, and 80,000 US stores are predicted to close within the next 5 years. Victoria Secret, Sears, and Toys R Us are just some of the brand names that dramatically downsized during the pandemic, proving that no retailer is too big to fail.
Physical stores are facing problems that are difficult to adapt to. A global pandemic flipped the advantages of physical retail—human connection and interaction—into negatives, whereas e-commerce was one of only a few industries that benefited from mass lockdowns and isolation. Despite the pandemic being over, consumer behavior hasn't reverted back to what it was before Covid-19.
Furthermore, e-commerce offers a level of convenience that offline retailers struggle to replicate. Consumers are no longer required to leave their bed to find the products they need. Despite both occupying the world of retail, online and offline operate differently, and it's the online model that's more aligned with the average consumer's lifestyle.
However, it's not all doom and gloom. There are ways physical stores can optimize their operations to remain competitive in the digital age. Keep reading to find out.
Jump to:
1. How Online Shopping Affected Brick-and-Mortar Retail
2. Are Consumers Saying Goodbye to Physical Stores?
3. How Physical Stores Can Compete with E-commerce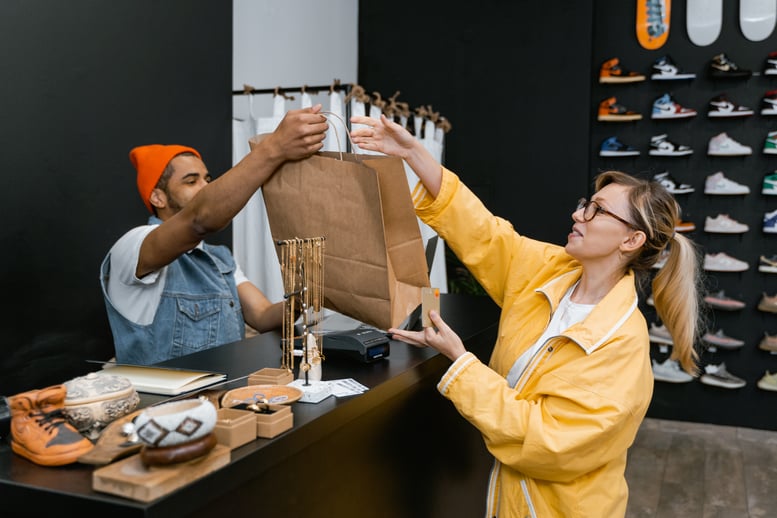 How has Online Shopping Affected Brick-and-Mortar Retail?
The rise of online shopping was practically inevitable in an increasingly online world, and the names of e-commerce giants like Amazon and eBay are now part of our everyday lexicon.
Since 2014, e-commerce sales have increased by 276%, and total e-commerce sales were valued at $4.9 trillion in 2021. The pandemic did nothing to slow this progress, instead, the restrictions imposed on many societies forced millions to turn to online shopping—e-commerce sales grew by 50% during Covid-19.
It's, therefore, no surprise that foot traffic in physical stores has declined as a result. Although outliers and variations exist, the big picture is this: declining foot traffic is the persistent retail trend.
However, some retailers are swimming against the online tide by increasing investments in their physical spaces—and they're seeing results. Macy's is optimizing several business areas that include in-store technology and store presentation to improve the customer experience and entice consumers to get out and visit their locations.
Are Consumers Ready to say Goodbye to Physical Stores?
Despite the data pointing towards the decline of brick-and-mortar retail, there are some trends that suggest physical retail still has a future.
The truth is, we are and will remain social beings and there are plenty of people who want to experience life outside of their computer screens. Retail is a historic pastime and that's still the case, with 46% of consumers reporting a preference for shopping in-person over online. The ability to directly interact with products is a major contributing factor, and 33% of consumers list this as a reason for their in-store preference.
It's also important to consider that 71% of shoppers are spending more in-store than online, proving that brick-and-mortar offers something that e-commerce doesn't. Instead of trying to emulate the online experience, physical retailers must look to what makes their customer experience unique and optimize those elements.
How to Compete with E-commerce: Enhance the Customer Experience
We know that a significant demographic prefers to shop in-store, and when they do, they spend more. The reasons for this are numerous. There's the aforementioned product interaction that e-commerce can't offer. Clothing stores are the biggest beneficiaries of this—how many customers prefer to try on clothes before they buy?
Contact with sales associates is another factor. Consumers are able to interact directly with those who know the products best, feeling secure in their purchase if recommended by a sales associate. Additionally, upselling and cross-selling are optimized when in-person, illustrated by the fact customers are more likely to add extra items to their cart in-store than online. This trend also speaks to the customer's propensity for impulse buying when in-store, which is more common than online.
Therefore, to compete with e-commerce, retailers must optimize the parts of their business that differentiate them from the online world and enhance the in-store customer experience.
Optimize In-Store Displays
Encourage impulse purchasing by optimizing your in-store displays. Visual stimuli are incredibly persuasive, and customers respond to strategically placed products and product grouping.
Follow the rule of three—grouping three items together to appeal to our brain's psychological bias of positively responding to things in threes.
And consider adjusting your point-of-purchase displays. Studies show that consumers are receptive to products when standing in line.
Embrace In-Store Technology
As previously mentioned, some brick-and-mortar retailers such as Macy's are trending upwards despite the rise of e-commerce. One reason for this is investment in in-store technology. Smart and self-checkout, digitized payment options, and even virtual reality are just some of the key technologies that brick-and-mortar retailers are adopting.
Consumers are crying out for a more efficient and technologically advanced experience—43% of US consumers would prefer to scan-and-go than wait in line, for example. Amazon has rolled out scan-and-go stores across North America, proving that an e-commerce giant understands the value of physical retail when paired with modern technology.
Optimize Hybrid Retail for a Consistent Brand Experience
By offering consumers the choice of online or offline shopping, hybrid retailers hope to provide consumers with a more rounded experience, taking the strengths of e-commerce and brick-and-mortar and having them work in unison. It's an incredibly effective model, and companies that don't sell on multiple channels miss out on up to 30% of sales.
However, while an increasing number of businesses are adopting the hybrid model, not all are optimizing it.
Customer demands are changing to the point where brands are expected to be consistent across all channels, and accessible from every device or platform. For retailers embracing the omnichannel model, it's vital your brick-and-mortar service aligns with everything else.
This means an efficient store inventory management system that prevents consumers from making click-and-collect purchases for out-of-stock items. Or a customer service that's consistently helpful whether in-store or online.
Take into account the challenges that may arise in an omnichannel model and prepare staff accordingly. For example, returning an online purchase in-store may require a different process than what your staff is used to. Update training to reflect the evolution of your business and ensure your workforce are in a position to succeed.
Equip your Sales Team with Knowledge Through Mobile Learning
Having a team of real people whom customers can interact with is a major advantage that separates you from online retail. Don't let this go to waste by failing to train and upskill your workforce.
Retail staff are difficult to train due to the nature of their role. They're constantly on the move and at their most effective when on the shop floor. Traditional training practices which send workers to the backroom to complete hours of boring, outdated LMS training are no longer beneficial, and inhibit your teams' productivity.
Consumer confidence in sales associates is already low, with 83% of consumers believing they know more than your retail team. Avoid becoming part of this statistic by equipping your team with in-depth knowledge through seamless mobile learning.
Seamless learning integrates training into the technology you already use and provides your workforce with role-relevant information when it's required, without the need to pull them off of the shop floor. Additionally, bite-sized, mobile-friendly learning makes it easier to update and roll out new information on a constantly evolving product inventory, and adapt training based on employee feedback.
eduMe is an embeddable mobile training platform that utilizes microlearning to optimize employee retention and performance. With the ability to seamlessly integrate into existing work tools, eduMe has successfully partnered with industry-leading businesses, leading to a 66% increase in sales, and a 10% increase in quality of service.
Get in touch with us now to find out how eduMe can optimize your workforce 👇