Mobile learning has proved to be a vital tool in engaging the deskless workforce. Enabling learners to access valuable education content within the palm of their hands has been revolutionary in shaping the sector's approach to learning and development.
But, is it enough?
Many companies spend time crafting comprehensive, engaging training programs for their mobile learning platforms, only to lose their learners at the first hurdle: the login process.
At eduMe, we've found a way to remove this barrier to entry altogether by giving learners seamless access to the relevant knowledge they need. Enter: seamless learning.
What do we mean by seamless learning?
Seamless learning is when a user receives the information they need, right at the moment they need it. In other words, learning is embedded straight into existing workflows without the need for a password or login, making for a truly frictionless learning experience.
We generate personalized seamless links that take learners directly to relevant training content that they can access anywhere and at any time. These links can be shared via email, app notification or text message as part of a wider continuous learning initiative, and can be tracked by managers in order to analyze performance.
Seamlessness can be achieved through native integrations - i.e. utilizing eduMe's technology to embed learning within your native app - or through powerful third party tools. Our integrations with partners including Fountain, Iterable, Quinyx and Braze allow you to seamlessly deliver content to your workforce at every stage of the learner lifecycle, improving personalization and making the learning process friction-free.
Making the learner lifecycle seamless
But what does seamless learning actually look like in practice? Here's an example of how seamless learning can enhance existing workflows at every stage of the learner lifecycle.
1. Applicant Stage
Once a candidate has been appropriately screened on a third party integration such as Fountain, they will be moved seamlessly into their online onboarding course without the need to sign in or re-enter any detail, removing unnecessary friction and reducing the risk of candidates dropping off at the first hurdle.
2. Onboarding
Reducing time-to-productivity is crucial for many companies with deskless workers. Ensuring candidates have the information they need to start earning as quickly and efficiently as possible is made simple with trackable seamless links which lead learners directly to relevant courses, e.g. 'How to use the app' or 'How to enter your bank details'
For companies looking to scale their onboarding, seamless learning also allows you to send crucial learning content to thousands of users with the click of a button. Our open API and seamless integrations can be used to deploy training to whoever needs it, whenever they need it, in moments.
3. Quality
Once an applicant is onboarded and has starting completing jobs or tasks, an ongoing area of focus should be quality. This is where creating triggered push notifications with unique links to relevant training can incentivize users - better performance leads to more jobs and more money earned - promoting engagement and encouraging them to continue learning.
For example, if a user receives a low customer rating, they can be instantly suggested a microlearning course such as 'How to get a 5* rating' or 'Top tips for providing great customer service'. They access the content directly through the link, complete the course, and then return immediately to what they were doing.
4. Safety
In order to avoid bombarding candidates with information during onboarding, but keep them operating in a safe and compliant manner, they're likely due a safety refresher after 25 tasks or jobs completed. At this stage, you might create a 'Success Hub' in-app - a section within your app that's populated with a dashboard full of courses - where users can go to find relevant information on safety and compliance that's not only bite-size and engaging, but also accessible right at the point of need.
These lessons are hosted on a third party app such as eduMe, but have been brought into your native platform and appear as a library of content that can be accessed by users via your main menu navigation. As a result, important safety education becomes embedded into the user's workflow, rather than becoming disruptive.
5. Loyalty
If you want to keep people using your platform longer-term, you'll need to repeatedly re-engage them and remind them of the value your platform provides. Send them automated push notifications suggesting additional training that's focused around maximizing their success, and by extension, earnings, e.g. 'Tips for organizing your shifts for maximum earning potential' or 'How to maximize your tips'.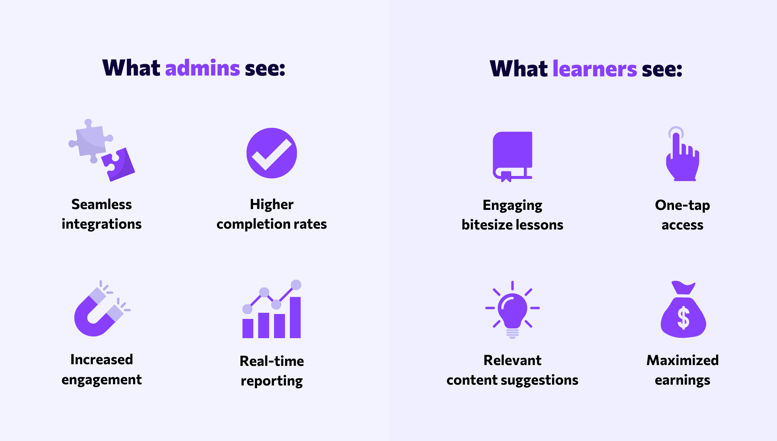 Why is seamless learning so important?
User behaviour has changed drastically. For the gig sector especially, finding ways to incorporate learning that are flexible, timely and convenient is crucial to achieving high completion rates and a more productive workforce.
Even if learning content is available on a user's mobile device or within a native app, an additional login step is a significant barrier to entering and completing training courses.
A report by Blue Research shows that a staggering 92% of users who forget their login information will simply leave the site instead of resetting their password. This is a huge dropoff rate which could prove costly for your business.
Removing this barrier is critical, especially for deskless workforces that have very little time and need immediate access to information when out completing a job. The results we've seen from companies who've implemented our frictionless learning technology has been game-changing, increasing course completion rates almost four-fold.
Even the once revolutionary single-sign-on (SSO), which allows users to log in once and then access services without re-entering authentication factors, sees much lower engagement, with a 32% completion rate, compared to 98% with seamless links.
Finding ways to reduce friction in the user experience and make learning as easily accessible as possible is vital to achieving workforce success, and combining mobile-friendly content with seamless learning has already proven to be a powerful solution.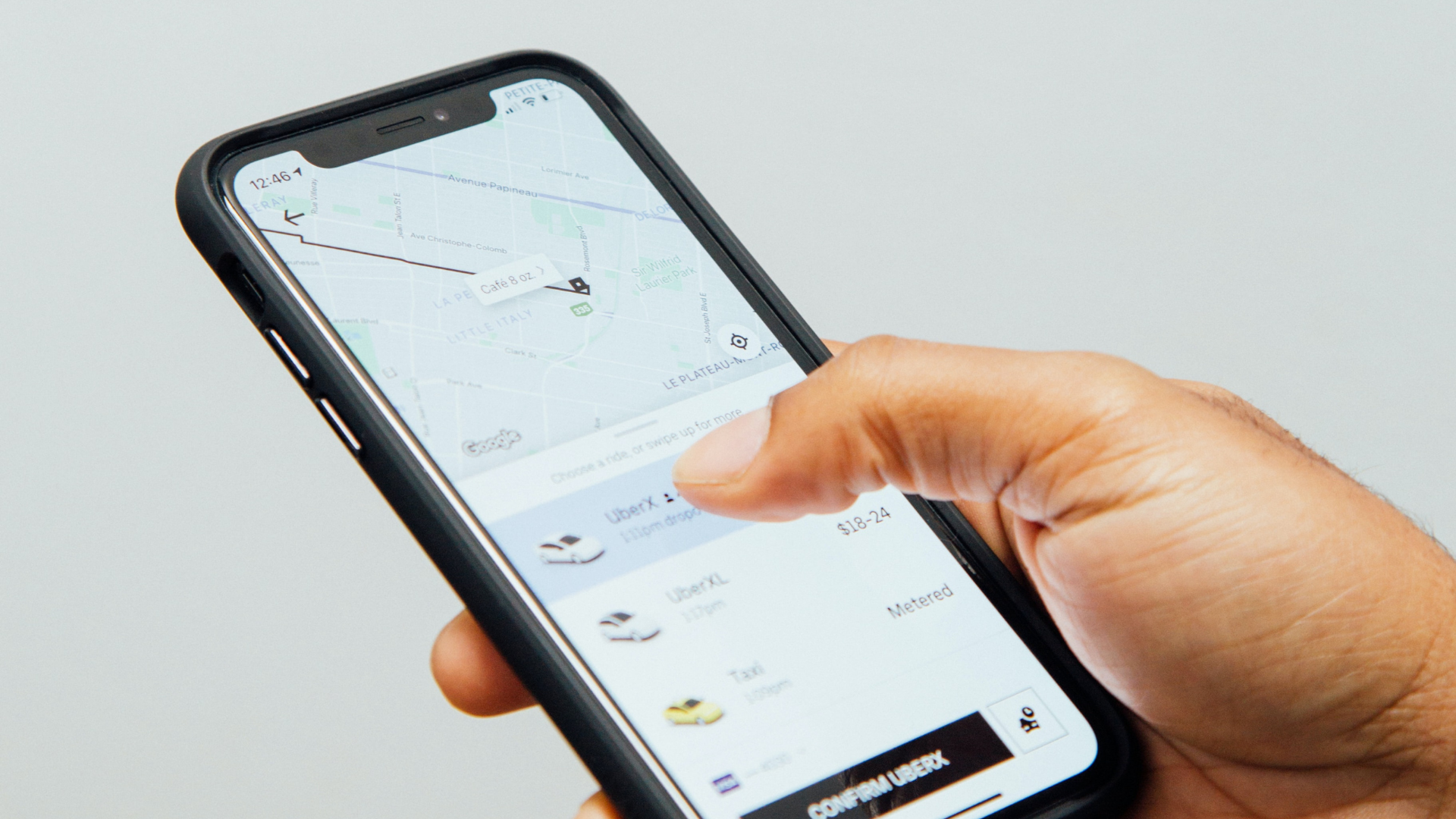 The impact of seamless learning: Uber case study
US rideshare giant Uber has already seen powerful results since implementing seamless learning in their driver learning strategy.
Uber's ethos has always centered around the success of its individual drivers. Providing them with timely and relevant information delivered in a way that is engaging and remotely accessible is at the heart of their strategy, and they are always looking for new ways to reduce friction for their partners.
The fact that drivers can now access engaging upskilling opportunities without leaving the Uber platform has been transformative. Formerly clunky training modules have now been embedded seamlessly into existing workflows, serving to enhance the driver experience and enable them to boost their earnings as they work.
Uber's Covid-19 safety training initiative in partnership with eduMe is a particularly impactful demonstration of the power of seamless learning. Made available in 6+ languages to drivers across the world, the crucial training was embedded within the native app which led to millions of completions in the span of just two weeks.
Read more about Uber's success with Seamless Learning
How can I incorporate seamless learning into my own training strategy?
The prospect of eliminating the login process can be daunting, which is why partnering with trusted experts at eduMe to deliver your seamless learning is the best way to reap the full benefits.
Whether you opt for native integrations or third party tools to deliver seamlessness to your learners, you can rest assured that eduMe's technology is secure, scalable and streamlined for your workforce. We also offer ongoing support for developers to ensure that the switch to seamless learning is as smooth and pain-free as possible.
Book a demo with us below to find out more about seamless learning and what it can do for your workforce 👇