Our flexible API enables you to automate the most common tasks to ensure smooth delivery of your training program.
It also allows you to set triggers to personalise content delivery so learners receive relevant content at exactly the right time to deliver most value to your business.
Getting your learners started on their new learning journey shouldn't be a daunting task - for your organisation and learners alike. There are many ways to supercharge your learning initiative, but first impressions counts the most.
Choosing the right way of authenticating your learners should be based on your organisation's needs and the type of learners your organisation caters for.
Here is a quick guide to the main methods of making sure that your learners can easily access the learning they deserve with eduMe.
1. Manual upload
You can upload users individually or in bulk (with a CSV file). All you need is their name and phone number/email. This is an easy way to get started as manual uploads don't require any technical set up and are available to use straight away.
This is a good solution for companies with regular employees.
As soon as your learners are created on the eduMe platform they'll receive an email or SMS invite with a link to enter their details and create a password. Once that's done they are ready to start learning.
2. Self Sign Up
This option doesn't require you to create users on the eduMe platform before sharing content with them. Instead you share a sign up link with your learners via your own communication channels. A real time saver!
This is a useful option if you want to make learning available to a large number of users that are not employees, or a high turnover user base. Anyone with the registration link is able to create an account and access your learning.
Learners are required to enter their details in order to create their learning account. Once the account is created, the learners are able to access the content straight away.
3. Automated User Creation
Our flexible API automates creating users and assigning content. Our friendly endpoints do all the hard work. That means the eduMe platform will 'listen' to all incoming requests based on automated triggers and process them accordingly. It's like magic, but with science behind it!
Once accounts are created, learners receive an invite to the platform. They can activate their accounts in a single click. Smooth!
This is a great solution if you want low friction and the ability to personalise content delivery and assign it as defined times in a learners lifecycle with your company.
4. Single Sign-On
eduMe Single Sign-On allows for signing into the eduMe platform using already existing company accounts.
It makes it even easier for learners to access the learning content. They can use their already existing company accounts. No more 'I forgot my password" excuses!
This is a useful option for larger organisations where you don't want to introduce any new accounts.
Can't decide which option will work for you?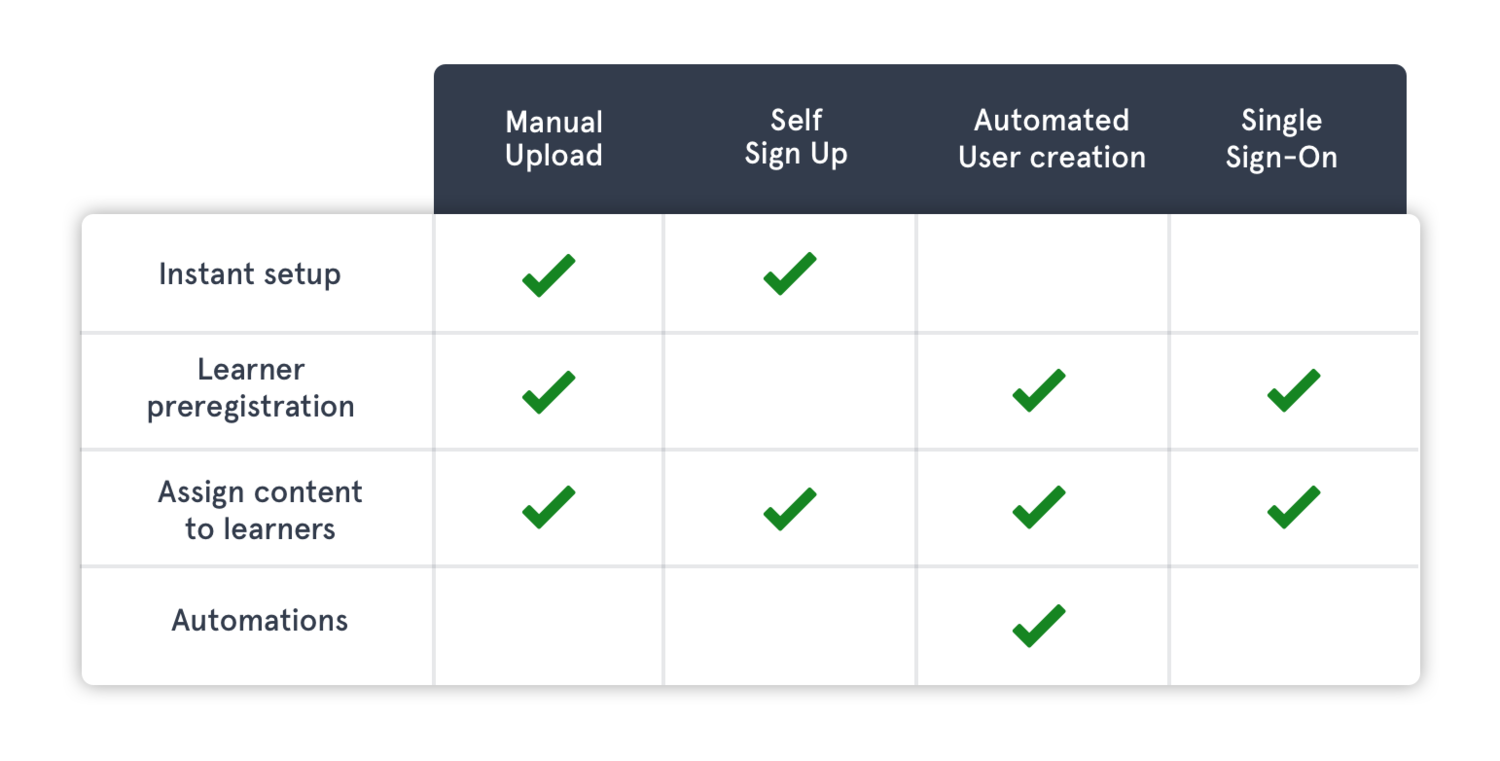 Read more about integrations here